***Saravanan Meenatchi -WU***

Episode 217
Thursday, July 26
Part 1:
Yamini plan:
Episode started with yamini and
Lakshmi's Uncle (LU)
were coming in car to mandapam and searching another way to mandapam..Both were entering into one way path to mandapam.then yamini and LU came upstair and yami asked him to call saro here
..He told tht was tough..then she showed money to him so he accepted to call saro to upstair to see yamini..
LU went to call saro..
In saro room,He was giving some sounds to make saro to wake up through window..saro saw him atlast..Lakshmi uncle showed some action.he showed rs.500 then saro too showed rs.500.then both were doing like this(comedy
)then LU said meenu callin you to upstair..He was confused..and atlast accept to go there..
In upstair saro searched meenu and called her meenu meenu kutty
where are you?
then yami came there
..he was shocked to see her at that time.
*************************************************************************
Part 2:
saro asked yami why you came here in shock and angry tone?
Yami said where to keep our marriage here or in mandapam?
saro asked her to move from there..and said in my heart meenu only no space for anyone..why you torturing and killing me like this..then added see i didnt enjoy my marriage
function because of you..and too if i think about my marriage in future too you wil be coming to my mind
..he was in frustration and shouted at her..
Yami said "yes same pain ly i got while i saw your marriage invitation
."while i was in London i tthink about us and planned how we we would be after marriage and all..but what you did to me...am not tht fault
..you gave me this pain to me
..so am doin this to you..and said to saro "you will do all mistakes and your meenu will accept you for all"but in middle where i have to go
..
Scene shifted to meenu room:
meenu ringed up saro mobile
..RS attened that..but meenu thought saro was in line
..so she talked casual
..like where you da what doin
..RS was about to talk,but meenu said dont mimicry in mama voice
RS said sathiyama mama ly taling ma..He went to see you ly at upsatir and you sent that LU to meet you n
a..meenu was in confusion
and said no mama i didnt..
RS ok ma i wont ask you anything and cut the call...she was thinking about what was going on?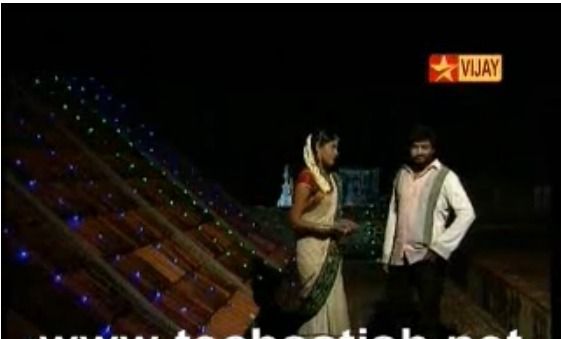 ********************************************************************
Part 3:
In Up-stair saro and yami talking..
Yami said while i saw your marriage invitation
,i just lost my dream about marrying you
.she said you marry meenu, i want you to accept your mistake which you did to me..so only i put these marriage drama..Saro said i dided after seein this..but i acept my mistake..
then he said if anyone one saw us na then yami said then i will say saro n meenu ly nice pair n made for each other
..n said i loved sincerely
..but every marriage need not be end in marriage na
..But still i love you saro.tomo you are belong to someone
and lied on saro shoulder
...Meenu and Tamil were watching this...Saro saw them and shocked..
Meenu and tamil were in
**********************************************************************************************
To be continued...
i think this was yamini plan...
picture updated


Edited by Hi_Friends - 27 July 2012 at 10:40am