Hola Spice Gurls
,
For once, was home early and watched it early enough to have a post ready at a decent hour
*Deep sigh*
3:53 minutes of heartbreakingingly beautiful, wistful loving……with words,with fingertips, with lips and with the eyes……*sigh*….such a poignant and comprehen ve manifestation of the mohabbat-nafrat mantra . He loves, but can say so only when she is either miles away, or asleep before him. And the solitary red rose, to make up for the bunch that got waylaid before it could reach her. She sees his tears, hears his words wishing her all the world's happiness on her birthday and beyond, feels his pain, yet stays silent. But not all the silence of the world can hide the truth…that their hearts beat in sync…that one cries for the other. The parting shots of both their faces revealed: "kyunki mohabbat inme dard banke rehti hai….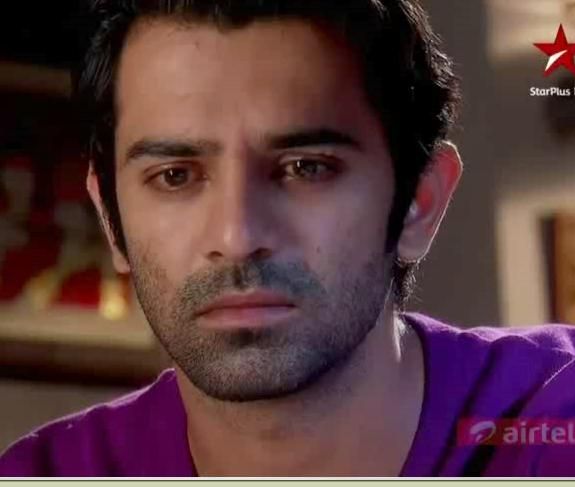 I liked how, while the sad Rabba Vey played all the time he was sitting beside her on the bed, the girl version took over the moment he got up….. it was a two way conversation, through and through, even though Khushi decided to stay mum. Her expressions, though hidden from him, said it all.
I do hope that this is revealed to ODB sometime ….the fact that she heard him and quietly reveled in his avowal and wishes….maybe at some stage, he will find this rose, lovingly preserved between the pages of her "ASR ko sataane ke 100 nuskhe" wali diary….CV's are you listening?
NK was a laugh riot….he is a natural, with perfect timing and he puts his hands and expressions to such good use….to supplement the humour of the dialogues. Hilarious. Doorside bromance was so refreshing, more so because it gave ODB to don the ASR persona for a bit….but we know how much he was setting in store by NK's advice, when he says later, while waiting for Khushi to return, "I hope wapis NK ki help na leni pade…." Oh how the mighty have fallen !!!
Also loved the proud, almost- smile on ODB's face when he tells the salesperson on the phone "To my dear wife Khushi Kumari Gupta Singh Raizada"…..awww.
All in all, the past few wooing episodes have been Mehndi redux, only this time, strongly laced with pain and heartache. In the immortal words of Chacha Ghalib himself:
Yeh na thi humari qismat, ke visaale yaar hota,
Agar aur jeete rehte, yahi intezaar hota…..
Yeh na this humari qismat, ke visaale yaar hota…
Koi mere dilse pooche, tere neemkash ko
Yeh khalish kahan se hoti, jo jigar ke paar hota….
Yeh na thi humari qismat, ke visaale yaar hota.
Will wait patiently (not) to see what tomorrow brings….


Edited by Vistaa - 17 July 2012 at 5:51pm