After many months finally i update... i am so sorry guys but i was so much busy in my studies. Well this is my last update of ff I really want to thank all of my readers who were patiently waited for my updates and appreciate my work. I never thought that I will write an ff on abhiya and here I finished my first ff on abhiya and that's all because of you guys. Thanks a tone
And please let me know what do you think about the update and the ending, I don't think so it's up to the mark ending ,may be its look like an abrupt ending.

This update is also the special birthday gift to my friend Pia aka i_luv_abhiya. I must mention delayed birthday gift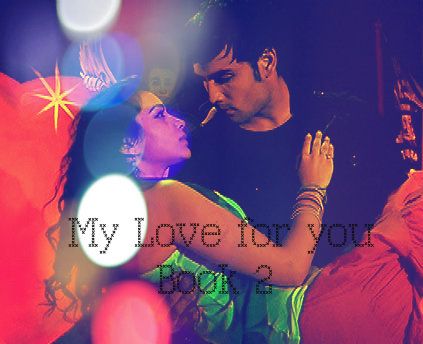 creation credit: PRIMA aka Trouble.
LAST UPDATE

RAICHAND HOUSE
I never expected like this way my life will ruin that I live my life isolated from my family and I seriously can't blame it on someone else when I am the one who ruined my life, I never felt such broken before but look where I am now. Me Abhay Raichand living his life deadly alone it's not like I have no one. Well my family supported me and makes me believed that it's better to live far from your love... huh love seriously love I am the one who is talking about love when I am the one who wasn't deserving.
I was in deep thinking when I realized someone sitting beside me on stairs. I gazed upon to find Jeh was smiling.
Abhay felt annoyed: what? Did something on my face?
Jeh amusedly said: nothing, why are you sitting here alone? While gaze over the hall direction where everyone were busy in wedding.
Abhay taking a sigh: I was just thinking why am I here? Nobody want me can't you see I am totally useless. I failed as a son, a brother and a husband too.
Jeh patted his back in assuring form: Don't try to think about past Abhay. What happened in past it's your past now. Why are you trying to influence your past in your present? Let it go and try to make a better person the one who will deserve a life, a life in which you will live with Piya.
Abhay snapped back: don't you dare to take her name. She is my wife
Jeh flinched back by the harsh tone of Abhay: Look I know you are moving on with me but you will never be able to forgive the sin which I did to your wife but believe me I am change now. I regret to be that monster.
Abhay while lean up to move downstairs: who am I to forgive you when I am the one who is seeking for it. But it should be in your knowledge that I forgave you.
Downstairs in hall preparations were in full bloom everyone was busy in work after all today Raichand eldest son marriage.
Few Hours Ago
All rituals were placing; couple took the circles and placed garlands to each other.
All were wishing and laughing only the one person who was standing in darkness near the backside of hall. Suddenly Abhay felt some tinkling in whole body and then while gazing up to the front he stood in shock. In front of him he saw the angel, the survivor of his existence his Piya.
Piya tearfully greeting everyone, embrace her parents, cheerfully hugging her brothers while give tight hug to the married couple Milan and Misha. While moved forward to meet others when was blocked by Abhay.
Abhay face of to Piya standing with warm smile: you are finally here?
Piya stares Abhay with blank expression...
Understanding the situation which both are facing Abhay quietly speaks: please don't avoid me. Let me explain my point to you. Abhay felt embarrass, by his vulnerability this all mess was created and downcast his head. What had he seen? Curiosity aroused him and once again he lifts the head and looked statue.
There Piya standing front of him in white frock showing her big baby bump. Abhay felt anger arising in him. What the hell how does its possible? Did really Piya is pregnant? Here I was mourning the loss of her in my life and she moved on. Piya watch Abhay calmly and observing the betray reaction by her in his spark blue eyes. Abhay breathing turns into panting then Piya step a bit.
Piya whispers try not to create a scene: relax Abhay, you are showing off.
Abhay said while taking a long breath: Are you ... Are you pregnant?
Piya lovingly touch her baby bump: yes and before you ask who is the father then I am sorry that I highly disappoint you by saying that you are the father of my child and left from there.
OUTSIDE OF RAICHAND HOUSE
Words said by Piya ringing in his head, baby seriously baby. Am I going to be a father? The word baby felt so good to hear. Suddenly Abhay mind fill with other thoughts while moving out in fresh air. Did others aware about pregnancy news of Piya? No that's not possible if anyone knew about that they will definitely inform me. His thoughts were interrupted by the rustling of footsteps behind him.
Abhay looked around to find Kabir coming in his direction stood by his side...
After inhaling fresh air Kabir murmured: you know Piya is here?
Abhay sarcastically: Ya ... she met with me
Kabir look over his face while judging his hard tone: Do you blame her if she was the one to hide this news from you?
Abhay snapped hearing his fears aloud from someone: So I was right Piya didn't want me to know about my own child. What's wrong with her? Damn I know what I did was wrong to her but for God sake I am the father of that baby. I have the right to know why she did this to me. Why?
Kabir while patted his back: No one's fault is here it's just the matter of time. I believe so now everything will be back in its place.
On the other side all youngster were present in the study room. On quite insisting by Piya bride and groom left for their room.
Siddharth sitting beside Piya holding her hand: why are you leaving? Stay with us please. You don't have to live with Raichands anymore.
Priya with unbelievable expression looked over to Siddharth: this can't be possible Siddharth you have to make her understand; try to dissolve this critical period.
Siddharth snapped out: make her understand? What for?
Angad try to interrupt them: guys will you stop this non sense?
All attention was diverted to the crack noise of sliding the door. Kabir and Abhay entered inside the room. Abhay halt in tracks while seeing a fair complexion young guy near stood by Piya.
All were stood a minute silently while Abhay was the one who broke the silence...
Abhay while taking a deep breath: who is that guy?
This time Piya was the one who snapped: none of your concern stays out of this Mr. Raichand
Anger was oozing out from Abhay hard well tone body, what did you said? Now I am Raichand for you huh.
In a determinant voice Siddharth interrupt between them before the situation get worse: Abhay please calm down lets don't talk here. For a second think about Milan and Misha do you want their first morning a disaster ?
Abhay heard what Siddharth was trying to convey but his gaze were focused on Piya, how could she did this to him? I mean I know I was bad with her in past few months but how could she move on in her life. That's not possible. I can't stand in this room anymore. Nodding his head he was gone from there.
Few days later
Misha was patiently listened the pleas of Piya who was in front of her crying her heart out.
Misha soothing her by embrace in tight: ssshhh Piya calm yourself it's not good for the baby
Piya heard the word baby made her cry more: wouldn't this baby matter to him Misha why he said such a fowl words to me. Once again he broke me Misha why he hurt me so much, why?
Misha look her back while gripping out from her embrace: unconsciously he said that to you he was depressed after watching Varun closer towards you and you know how much Abhay is possessive about you.
Piya snapped: his behavior couldn't justify this all
Misha felt it's better to change the subject: I understand. Look nobody is at home tonight mom and dad went to the business party, Priya and Kabir are out and Siddharth will be come late at night from office so it's better you can come with me. What say?
Piya quickly replied: I don't want to go anywhere you just go back home Milan will be waiting for you. I am such a hypocrite person.
Misha amusing said: why so?
Piya whisper in a low tone: it's just you are newlywed and look what I am doing with you. Creating a mess in your new life. I am so sorry
Misha dramatically said: you should be but not for sharing your agony with me but made me away from you. You left us; you were trying to make us happy in our respective lives but one thing you never knew that how much we suffered about the loss of you in our lives in this house. You were never shown me your vulnerability. Tears started to spill out from orbs; I wish one day you will spill out your heart front of me just the way you did today. I am your sister Piya I love you are not a burden on me you get it.
Piya flew her arms around her body frame and started to cry whose knows for how long a seconds, minutes or hours.
At midnight
Everything around surrounding was in dark. Silence was the only source you could recognize and there was a person laying his back on arm chair. Thumping of the door noise heard easily when the dark shadow came forward.
Alina was shattered to see her brother like devastated: she is leaving tomorrow
Abhay felt a sharp pain in his chest by realizing who she was mentioning; he whispered: why are you telling me this, you are also the one who want us apart am I right?
By stepping towards him she kneeling before him: I never wanted this pain for you brother and still I do believe you are made for each other it's just certain circumstances which made you apart. And you know why I am telling you this all because I want you to stop her and peruse her to stay in your life. You two are not alone anymore you are going to be parents think this.
Abhay hesitantly: after the club incident you are still with me
Alina quickly nodded her head
DOBRIYAL HOUSE
At late night everyone are sleeping but still Piya awake turning side by side on bed. Only one thought were roaming around her the club incident frustrated by her own thoughts she moved out from the house to inhale a fresh breathing by sitting into their home garden.
Staring to the moon flash black inserted into her mind once again, celebration of newly wedded couple, couple dance with Varun by his continuous pleas, Abhay attack on Varun and than the harsh words by Abhay given to her made her chest ache in severe agony. Still his loud accusing words roamed in her mind.
You cheated on me. Damn now I get it why you are so stable without me in your life. Tell me that child is mine or it's his. Tell me you filthy woman.
Enough she jerked out from her thoughts why she was reliving horrible moments again and again. Than sudden a tape on her right shoulder made her turned her gaze towards the intruder. There was standing a Varun.
Worry can be seen on his face by sitting beside her on bench: why are outside at this time of night? Did something bothering you?
Piya replied while nodding her head: bad memories
Varun gazing Piya curiously: you still love him
By taking a low sigh Piya tossed the subject on him: you tell me do you love someone?
Varun smile brightly by heard this out: you know that if I ever love someone I will instantly inform you. You are the only person left in my family now that day you saved my life from the leeches who took my whole family died for their food from onwards you were the one who brighten my life. You are my little sister and I love you.

Before Piya could said anything a loud growl were heard by near of them which made to look for the source of noise. Both Piya and Varun were shocked to watch Abhay Raichand standing there. His face showing ruthless and hatred what he is seeing , his whole frame shows he is trying to control himself to not ounce on Varun and ripped his heart out, his blue orbs were pitched into golden haze like fire burnt into them. Words I love you spoken from Varun to Piya engulf his mind. His mind couldn't function his whole body felt numb by the thought what if Piya love him too.
Piya felt dangerous vibes coming from Abhay she took defensive steps forward for Varun: why are you here? What do you want?
Abhay while gritted his teeth: you cheated on me for that silly human. From how long that went on.
Confusion was written purely on Piya face than after her mind registered the words she looked shocked to hear from his mouth after what he did to her.
Anger arose in the form of hatred she snapped back: how dare you to accuse me when you are also not a saint. You are pathetic.
Varun interrupted in between conversation while smirking: what did you expect from him in fact from the leech like him who used women while he had a wife.
Before know what has happening Piya felt a push and seen attached to a hard stone chest of Abhay while Varun was splashed his back on hark thick branch of tree.
Piya was shocked to see this new change in front of her own eyes she tried to struggle to get out from strong iron grasp of Abhay but no vain. Abhay totally ignorant Piya plea to release out from his side focus fully on Varun who was writhing in pain lying on surface his rib bones were broken blood was oozing out from his back of head both Abhay and Piya were able to noticed his die heart condition.
Piya felt worried by knowing his time will be near to end before that she have to do something but Abhay couldn't let her finally Piya confront of Abhay for the sake of innocent one. Piya once with all her strength pushed Abhay and leap out for Varun to help him but stopped by just moved one step forward by such force which her stammered to revert back on spot where Abhay jerked her towards his face so close that Piya could felt his hot breath on her entire face.
Where think are you going? We need to talk alone come Abhay snapped and started to drag her with him along her continuously begging. Anger aroused him instantly by heard out the human name begged him to save his life from her mouth.
Piya could feel the emotional dilemma spread his body frame and she said aloud while gripped his arm to made halt in tracks words which his mind and soul wanted to hear from her: I don't love him he could never be my love and my companion. He is like a brother to me he gave me and our child a shelter to live provide a food for our living and supported me when I left you. And don't you dare to grip the fear that I had cheated on you Raichand because still I only love one person in my life and unfortunately that's you venom dripping from her every word spoken which Abhay flinched back. Now please save him or shall I do the honors
A minute later Abhay with loaded heart moved towards the lying body to save him then suddenly he heard the screamed, tossed around what scene met made him uprooted where he was there Piya was bending clutching her abdomen her whole body was shaking in severe pain her face was white like a ice continuous tears were running down on her cheeks, she bit down her lips to somehow soothe the pain but in vain the next observant thing Abhay noticed which made him gasped was the bluish and reddish tone blood was oozing from her lower fear griped in him what was happening to Piya?
In a haze state Abhay could only registered that someone carried Piya into house her painful curses and screams were dumb his brain and body her last words echoing to him save him in mindlessly he followed her advice and snaked his neck while in back of his mind Piya horrified face clicked.
A loud screamed enhance the crippling fear in Abhay more he was stood outside in corridor while from three hours waiting for anyone who could inform him about the Piya condition but no one allowed him to enter inside the birth place not even he had an option by surrounded by all family and in laws. He was so nervous and fighting to shrugged out the overwhelmed feelings from inside but couldn't honestly he was worried about Piya and the baby. He cursed himself while pacing he was the reason of Piya condition he make his wife and child life in danger he knew that this is his child Piya never stoop so low. Now he started to lose control.
While frustrated he snapped to his father: how could they not allow me to go inside for heaven sake that was mine child too and what if Piya need me there?
Chand knowing his stressful situation in a composed voice replied: they all are expert in this Abhay , they are the best and by the way in this case you can't help anyone but only make it worst so try to maintain yourself.
Anger aroused in him sharply he said: but at least they should update me about their condition while saying his voice broke. While all were watching the vulnerable Abhay stood front of them
Kabir moved near Abhay while parted his broad shoulder: everything will be fine Abhay. God help those who help themselves and I am sure both will be fine and soon we will hear good news.
A sharp warning tone heard from back of Abhay: and if anything went bad Abhay then make yourself ready to die by my hands Siddharth snapped.
A while later two lean beautiful ladies went out from inside and congratulated the whole family and voiced that his wife first wanted to meet him only.
When Abhay entered inside he saw Piya who was intensely looking to the child of them who was placed on her lap in the white bundle.
Being a mother put a lot of responsibility on you and Piya knew that she had to take that step but now she was cherishing her motherhood with the baby who was secured in her embrace. Piya knew he was here after all she called him to in.
Piya in a lighter tone ordered Abhay: you may come in.
Abhay was moving ahead in a daze not knowing how to react in that situation where Piya is holding his child. Approaching near the bed where Piya was lying. Anyone can see the amusement in his eyes the wonder which brought smile in his instantly. Piya voice broke his haze
Piya quietly murmured: you want to hold the baby?
Abhay in absent mind nod his head in approval. Piya dropped the baby into the strong arms of Abhay. Who was staring to the child with holding his breath? He was curiously noticed the entire features of child from the crabbing black curl hairs, slight crack lines on the forehead which developed into frown, redness of cheeks, a thin form of lips, the circle face same like her mother, small hand searching to hold something and when the baby opened his eyes Abhay nearly gasped to see the same hazel blue orbs like him back staring to him.
Piya was silently observed the meeting between father and child and how intensely Abhay being with baby.
Piya warmly announced: it's a boy
Abhay snapped up and find Piya hard stare on him. Abhay stammered out: Pi... Piya it's the
Piya didn't let Abhay to finish before interrupted and said: just tell me one thing. Do you believe this is your child or not? In mid sentence tears started to formed in Piya eyes.
Abhay seek the unsaid pain in Piya eyes and felt embarrassed: what I said it's just jealousy Piya , I never doubt on you and still it goes the same way from the moment I knew your pregnancy I accepted this is my heir, my blood.
Piya holding her baby laid him near her while still hold on baby she mumbled: if you do than what was in the party and you said that he was not yours than what change now?
Abhay replied in hurry: it was just my insecurity. I am changed now, it was just a bad phase of my life where I felt betrayed and you knew that it was not me there in myself. Moving ahead near Piya he held her hand, please give me a chance I want my life back.
Snatching her hand Piya snapped back: do you think so by giving such justifications will make anything better between us now. There is no such misunderstanding between us. You tactics made me realized that I was wasting my life on you because whatever would I do. I will never be worthy for you, you always drag me back from where we started.
Abhay was dumb folded by hearing such words from Piya. How could Piya think about herself so worthless, she has no idea how special she is for him. She is his light; she is the one which can bring him back to life.
Abhay replied: I know everything is not going to be solved eventually but I can ensure you if we will try again than we will be the happiest couple too. I will never lose hope and please think about our son.
Piya was continuously stared to him maintaining hard expression. With a determined tone said: I think you should leave now because your actions speak louder than you words. Good bye Abhay
Abhay stood still: what do you mean by good bye I will not leave you. You are everything for me. Piya don't do this to me.
Piya shouted: I said leave
Abhay tore his stare from her. Blood spots started to form in his as in tears before he broke front of her he leaved from there before glancing once back to his broken family.
9 YEARS LEAP
Misha please calm down you are making me nervous too..
Misha taunt her: really I am making you nervous. This is the lamest thing you ever said to me. You are most experienced on us. May I remind you have three children and still you are nervous about the birth of your fourth baby you are kidding me.
Tania laughter filled into room made other laugh too
Priya while to control her laugh: why are you so jealous Misha after winked her?
Misha shouted: why I should? Oh God I am so frustrate. I will never try for child again.
Alina smirk: we didn't force you for this indicating to her swollen abdomem.
Before anyone could reply Vaniya came inside, looking for her mother.
Piya who was comforted on bed by the lean support of head board smiled to see her youngest daughter, Piya made her lay down beside her and started to stroke her head. Piya sweetly said: how is my baby?
All smiled by heard their conversation and decided it's time to leave now.
After Piya made her sleep she started to think about her past how life continuous to change and neither wait for anyone.
After the birth of Sameer she never thought that her life will ever change she still remember how she made Abhay broken by her decision but that time she was not sure if he wanted them back but still she accepted to live under same roof for their son that he will not be affected by their rift as a hybrid their son was genius and felt the change of emotions easily by the half wizard he proceed to grow like a normal child.
Soon Abhay started to made small acts to make her win back either it was a daily bunch of roses lied beside table or peeking on her when he think she must be sleeping and always felt sorry for what he done. What really made Piya realized why Abhay reacted that way because he couldn't handle out the immediate change in his life. He was not prepared for this all. Well everyone adoption nature is different from others, it's obvious if I can accept some un happening incident lighter form it's not necessary the other one also act the same and that's what Abhay did and still do though now I know how to handle him. He still cop up with the leader thing well know he feels better because the king type language is banned by him but the others still call him SIR. He made a committee which helps him to make a right decision. And well after the whole loss of one year we became happily couple.
Piya snapped out of her thoughts by the cracked sound of opening door and then heard the most beautiful sounds... mom we are hear
Sameer and Karan approached slowly near me as the fact their younger sister were sleeping.
I embrace them one by one: so how was the day boys with your dad? Abhay was standing behind them.
Karan replied excitedly: it was great fun mom I eat lots of chocolates. It was yum
Piya smiled and looked over her other son: and you?
Sameer laugh: too good I mostly spent time with uncle Siddharth and we played a lot.
Abhay interrupted them because he knows if he didn't stopped them than the trio will talk whole nigh and well he wanted to spent some time with his wife.
Abhay announced them it's time to sleep and kissed his boys before made them sleep next door room and after that he took his princess into his arms and placed her into crib while moving back to lay with Piya.
Abhay tilt his head to left to look Piya who was looking back with tired face
Abhay with concerned said: you look tired Piya
Piya placed a small smile: yes today was the rough day your child is so keen to come out soon what I will do?
Abhay smiled looking his wife lovingly: after all he is mine son
Piya took a long sigh: you and your predictions about your son it could be a girl.
Abhay naughtily said: it is a boy we will make it the baby girl next time.
Piya in dramatic way slapped Abhay on his chest: not a chance it's the last one after this our family will be complete. Abhay pouted after heard this. Piya continue seriously Abhay four children are enough it's too much. We break the whole family record you know that. Misha and Milan have their second child on way, Siddharth-Alina and Kabir - Priya have two child's and look we are expecting the fourth one...
Abhay try to defend: what about Varun and Tania they have three kids.
Piya replied: three is less than four
Abhay intensely stare to Piya and placed his hand on her swollen abdomen: I love you Piya and these kids are blessing for me they make me realized everyday that you are with you and I love my soon new born child. I am not regretted anything do you?
Piya pillowed Abhay chest to place head: I love being a mother. You are right it's a blessing to have them and no I am not regretting to have any of them. They make us complete Abhay. I love to spend every day with you.
Abhay stare down to his wife: thank u for accepting me in your life and giving me the precious gifts. I LOVE YOU PIYA
Piya slightly moved her head near Abhay face and whispered: I LOVE YOU TOO. MY LOVE FOR YOU IS ENOUGH TO FORGIVE YOU, TO ACCEPT YOU, TO CHERISH YOU AND REMAIN WITH YOU FOREVER AND EVER.


Edited by bellaaa - 09 February 2014 at 1:02pm