JaiGanesh ShivaOm
Hi all, I'm Sia.
I have got this privilege of updating the Written version of the show for
Mondays
and
Fridays
.
I would like to thank you for giving me this opportunity.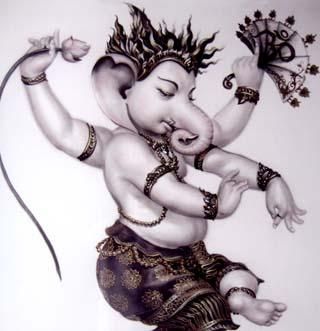 Devon Ke Dev Mahadev13-July-2012 : I'll call it as the 'super fast express'
The Episode starts with a dialogue between Nandi and Mahadev about Parvathi,who has made it clear to Nandi that she would pass the tests and her sadhna on her own.Nandi shows his concern about Parvathi's sadhna.However Mahadev is confident of Parvathi's determination ,also she would succeed in her tapasya.
Humpty-Dumpty had a great fall...
yeh our own Indr dev is thrown into a kinda dark cave where he discovers Ex- Arrogant -Ignorant- Indr devs .even there he tries his Ego show by demanding respect from them only to be muted by there gag at him, as he too is one of them now.
-----------


On the other hand Parvathi is deep in her tapasya with all that scotching heat around her,where as Shiva is one with her tapasya...as if being there with her in her path of acquiring him.
The fire,the hear around Parvathi slowly diminishes because of her body's Agni chakra winning over the Fire element.
Shiva is glad to see Parvathi get over one element among the 5 elements of the body.


-----------
Indr is lonely and depressed..feeling terrible of his behavior with his fellow devas -most of all with his Guru.
He recollects his rude and ignorant actions and all of a sudden Brhaspati appears in front of him.
Indr goes to his guru and apologies to him by falling on to his guru's feet.. Brihaspati explains to him that "to get-over greed,ignorance is as difficult as managing the thrown of the swarglok.You have left a stained mark behind you doing this.Not only this world ,but you have dishonored Mahadev. "
He justifies himself by saying that " this my misfortune- a live example for being punished cause of my arrogance n ignorance."
Brihaspati utters "A guru(master) never gives up on his Shisy (student),but it is on these times of challenges a guru stands by his student." And he takes Indr to Mahadev-the only one who can bring Indra out of this disgraceful plight.

-----------
At the swwarg lok where the asuras have captured (made their new adda).
Changu(Veervan) inform Tarkasur that there is still one thing left..on asked for details.
Changu says "We have no doubt captured swarglok but the leftover -resident devas are not co-operating.Defeated enemies can any time attack ."
"There is only one solution- kill all the devtas n also Indr so that in the future there wont be a problem with his heir." Tarkasur resolves
Shukraharya is as usual freaked out hearing this...Changu n Mangu are giving
*wicked grins*
-----------
A bunch of devtas are being chased by asuras...at the end of the chase the devas take refuge at rishi Dhadhichs ashram (every bodies at time fav spot-as its one of the safest place at the moment on the earth)...seeing this the asuras stop.
And one asura (who looks like Kancha of Agneepath 2012 version
) he swears that he would see till how long the devas stay in the refugee of Rishi Dhadhichi.
Indra falls on the feet of Mahadev with tears in his eyes,repentance in his voice..
Nandi is like aag babula seeing Indra.
Brihaspati too requests Shiva in support of Indr.
Mahadev gestures him to get up..
"Guru is equal to God,and you have disrespected God by dishonoring him.Ask forgiveness from your guru but not me, if you want forgiveness ask from those soldiers whom you left in the middle of the war,if you really need forgiveness apologies to Ganga who left her parents -the earth- just to purify Swarglok ,If you seek forgiveness asks it from Dev Parvathi whom you call as 'Mata' and you tired to kill her!" Mahadev admonishes.
Indr dev is supper guilty and asks Mahadev to punish him ...Mahadev aptly punishes him by leaving him alive- so that he would live with that guilt and rue..he had to live with this Atmgyani- Brihaspati then only will he be free from greed n hauteur.
Mahadev asks Brihaspati to leave for Rishi Dhadhich's ashram along with the other devtas.
Shiva goes back to his meditation.
----------
At Rishi Dhadhichi's ashram...all the devtas take shelter at his ashram and requests him to hide all their powerful weapons(devastra) within himself ..so that even after innumerable attempts of asuras they wont be able to find them.
Rishi Dhadhich assures them that they can stay carefree.
(One of the best scenes of the show)
Rishi Dhadhich
transforms
all the devastras and dissolves them into his kund filled with sacred water..he then drinks that water..which made sure the safety of the astras (weapons)
----------
Nandi inquires about what all test are left that mata Parvathi has to go through
"Jal Tatv sadhna- this is the most important one.By the means of water all those kriti's (defects) are neutralized which might effect the nature badly.After the jal sadhna Parvathi would master all these elements-by which the nature was created. "Mahadev replies
----------
Parvathi now does her tapasya on one foot...as time passes she is wrapped by thick cover of ice.
Seeing this Mahadev feels happy n honored to be as the guru of such a determined student- Parvathi.
----------
(About this Track ..the way they are rushing things...i felt as if they where tired of seeing Ganga lamenting- wondering the doors of swarglok..so they decided on settling her in the locks of MAhadev
)
Bhagirath as advised goes to Mahadev, who suggest Ganga is the perfect choice for bringing purity,abundance on earth...he asks Bhagirath to make his way to Brhmalok.
Poor guy was literally switching between two loks...
Bhgirath now is in front of Ganga requesting her to descend to the earth to free the world n his ancestors from misery.
Brhmadev explains it to her that her creation was just for the betterment of this world .. or else her life is of no use.
But Ganga is stuck in LAMENT MOD due to Shiva's rejection
Ganga narrates her sob story that she has been rejected by Mahadev
Brhmadev is like
Love-Rejection
(hilaa yeh kab huaa
)
She is even got plans n a wishlist to come back to earth.
She expects that when she loco mote back to earth she should be welcomed by MAhadev himself.
Brhmadev explans to her that all her dreams are meaningless as Shiv n Parvathi are destined to become one..and that she is left with one most significant thing - to go to the earth.
Bhagirath tells her that it
is
Mahadev's wish.
Ganga feels supper happy hearing this and decides to go back..But she warns them about her violent currents that may destroy the earth..It can only be got into control by Shiv.
Ganga puts the clause (a relevant one..dnt know how much of this actually happened!)
that she would go down to earth only if Mahadev bears her speed.
Both Brhmadev n Bhagirath are again in a fix.
Bhagirath
again
comes back to Shiva with Ganga's acceptance,demands n fear of the consequences that her own speed might show.
(Kya SHiv Question bank hai..jo sab unkhee ke pass chalegate hai woh he tapasya ke beech main..
)
Shiva asks Bhagirath to inform Ganga to control the currents n speed of her he himself would contain her into his hair.

----------


Ganga is content now ,that her wish has come true..she takes permission from Brhmadev as she made him her father...Brhmadev as a father wishes her all things good and blesses her that she would be present in the Brhmalok as 'BrhmGanga'
----------


Mahadev is standing ... on the top of the mountain with his locks open... waiting for Ganga to come down to earth..
------------------------------------------------
Precap:

Brhmadev allows Ganga to flow down to earth from his kamandal..
Shiva announces Ganga will be famousely called as 'Bhagirathi'
------------------------------------------------
Thanks for reading the update
Have a nice time
Regards
Sia