"Upper walay nay sub kay leye kese na kese ko banaya hai..bus uska milna hum pay chor diya hai."
We have heard this quote in many variations' whether it is in our holy book or dialogues from a movie or a novel' everyone, deep down, believes that there is someone out there for us' we became obsessed with Armaan and Riddhima's love story because it was perfect through its imperfections' nobody and no relationship is without glitches' but through hard work, honesty, and trust, we could unite' sometimes' FOREVER..
hahah..had to put that in there..
A lot of us didn't believe kay Armaan aur Riddhima ke story real life main bhi ho sakte.. "aray, he tu script hai' director ka kamaal hai' public ke demand hai, " etc is what we heard for months and years' magur what about KSG and JSG? There was no director' they weren't reading off the script'. As much as we wanted them together, we didn't ask for them to hook up.. we may have told them that we wished that..but nobody was there to give them direction' their love unfolded and went through many hiccups, just like AR's' they separated, got hooked up to others, one waited'the other hesitated..but later, the two couple united'
Whether it was to see the fireworks that said "Armaan and Riddhima..Dill Mill Gayye" or the news that we received from various sources that KAJEN were getting married, we were left spellbound' we couldn't believe it was actually happening' our dreams of seeing them together actually came true.. When I watched DDLJ, i really wished SRK and Kajol could get married.. it is natural to want your favorite on screen couple to be together off screen too' at the time I didn't' know SRK was married'lol.. but this time..woah'
Riddhima got married..for wateva reason' Armaan came back.. found out about her marriage..was torn into pieces.. Riddhima was dying a slow death leading two lives at once.. she knew she was married but couldn't help falling for Armaan over and over and over again'.Karan was married.. then hooked up to someone else' Jen waited..prolly dated others.. until one fine day, a year after Armaan and Riddhima reunited, Karan woke up and smelled the coffee!!! Lol' "lemme call jenny.. can't be without her" wow.. imagine that realization!!!! "dil garden garden ho gayaaa ;)"
The similarities between KAJEN and AR are never ending.. I could pretty much write a book about it and never get tired' AR gave me hope then' KAJEN gives me hope now'. Aur umeed pay duniya qayyam hai logoun ;)
Some song dedications for the couples..
Before they met: kahein tu..hogi woh..duniya jahan tu meray paas hai' jahan main..jahan tu..aur jahan'teray meray bus jazbaat hain.. hogi jahan..subah tere.. palkoun ke..kirnoun main..lori jahan..chand ke..sunay tere baahoun mainnn'.
The First Meeting: aankhoun ke..gustakhiyan..maaf ho..ek tik tumhe dekhte hain..jo baat kehna chahay zuban, tum say ye woh kehte hain.. aankhoun ke..sharm o haya..maaf ho' tumhe dekh kay, jhukti hain..utthi aankhein jo baat na keh sakein..jhuki aankhein wohhh..kehte hain..
Falling in love: tujhe dekha tu jana sanam..pyaar hota hai dewana hai sanam..aub yahan say kahan jaaein hum..tere baahoun main mur jaaein hum'.
Fighting and Separation:
Jennifer and Riddhiima: tujhe yaad na mere aae' kese say aub kiya kehna' dil roya kay aankh bhur aae..kese say aub..kiya kehnaaa
Karan and Armaan
Nahi saamnay..ye alug baat hai.. nahi saamnay..ye alug baat hai..meray paas hai tu'meray paas hai..meray saath hai' bichar kay bhi mujh say..juda tu nahi..khafa hai magur, bewafa tu nahi.. meray haath main he..tera haath hain..meray haath main he tera haath haiii'
Reunion
: Tere liye, hum hain jiye, honton ko siye'Tere liye, ham hain jiye, har aansoo piye
Dil mein magar, jalte rahe, chaahat ke diye'Tere liye, tere liye'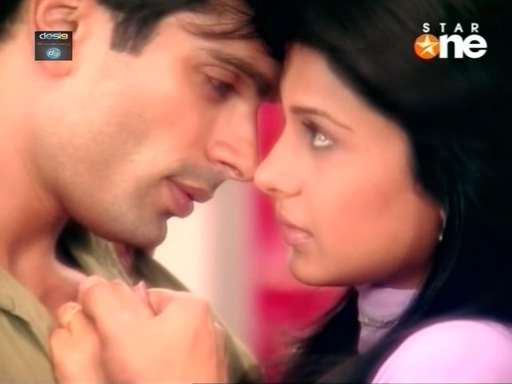 Wedding: Aankhoun say kajol, lay jayyein gein..zulfoun kay badal, lay jaaein gein..aray hum aaein hain door say youn wapis na jaaein gein.. hum, aapni, sajaniya lay jayenge'aray hum aapni dulhania lay jaein gein' tu haan kur ya na kur tere marzi soneyeee' hum tujh ko utha kay lay jaein gein..doli main betha kur lay jaein geinnn
Forever and Ever and Ever: kasam ke kasam hai kasam se.. hum ko pyaar hai serf tum say.. aub ye pyaar na hoga, phir hum say'.. Log Kehte Hai Pagal Hoon Main Yeh Bhi Na Jaanu'Dil Lutaya Hai Maine Ab Kisi Ki Na Maanu'Chen Dekar Ke Maine Becheniya Yeh Li Hain'Neende Uda Ke Maine Tumse Wafaye Ki Hain'Kasam Ki Kasam Hai Kasam Se'Jee Rahe HAIN Hum Tere Dum Se'Ab Yeh Pyaar Na Hoga Phir Humse
DREAMS DO COME TRUE'SO GO FIND YOUR ARMAAN/KARAN AND RIDDHIMA/JENNIFER'IF YOU BELIEVE'YOU WILL FIND THEM.. SOONER THAN YOU THINK!!! LOVE YOU ALL'MUAHHH!!!
ARMAAN & RIDDHIMA'FOREVER
And Now...
KARAN AND JENNIFER'.FOREVER
Note: I didn't make any of these siggies and nor are any of these pictures mine..credit goes to the ppl that worked on them..@snehuuu..i did borrow some pictures from your album..muah!!!


Edited by ShimzAR4EVER - 10 July 2012 at 10:33pm