Mitr: Encounters in the Monsoon'.
No one can tell anyone what love is; you will simply know it when you feel nothing else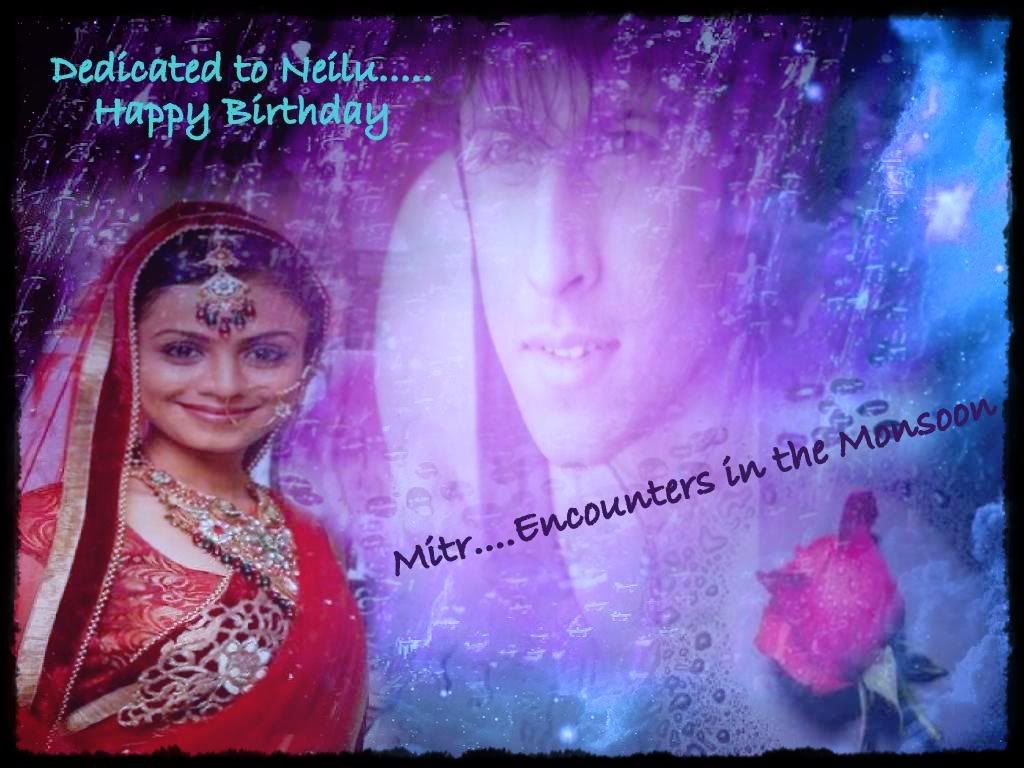 "Bagad bam ba bam bagad bam bam'Bhole baba ki jai'.",The sound of the blaring loudspeakers coming from the surroundings disrupted the peace of the city in the wee hours of night. The rain splashed across the windshield as he drove across the city. The huge red siren blaring on top of his jeep and the sky thundered with the echoes of warnings about the torrential downpour. What a night it was. He wiped off the sweat from his face. Yes !! It had been a suffocating day ,with the sun shining with pitiless ferocity and the whole day had just vanished in checking all the security arrangements ,running from pillar to post .The only respite being the tropical monsoon shower which eased the humidity a bit .He was almost dead with exhaustion.10 days ,He had had neither ate nor slept or even shaved .With the influx and outflow of lacs of pilgrims every day ,he had sweat it out like others to make everything run smooth. Who said Monsoons can be fun.. Every year Monsoon or the month of Sawan brought forth with it chaos, cacophony and headache. Not everything was Rosy in his life. Wiping off the sweat and sighing the umpteenth time ,he looked at the huge line of kanwariyas while his driver took him through the narrow alleys and lanes of Haridwar.
"Byah karan ka kab vichar che" (Kumaoni),She asked him on phone and Kesar was as clueless as he was days ago'
Had not this Mela started,I would have been a married man till now .Life had been very easy and simple, specially when you belong to the sleepy hamlet town of Nainital where you have a home ,a mother and a childhood sweetheart waiting for you .City might have snatched certain pleasures in my life but what it had taught me was valuing the little pleasures even more. Lost in my own thoughts,I bit my lips as I thought about her sulking face when I declared that I will marry her post this mela. I knew she had dreams since childhood ,she loved me and wanted to marry me. My mother being the brewer of this lovely thought in her mind. Not that I could complain..Talli was everything one could imagine in a life partner .She was beautiful ,sweet and loving..Could I ask for more Certainly not!!.
"Kesar byah karan ka kab vichar bal'"(Kumaoni..) (When do you plan to marry me..)
Kesar's chain of thoughts came to an abrupt end and he replied, "Bas talli Kal akhri din phir ghar akar ek ache se din byah karenge'.",He replied smiling ,his eyes still looking here and there through the window to check that everything was fine outside.
I knew my words would have thrilled her and she would have ruffled the necks of our sheep in the village kissing them good night as I could hear her making that sound and kissing me good night as well.It should have thrilled me too ..Any man would have ..But somehow my focus was deviated as my driver interrupted ., "Saab'Udhar kuch log dikh rahe hain'."
"Hmmm ",I quickly put the phone down signalling him to stop and pull over.
The screeching of the brakes broke the silence of the dilapidated old Ganga bridge as the jeep pulled over followed by another one in which his colleagues were following him.The bridge was a little distanced from the main route of the kanwariyas and was dark. .It had stopped raining by now'The wind was blowing in fitful virulent puffs .Kesar got down from the jeep and his eyes fell on a group of rickshaw pullers consuming bhang and smoking grass..
"Uniyal bhaga de inko'.Utho sale yahan se sab log..Idhar ",Kesar grabbed one by the collar slapped him hard, "Idhar nasha karte ho'.Bhagaon salon ko''
Within seconds of his instructions the khakee men started shooing off those rickshaw puller from the bridge'.
"Saab saab maaf kar do abhi jawat hain'.",begging for mercy with folded hands the rickshaw puller scuttled and scooted off from that place.
Silence ensued as the bridge stood basking in the vibrant moonlight playing hide and seek with the dark thundering clouds..It would rain again very soon ..
"Saab'.Hum udhar wali gali mein round lekar atein hain'.",One of the men sought his permission with a tight salute ..
"Hmmm ..",Kesar nodded his head in approval signalling both his driver and his colleagues to follow the routine while he decided to stay back .After all the street was round the corner. Moreover he was not needed so he decided to wait for them ,
Jaldi aao main tab tak yahin intezaar karta hun'"
Marching together the men with large guns and lathis in their hands , climbed on the other jeep leaving Kesar and his jeep behind'
He took out his handkerchief and wiped off his face which was a little moist and soggy due to the suffocating humidity. His shirt was drenched in sweat, so he decided to take it off .He had not bathed in days and his uniform got soaked in mud numerous times so finally he had no option left but adorn civilian clothes.
Honestly I smelt like a dustbin, sweat mixed with my deodorant. But then nobody has a privileged life like mine. Ever since the mela started I had been on my toes. I was feeling tired and sleep was forcing to make my eyes glued shut right there and then. My body ached for some relief from the hectic schedule .Tomorrow everything will be over ,I thought and sighed but an amusing smirk emerged on lips remembering Talli's shopping list for the wedding ,her pink lehenga, her bangles and stuff..Phew I had a herculean task ahead too'
Thinking about the shopping list, with tired footsteps he stepped on the pavement and leaned on the bridge. The spicy wind nipped his cheeks and dried his vest .He extended his arms to kill the lethargy that had seeped in his body due to being working 24*7.Dwindling and searching his pockets he finally found his cigarette and lighting it with a matchstick puffed imaginary clouds and smiled yawning and rubbing his eyes. The river Ganga flowed with its magnificent grandeur as the twinkling lights from the surrounding found their reflections in the deep pellucid waters. The soggy aroma of the atmosphere of the monsoon night filled his heart with a little ease and pleasure. The wind wisped through his hairs as he leaned a little more to have a better view of the Ganges. He was thinking about Talli's pink wedding lehenga'.
Oh how I had wished to see my bride in red'I always had seen weddings and the sultry brides in red but Talli was hell bent on pink'Anyways I just focussed on the complete goodness of the weather .It was just getting pleasant and calmer'.I had to smile coz tomorrow would be the final day after all this would be over and I would be married to Talli ASAP.
A screeching of the brakes broke his own lullaby state as an SUV drove past him and stopped at the end of the bridge..A careless leisurely look and Kesar was back to puffing his cigarette and looking at the vast expanse of the magnificent river. The door opened and the flash of lightening followed by the roaring of the thunder startled Kesar .An enchanting tinkling of ghungroos made him look the person who just walked out of the car. A blinding flash of lightning illuminated the scene and All Kesar could see a woman draped in the finest and darkest shade of red lehenga. In short, she was dressed as a bride, the long red veil snugly wrapped around her .Kesar almost forgot to blink his eyes.
The darkness was so profound and the weather was so gloomy that I could hardly see her face'But from a distance her petite form and her sultry wedding attire did grab my attention. Enough to make me spellbound'The thundering increased and I almost forgot to breath. The strong winds made the frills of her dress flare as she walked closer to the railings of the bridge. The wind grew wilder and within a second before my mind could come to any logical conclusion about the reasons of a bride landing up in a secluded place in the middle of the night, a blinding flash of lightening slightly illuminated her face'I felt as if the lightening had struck me instead. A huge nath adorned her cheeks and all I could see was a side glance of her 'My mouth gaped in wonder looking at her when she suddenly unveiled her dupatta that had snugly fit her .Hovering it away and swinging it at her the wind blew hard puffing the dupatta behind her as he held its corners between her fingers and leaned her body forward as if trying to soak the wonderful freshness. .My pulse unknowingly leapt .What stood before me was a sight which took my breath away '.A beautiful bride swaying and leaning in all her glory. Suddenly she untied the huge bun smartly tied on her back and released the caged ripples of her long tresses and they almost feel like a garment covering her back and flowing with the wind.
My heart did certainly blast for a second as I could hear nothing.Everything came to standstill as she ran her fingers through her wild locks releasing each and every fold and closing her eyes arching her body holding on to the railings'.A strange mesmerisation gripped me..I felt trapped. Never in my life I had seen a sight like this'..
Before Kesar could think of anything else ,the girl took off her shoes throwing them away and dangerously climbed the railings and leaned more, her body almost swinging from the bridge ready to fall'..
Kesar was shocked.Without even thinking for a second ,he felt as if she was there to jump ,he rushed as fast as his legs could carry him .Within a few seconds he was there and he pulled her hand almost toppling her and she landed right there falling in his arms'.
Again a flash of lightening just blinded everything. Everything became blur as I laid my eyes on her while she had shut her eyes in fear clutching on to my vest in my arms. I could feel her shivering with the shock while I completely was lost in what I saw. Eyelids tightly shut and eyelashes fluttering kissing her soggy cheeks, perfect bowed eyebrows, beautiful lips which were quivering with nervousness and the perfect honey dipped complexion.Was she REAL? Or Was I dreaming? I really wanted to pinch myself to check'.Hair deep shade of purple grapes viewed at midnight, face haughty and bold with a little flush and EYES! YES!! She suddenly opened her big bright eyes ..YES!! her big bright mysterious eyes which made me weak on my knees. I had never seen anything or anyone like her. Her petite form well scooped in my arms as she looked at me baffled .
"Niche utaro mujhe'.",Her voice tinkling in the perfect crystalline tone brought Kesar back from his reverie and he made her land on her feet. She snugly fixed her dupatta and Kesar came back to his senses and tried hard to stay alive and find his voice',"Aap ko kudne ki koshish nahi karna chahiye..Apni jaan lena kanoon ki nazron mein jurm hai'."
"Aapko kisne kaha ki main Marne wali thi '.main to bas'..waise bhi who the hell are you'..?"She stomped her foot in anger and her nostrils flared. Kesar was taken aback by her reaction '.Before he could utter anything the blaring of the siren broke Kesar's trance and several khakee men jumped and saluted in front of him'.,"Saab udhar sab theek hai..ab '..agey kya karna hai'."
The girl looked at him with an expression of confusion.
Honestly she was looking prettier than before. The whole confusion made her face flush and her cheeks had turned into the loveliest shade of pink'.I did not why I felt the urge to look at her like that but the truth was I could have stared at her blatantly for hours even without blinking my eyes'Yes I knew it was weird but I felt possessed somehow'.
"Kuch nahi Madam ka licence check karo ... Ask her 'keya jila ke gaon ko cheye(Kumauni) (Ask her which district or village she belongs to)
The girl looked at him with questioning eyes as one of the men asked her for her licence, "Madam LICENSE HAI KYA'."
Meanwhile Kesar turned around and lit another cigarette and looked at her confused face .
"Bloody illiterate cops'Who the hell are you..",She yelled in ager as one of the men started searching her car, "Back off'"
Kesar 's lips parted in a smirk the cigarette still dwindling stuck between his lips as he took out his shirt from his jeep and wore it still left the front buttons open and walked towards her '
I could have started laughing at her miserable expressions. I knew how people behaved with cops thinking about us as illiterate uncouth people'
" Kesar Rawat ,SSP haridwar division'",Kesar extended his ID card towards her to which her mouth parted in shock and her eyes were just ready to pop out of her sockets as he continued, "And for your kind information being a cop does not make you illiterate right now if you would care to co-operate..Uniyal Madam ka license check karo aur alcohol limit bhi.."
I had expected a rant from her stomping her foot not co-operating with the alcohol tests we always had complaints from ppl about that but instead she gave me a pleading look and said in her faint voice, "Which city is this..and I am not drunk'."
Her feeble voice just melted my heart'I wanted to let her go
Gulaal Mishra' Delhi ka license aur gadi ka no bhi Delhi ka hai gaadi inke naam pe hi hai'."
Uniyal had finally found her licence and papers after searching the car..Kesar looked at her with curiousity.She was hardly saying anything unlike a few minutes ago'Something was not right. She clutched on to her Dupatta and rolled it continuously between her fingers in nervousness'.
"Yes it is Haridwar Madam..Aur aapko itni raat ko yahan akele itni jewellery pehen k akele nahi khade hona chahaiye'.Are u coming from Delhi'.."
"Yea I am..How far is Tehri from here'.",She asked still her eyes fluttering and Kesar could sense the anxiety in her voice'."
"Hmmm 70 kms more But Its night and raining too.I think you should pull over some hotel tonight and start early morning. Do you want me..I mean my men to arrange a safe place for you'tonight'"
"No I will do it myself thank you'Can I go now'..",She asked with her eyes fixed on Kesar'
No the answer was a big no..My heart screamed loudly'I did not know why but I never wanted to lose the sight of her'I felt as if she needed me'Though she was no damsel in distress but I wanted to be her knight in shining armour. She was strange but I was behaving strangely'.
"Hmmm'",I muttered unknowingly and she figured it out for a yes and before I could gather my senses or say anything she just closed her cars doors and vanished in thin air'.I felt as if something had been stolen from me'Anyways life had to move on. It was 3:30 am and my official time top rest before I could start off again for the finale of the melatomrrow at 5:30 am'
"Uniyal'aur tum sab..ab ghar jao next shift walon ko bolo round lene me bhi thodi der mein fresh hokar milta hun'."
Kesar signalled everyone to leave .His driver was about to open the door for him when Kesar said, :"Ab tub hi ghar ja main khud drive karke jaunga'"
"Par saab "
"Par war kuch nahi ab ja..",Snatching the keys from him ,Kesar switched on the engines while everyone saluted him as he drove off'
It had started drizzling again but the drizzle was so light that it only formed a mist and haze in the environment. Whistling a tune ,I drove off towards my small temporary quarters to freshen up before the finale tomorrow. The rain lashed across the city which was sleeping apart from the highway which was bustling with lacs of pilgrims walking with kanwars on their shoulders carrying Ganga jal from Har -ki -pauri to their respective towns. I drove past the main crossing and took a steep curve towards the police lines back to my quarters away from this hustle bustle'A small stretch of the woods near the Ganges and I would be home .Though I was happy that I would be going home but my mind still could not erase the thoughts of the wonderful bride and my small encounter with her'Gulaal How pretty a name can be ..So suited her'.Ahhh If only I could see her again sometime maybe'Her thoughts made me dizzy .Never in my life I had experienced such a thrill for anyone. Ever since I could understand what these feelings meant, I knew I was going to marry Talli after all my mother had promised her father who was the headmaster of the village school and died an untimely death. Did I not like Talli .No I did like her ..In face she was my sweetest buddy but what our relationship lacked was something on my behalf. No matter how much I tried, I failed miserably to feel the pull for her. But something indeed was wrong today. My heart couldn't seem under my control as I thought about her. Who was she? Why was she there in the middle of the night dressed up as a bride. Why did she want to go to tehri ..All that was beyond my comprehension'.I sighed the umpteenth time thinking about her ..GULAAL..what a pretty name'..
He was so lost in her thoughts that I took a very dangerous curve and was suddenly blinded by a flashing light from a car and lost the control on the steering. His jeep maneuvered madly ,screeching were the brakes but ultimately he managed to apply them at the right time before the jeep was an inch away from diving into the river ganga which divided the whole city into two halves flowing along its whole length'
"Phew'.Thank God..",He murmured as he wiped off the fine droplets of sweat that had appeared on his forehead when suddenly he recalled the other car and his ears could hear a blaring sound of the horn from amidst the woods lining the rod. His eyes were ready to pop out from his sockets as he quickly jumped out of the jeep only to find an Suv crashed near a tree in the woods. He was horrified and started running towards it,'The horn was blaring continuously and to his shock and horror ,he realised from the faint tail lights that 9it was the same SUV of Gulaal'
"Madam. Madam'.",He frantically knocked the doors and the windows. Only to be replied by silence in return'He was hell scared. In fact very scared imagining how she would be inside'The doors of the car seemed auto locked and the blaring horn pierced his ears .Quickly thinking for a second, he removed his shirt and covered his fist with it'
And CRASH!! Crumbled the glass window of the backseat due to his aggressive punch as he frantically unlocked the doors and opened the door.
There she was shivering in shock ,her head was on the horn ,her hairs covering her face. Horror paralysed my limbs as I saw her like this'Is she safe. I removed all her hairs and made her look at me patting her cheeks., "Madam madam. Are you fine'."Her eyelids were drooping due to shock..I clutched on to her face trying to check if she was injured but everything seemed fine, "Madam Madam 'Are you OK'.Look at me..Its me..Kesar'Kesar Rawat 'SSP remember'.Look here Look at me..You will be fine'"
Instead of reacting anything she just shivered, her quaint lips quivering, her eyes parted in shock which made me realise that she was hell shocked. Without waiting a second. I held her in my arms and pulled her out making her sit on a small stone beneath the tree..
"Hey hey'.Look at me..You are fit and fine'.Just look at me'",I cupped her face in my hands and made her look at me.She looked like a timid bird scared by a gunshot'.
Removing her hair from her face ..I tried to calm her down, "Its ok'.We are fine..yea TRUST me'."
Saying this I ran towards my jeep to fetch a bottle of water and came back running, "Hey ..Madam'you ok'Here take this '"
I extended the bottle towards her .For the first time she stared at me looking directly into my eyes. She was looking completely tired and baffled'.
She was still shivering as I could see the bottle swinging in her hands as she unscrewed the cap And gulped it down her throat and within a flash of a second she broke into hiccups'severe ones'.
I immediately sat beside her rubbing her back and consoling her, "Trust me Ma'am. You are fine and safe with me here..
Suddenly wonders of wonders and miracles of miracles happened. She could not control any further and burst into tears hugging me'The transition was so quick that my mind took almost a minute to process whatever happened. She crying bitterly with her head buried in my bosom. My hands just froze beside me..I had never been this close to any woman not even Talli. She was complete stranger but her tears pierced my heart'I was choked to see her crying. I could not resist any further and put my arms around her consoling her ,constantly rubbing her back,"Hey you are fine TRUSTME!!...Aapki pareshani kya hai..You can tell me..We will sort it out right'."
Somehow I could make out that this outburst was not merely due to the shock of this accident. There was definitely more to it'
Minutes ..several minutes passed as Gulaal cried bitterly in his arms and Kesar just held on to her providing her solace..It had started to drizzle again .Kesar parted from Gulaal who had by now calmed a bit. He thought that this was probably not the right time to talk to her ..He had decided that he will get her to some safe place where she can rest and maybe then have a talk with her about what went wrong'As soon as she calmed down, she felt awkward but before she could say anything Kesar stood up and extended his hand, "Its ok'.We will talk tomorrow. Who lives in Teri'.?"
"My masi.."
"Let's make some good arrangements for your stay..aur phir hum kal baat karenge..Come on now'.",Kesar said with his hands extended towards her..Gulaal looked at him unsure .
"You can trust me'for your life'TRUST ME'",Kesar said with much anticipation in his eyes..
Gulaal thought for a second and placed her hands in his accepting his help and got up
Right at the very moment ,yes right that very same moment. My heart stopped beating.. I drew in a sharp breath to remind me that all this is more than a Dream. Everything was happening so quickly that I could not make any sense. There were so many questions to asked ..there were so many questions to be answered but yet both of us silently walked towards my jeep'In fact I almost dragged her .Everything was happening in the spur of the moment yet there was an unusual excitement in me..Why ?I could not fathom'.Thinking too much was never in my veins so I decided to go by the impulse.
Hello Uniyal'Zara 2-3 aadmi aur ek mechanic ko lekar idhar jungle ki taraf aa ja'.aur haan Hotel Ganges Riveira mein ek room book karwa'Miss Gulaal Mishra k naaam se'.",Kesar picked up his walkie talkie and gave instructions to Uniyal while Gulaal stood near him still with her head hung.
"Come I will drop you to to the hotel and Gaadi ki chnita na karein '..Kal subah tak aapke paas hogi'."
"Thanks..So much '.But'."
Before Gulaal could complete her sentence a voice echoed from the PCR (police control room)
This is PCR calling'Ek ladki./..Naam Gulaal Mishra Delhi se gayab hui hai'.Minister Revji Mishra ki beti hai'.suna hai idhar ki ore hi ayi hain..Koi khabar ho to report karein immediately..I repeat'."
Kesar looked in shock at Gulaal and was about to answer when suddenly Gulaal pounced on him snatching away the walkie talkie and throwing it on the ground smashed it into pieces kicking it hard and started running towards the tree in which she had crashed her car'.
"Listen'.Madam'",Kesar ran behind her completely clueless'..
What I saw that was hard to digest. Gathering stones and angrily hitting her car and kicking it madly, She was panting and furious..
"I hate you. I hate you'.",She kept on kicking the car madly and hurled stones at it'.Her breath was rapid and she was angry. Like a bubbling volcano ready to explode. I tried to stop her and clutched her arms, "stop it Ma'am'.Stop it''"But she refused to listen and struggled and writhed in my grip still mumbling, "I hate you I hate you'.."
"Listen'.Ma'am '.Listen Gulaal'",I shook her madly and now roaring angrily so loudly that she stopped moving and looked at me shocked'
"What the hell is your problem..Tumhari pareshaani kya hai..Tum mujhe bataogi nahi to main kaise HELP karunga'..",I shouted at the top of my voice .My patience was running out and I almost squeezed her arms.
"You are hurting me Officer'.Mujhe dard ho raha hai'..",She muttered ,a tiny droplet escaped from the corner of her cheeks rolling down and finding its way to the ground which did not went unnoticed from me..I quickly realised my mistake and left her, "Oh Sorry'.I am really sorry. But why don't you tell me'..",I banged my fist on the tree biting my lips and looking back at her trying to explain, "See agar tum mujhe bataogi nahi'.to main tumhari madad kaise karunga'.YOU NEED TO TRUST ME.."


Edited by manzilmukul - 11 July 2012 at 3:45am