The beautiful morning of AR's wedding ceremonies had finally started.
Today Sangeet Ceremony of AR's wedding was planned.
Ridz woke uo around 8 a.m. and as she opened her eyes and adjusted to the dim light of her room,she was surprised to see the new changes in her room. It was all filled with hundreds of rose bouquets each having a card n there were good number of cute teddy bears as well.
She sighed and said: Armaan
She picked up the cell to call him but before she could, he himself called her
AR: good morning Mrs. Malik kaisa laga surprise????????
RI: bahut bahut bahut acha Mr. Malik lekin yeh sab kis liye
AR: meri princess k liye
AR: cards padhey
RI: nahin padh rahi hoon
She opened one card on which was written
"You may only be one person to the World,
But You may also be the World to one person."
Another card:
"There are many people who come and go in our lives...
A few change us in ways that change us forever,
Making us better for knowing them
You have made a difference in my life.
Thank You for being you."
Another one:
If kisses were raindrops,
I'd send you showers.
If hugs were seconds,
I'd send you hours.
If smiles were water,
I'd send you the sea.
If love was a person,
I'd send you ME."
Another one:
"The bond of friendship is everlasting,
True friends never say good-bye,
There is pure truth between us,
That will never die.
You are my inspiration,
You knew when I was hurting,
You helped me with my troubles and pain,
For staying close by and being a friend.
And to end this off I just wanted to say,
That if you need a friend,
I'll be there till the very end.
I wanna thank you "
Another one: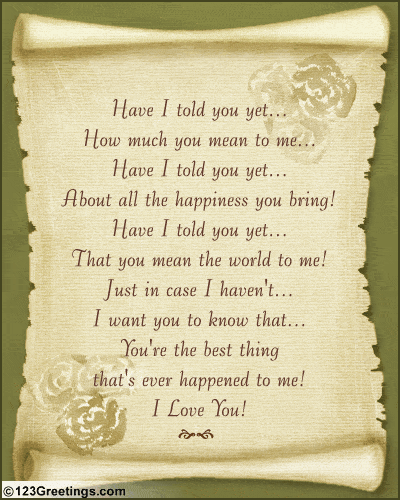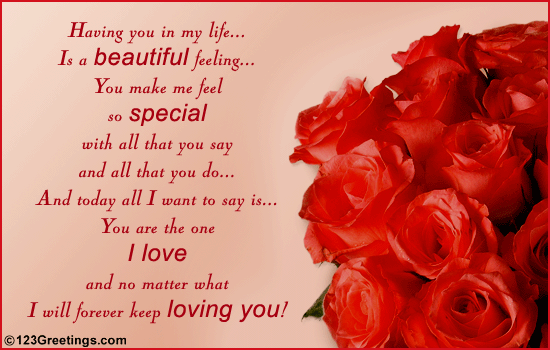 And many more like this. She was touched.Her eyes were filled with tears of happiness.
She looked at the teddy bears .The teddies that she saw were so cute she just pinched their nose n took the bouquets from their hands
Another card:
"To the one that in my life came
And in my heart so special she became.
Tomorrow things will not be the same
And life will stop being a game
For there is a future you have to aim,
A shining star you have to claim,
And a destiny to make with no one to blame,
With head always up and never feel any shame...
I'm so proud of you, much more then I can acclaim
From all my soul I wish you joy, success and fame."
Another one: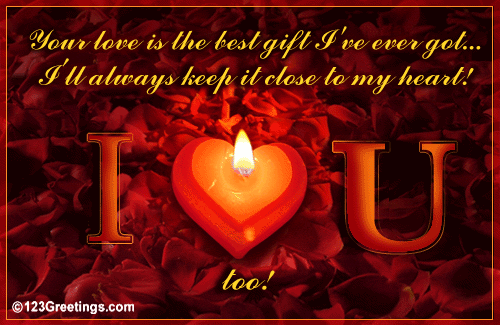 Another one made by him had the following lines written:
"kaha usne bharosa dil par itna nahin karte
kaha mein ne ke mohabat mein kabhi socha nahin karte!
kaha usne bohat khush rang duniya ke nazare hain
kaha main ne ke jab tum ho to kuch dehka nahin karte!
kaha usne main tum se dur hun lekin tumhara hun
kaha maine ne ke sapne dil ko behlaya nahin karte!
kaha usne meri chahat mein ruswaeyan hongi
kaha main ne shorat se gabraya nahin karte!
kaha usne samajh jao samajh jao aye mere pagal!!
kaha mein ne ki dewaney ko samjhaya nahin karte!!!"
Riddhima was overwhelmend. She could not speak a word as she was filled with hundreds of emotions inside.

AR: Riddhima plz yaar don spoil my mood mainey itna acha surprise plan kiya aur tum ro rahi ho haan ?Mujhey pata hai yeh khushi k aansoon hai but plz I hate ur tears, you know na..

RI: Armaan,I luv u.I don't know what to say right now.I'm speechless.Thank you for making this morning unforgetful for me

AR: I luv u too basket and you don't need to say anything.I can connect to your feelings without any words jaan.Please smile because the new phase of our life is going to begin from today.I wished to make this morning a memorable one for you.After all it's our Sangeet today.I can't wait for the evening.

As Armaan said those warm words,Riddhima felt as if he said it very close to her. She tried to look around her especially near the window and the next moment a hand grabbed her n pulled in the balcony
RI: Armaan tum?
AR: haan
RI: kya Armaan jaao yahan se, koi dekh lega toh socho kya hoga

AR: arey yaar
RI: kyun aaye tum yahan?agar kisi ne dekh liya toh bahut gadbad ho jayegi..

AR: I can't believe it.I've planned this surprise for you with so much of hardwork and here you are scolding me for a good for nothing reason.Main yahann isliye aaya kyunki main apni basket ke is arrangement ko dekhne ke baad wale first expressions ko miss nahin karna chahta tha
RI: ARmaan I luv u.You know na.Woh toh main bas ainwayi.Let it be..Thanks a lot for this wonderful morning.

She kissed his cheek n hugged him with a smile.A while later she came out of his embrace after they exchanged each others emotions through that warm hug.

RI: Armaan ab tum jao theek haiplz baki baat Sanjeevani mein ab jao
AR: pakka jaun
He kissed her cheek n went away..
Riddhima walked inside the room with a flushed face and her eyes fixed upon Anjali who was twisiting on the bed while sleeping.

Anjy's eyes opened eventually since she was disturbed by AQR's murmerings and finally she woke up.She was not less surprised than Riddhima and called out loudly: mom dad ridzy nani yahaan aayiye jaldi
**********************