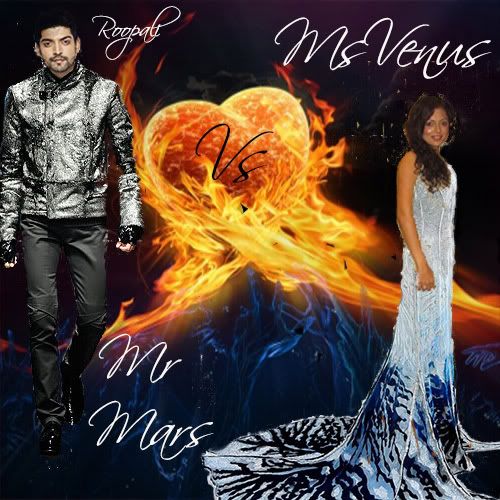 A Bappi Lahiri wala big thanks to my devil sissy Roopali for this awesome creation and to my dear Mel who had PMed everyone taking up all my hardwork
he he I have turned lazy LOL
PROLOGUE
"What Uh... What do you think of yourself? You are not any angel sent from heaven specially for me. "
Her heart ripped apart hearing these words out of his mouth. He looked behind her. His face contorted to hide his laugh. 'You will be so surprised Ms.Venus. I am simply enjoying your plight now' He thought naughtily.
"Maan... I thought I am important for you?"
He again laughs a little.
'You dont know how important you are to me. More than my life!'
"Sorry to break your hopes. But you are NOT important to me..."
He turns around. He could never say those words looking directly into her eyes. Her brown hazel colored eyes.
"Please leave. . " He spoke.
'You wont regret this my beloved!'
"I am sorry Maan!" Thats all he heard before she went away in her car. Unaware of the upcoming disaster.
******
BANG!!!!!!
The area was pooled with blood. Her legs, arms and hands were soaked with blood.
He fell down from the roof while decorating it. His skull appeared smashed.
*****
"Geet!"
"Maan!"
Even the doctors could not not keep them in separate rooms.
"Both have gone into a coma. Its better if both are kept in same room. They respond to each other's presence greatly." The doctors said.
******
She squirmed in her bed and finally woke up squinting her eyes.
"What?" She spoke as she found it weird.
She felt as if ... as if too light . As if she was floating on air with her bed inches below.
Lo behold! She actually was.
"What the hell is going on here?" She shouted.
A red light began to emit from her right wrist.A projection appeared on the wall. She was dumbstruck at all the happenings.A familiar face appeared.
"Mom?" Geet was surprised.
"Its QV for you Princess. You are the next heiress of Venus. You are not supposed to shout."
"WILL ANYONE TELL WHAT THE HELL IS GOING ON HERE?"She screamed all frustrated.
"PRINCESS! Calm down. No cussing. No shouting. This doesnt suit the Princess Geet Venus."
The face disappeared.
"What a mess I have landed in?" She said to herself.
******
He slashed the air with the fire rod.
He went upon upon the ice. It melted instantly.
"How could she say NO to me? To the Prince Maan Mars."
"Prince Mars! Your surfboard has arrived" The servant's voice echoed in the room.
A surfboard instantly flew in. It had broad letters PMM carved on it. It was blue in colour.He put on his watch. A bluish image appeared on the wall.
"Yes PMM!"
"Arrange for my meeting to Venus" He ordered.
He stood up on he board as his body turned silvery.
"Princess GV I am coming!" He smirked.
******
She had to wear what was send by her Mom no... QV.
Ugghh What names do they have here? She cribbed.A male servant just then came by on his surfboard.He went down on his knees and bent his head.
"Princess GV! Prince MM is here to meet you!"
"What?" Geet was now utterly confused.
The servant vanished in thin air.
A voice echoed.
"Prince Maan Mars. The one who you have rejected. No fusses this time. You are going to accept him GV. Am I clear?"
"Yes KV!" She replied meekly in front of the King.
Just then she saw a man riding riding his surfboard. It didnt look ordinary. The surfboard looked stylish, royal and Red. And so did the person over it. He looked sculpted like a Greek god. Ready to devour her entire being. She simply kept staring at him without any record of time.
He stepped down from his board as she stood still.
"You are so hot!" She blurted out.
"My Pleasure Princess GV!" He smirked.
She fumbled with her shirt.
"Prince Maan of Mars here" He extended his hand.
She gave her hand in his. He kissed it. She felt the tingly feeling all over her body.
She blushed.
'Oh I am so loving it!!' He thought.
"Why are you here?" She asked as if suddenly shook back to reality.
"So much of impatience My Princess!"
He went near her ear. "I am here to devour you in my passion."
He kissed her earlobe. She shuddered with pleasure.
***********
***
****
Please press the like button and do comment.
Love
Ananya.
P.S: Should I continue this guys?


Edited by Miss.Mars - 14 September 2012 at 2:43am