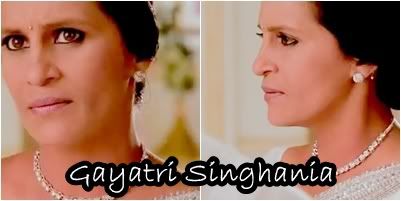 By: Ana (Elysia)

Gayatri is a woman of wealth and power. Not much has been revealed about her character, except that she is the mother of Dev, Raghav, and Tanisha, the mother-in-law of Komal, and the grandmother of Krish. We don't know what happened to her husband, but we assume that he is dead.
From what we have seen of Gayatri, she appears to be an independent, sharp-minded woman with strong principles that she doesn't compromise with. For years, she has run the Singhania business on her own and built up a reputation that holds great power in Gurgaon. She has made enemies.
Despite being the owner of a million-dollar company and an influential woman, she has invested a lot of her time into charity such as building hospitals and shelter homes for women. In that regard, she seems to have a generous nature and consideration for the needy.
Her exterior, however, resembles that of an Ice Queen; dispassionate, cold, intimidating. And yet this Ice Queen has a pounding heart in her chest. Her family is most important to her ' which is evident in the way that she dotes on Krish, the way that she reprimands Tanisha for her mistakes, and the relationship that she shares with Komal. Like Raghav, she is protective of them.
Perhaps due to her investment in her work, she hasn't been able to build a proper relationship to Tanisha. We see how Tanisha wears short skirts without anyone [with the exception of Komal] to reprimand her for it. We also see it in how Tanisha parties and returns home late at night without anyone's supervision. Along with the strained relationship Gayatri has with Raghav, she does question herself as a good mother at one point.
With Gayatri, there is also self-blame involved in relation to her son's death and Raghav's abandonment. It seems that, deep down, she feels that she has somehow failed as a mother since she wasn't able to protect her son, nor keep her family together in the wake of Dev's death. That self-blame, however, is transformed into anger and disappointment and aimed at Raghav for leaving when she needed him the most.
Her relationship to Komal is equally interesting because it stands out from other saas-bahu relations. It is a refreshing saas-bahu relationship that is founded on genuine love and trust. Gayatri shares her innermost thoughts/emotions with Komal, drops her guard in front of her ' and when taking important decisions, she councils with Komal regardless of whether it's a personal or professional matter. In fact, she values Komal's opinion and support, and their relationship is more that of two friends than in-laws.
Gayatri, in spite of seeming like an untouchable power, has a warm heart and tends to become surprisingly vulnerable at times ' though mostly when she is alone. Her hard exterior appears to be a shield against hurt.
She has a strange need for perfection/order ' something that might be an outward reaction to something psychological/emotional. It hasn't been explored in depth as of yet.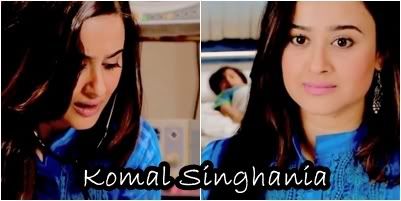 By: Ana (Elysia)
Komal is the widowed sister-in-law to Raghav. We don't know much about Komal other than that she is a doctor and has a son who is mute. But in spite of being a stereotypical daughter-in-law [i.e. self-sacrificing], she has atypical shades to her character that make her stand out. Subtle hints have been given that there's a story to tell in relation to her past/character.
Though her relationship to Gayatri is strong and trusting, Komal does not open up to Gayatri in the same way that Gayatri does toward her ' specifically in relation to Dev. She doesn't question Gayatri unless it is something that she is strongly against such as Gayatri refusing to let Raghav return home.
Komal is very fond of Raghav. She has a maternal streak that often manifests itself when she speaks to him about moving forward with his life, when she comforts him [i.e. the scene at the hospital in the wake of Krish's asthma attack], and when she feeds him [halwa, tea, etc.]. She cares for him a lot and the family in general. It is important to her that their family sticks together and seems to have worked hard to make it happen in the past four years.
By: Ana (Elysia)
Tanisha is Raghav's younger, spoiled sister. She's a college student and returns from a girls' hostel. We are not informed if she has completed her education or if she is on a break. Tanisha is a sweet, lively character who is quite talkative and friendly toward others. At times, she does have an attitude problem due to the influences of staying alone at a girls' hostel with no supervision from her mother. This has resulted in bad habits such as drinking, partying till late at night, and wearing clothes that expose.
Despite her modernized persona and bad habits, she has a good heart. She means well for others and she loves her family very much. But she is nave and easily manipulated ' especially by Viraj.
We know that she and Raghav are close, that they used to help each other cheat in grade school. Tanisha can be careless at times, irresponsible, and she is reprimanded for it by her mother whom she finds a bit intimidating. She doesn't seem to have a close relationship to Gayatri, nor Komal. Raghav and Krish are the two members of the family whom she spends most of her time with when she's not out with her friends.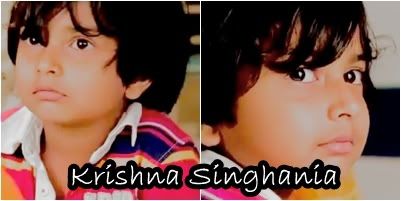 By: Ana (Elysia)
The mute boy with soulful eyes and an uncanny ability to sense people's intentions ' Krish is the son of Dev and Komal, and the nephew of Raghav. From his very first scene [with Sia], it was evident that this boy was something special; a broken pattern. There is something unique about him, something that sets him apart from other children and it isn't just his muteness, but the way that he observes people and reads them.
Despite being a child, he seems to have a way with people in his life that tends to make them feel solaced and understood and cared for. More than being carried around, Krish is the one who carries others, i.e. Sia and Raghav [metaphorically speaking, of course]. This is evident in Raghav/Krish and Krish/Sia emotional scenes. For instance when Sia finds Viraj in the Singh house after his accident and escapes to her room to break down. Krish witnesses her fear and tears and instead of being frightened himself, he offers her comfort through his touch and silent look.
There is something mature about the way that he watches people ' as if he sees through them to their cores.
Krish has asthma. He is a compassionate soul, too intelligent for his age, but playful like other children. He enjoys running, playing Tag, and doing masti with Raghav. Despite his muteness and psychological trauma, he lives. He had a nightmare of a stranger trying to harm him, but we weren't shown if the nightmare is a repetitive one.
Like Raghav, Krish is a thinker and observer. He often imitates Raghav because he admires him and sees him as his role model.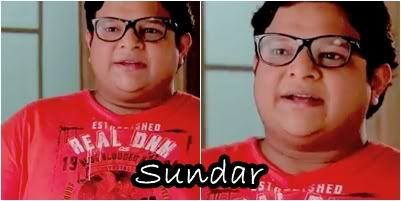 By: Ana (Elysia)

Sundar is the best and only friend Raghav has. We've been told that they have known each other for about 26 years which means that Sundar is a childhood friend. They have a very strong friendship that borders on brotherly. Raghav often treats him like a younger brother, teasing him relentlessly. In return, Sundar never refrains from provoking Raghav, knowing exactly which buttons to press.
Sundar is someone that Raghav trusts blindly. He doesn't always open up about his thoughts/emotions in front of Sundar, but he doesn't have to either. Sundar reads Raghav easily ' probably because he knows him so well. Sundar is quite protective of Raghav and it's important to him that Raghav moves forward in his life, allows himself to be happy.
We don't know anything about Sundar's family situation, or what his interests are apart from helping out Raghav at his garage, hanging out with him at street corners, etc.
Sundar is overweight and dorky with a pair of thick, square black-rimmed glasses that tend to slip down on his nose. He wears funky T-shirts and jeans which make him appear very young. He loves food and it often distracts him. He is sweet and playful, and not afraid of confronting Raghav with anything.
DEV SINGHANIA
By: Ana (Elysia)

Not much is known about Dev other than that he died due to some accident that Raghav is held responsible for. We know that Dev was a business man, suit and clean-shaven, and loved. We know that he believed in discipline and order like his mother, that purple was his favorite color, and also that he left a wife and a son behind when he died.
From what we have been shown so far, we assume that Dev and Raghav were close as brothers ' though it appears that they were opposites in many ways. There is a lot of mystery around Dev's character as Komal becomes mum when he is spoken of and Krish, at one point, drew his father as an intimidating shadow. But it seems that everyone loved Dev and that he was a good man.


Edited by Naina2127 - 29 July 2012 at 11:48am