Heya everyone!!!!
This FF is written jointly by myself and harshu(harsh42). The plot line is similar to the story.. a month ahead of the original plotline. Arnav is rescued from the kidnappers but soon he finds out about the papers where Khushi had taken his signature on and it all goes downhill from there. Shyam's truth is still unrevealed and he is still staying at RM. This update is dedicated to Sivaranjani, who is a very encouraging reader and a very good friend.. I hope you have as much fun reading this FF as much we had writing this..
Happy reading!!
Once Upon A Secret. . .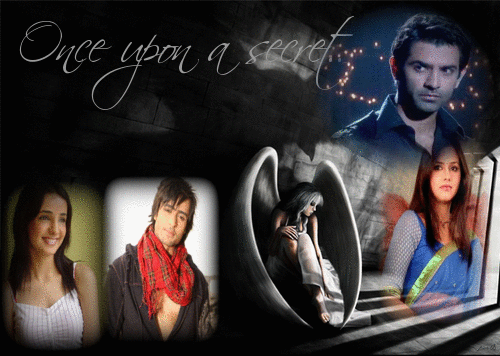 They were all hidden behind words unsaid..
Secrets so deep they would shatter everything once said
And so they were.. deeply hidden and sealed
Cause a Secret would remain secret no longer if revealed..
They were all hiding more than what they revealed... Trying to protect someone who didn't need to be protected... trying to deceive someone who wasn't deceived... and yet the secrets were born out of love. Not because they loved too little.. but because they loved way too much. But some secrets were threatening to break trust.. some fanning the flames of jealousy.. some building castles of insecurity...while some deepening the bond of love...
But at the end of the day, they were all secrets!!
Secrets that could break hearts...
_________________________________________
Chapter 1:
Tick... tick... tick...
Khushi glanced nervously at the clock hoping she would get there on time. Making her excuses she left the breakfast table and hurried towards their room knowing that Arnav's eyes were boring into her back. She opened the wardrobe and checked the contents of her purse again and glanced through her phone for any missed calls. Sighing in relief, when she didn't find any and making sure that everything was up to the mark, she was about to head downstairs when she caught the sight of a blue file lying on the bed.
A flash of agony flickered in her mind at the thought of another file. The documents that she had taken his signature on. Despite of herself, her mind travelled to the time when Arnav was kidnapped a month ago. She had seen love in his eyes, in his words, in his touch. He had almost believed her innocence. The trust had been growing'gradually. . . . But eminently. Until Arnav realized that Khushi had tricked him into signing the papers which could have shattered everything he had spent so long building. . . And just like that, noiselessly, everything between them had crumbled down to the ground, as Khushi watched it all with helpless eyes.
Things can change with the bat of an eyelid, and she knew that now. . . . . She realized it every time she saw Arnav put all the documents in the locker and pocket the keys which he had once left carelessly on the table. Their relationship had changed drastically. These days, it seemed that the only thing they shared was strained silences. Sometimes unconsciously their eyes passed the message of love but the messages were not deciphered by the heart that was ruled by his head. And the other heart suffered in silence once again...
She heaved a sigh and walked towards the bed taking the blue file in both her hands. She couldn't leave it lying on the bed, for Shyam would find them in her absence. He heard the door close behind her and she turned abruptly, heart racing, file in hands to look at Arnav who stood frozen at the door.
Arnav saw the blue file his wife was holding and felt a flash of swift anger build up, clawing his insides. . . . Wanting nothing but to lash out at the girl who stood with her innocent eyes meeting his cold gaze. 'Not innocent!' His mind screamed. He had believed her to be innocent, yes. But she was anything but that, wasn't she?! She had proved it herself by using those bewitching eyes to meet her purpose. And he had oh-so-foolishly fallen for that naive-little-girl act of his.
He covered the distance between them in three long strides and held her arms in a brutal grip. The file fell onto the ground, as Khushi winced in pain and struggled to free herself from the pain that his vice-like grip was inflicting on her soft form. Struggling for a while, she was rendered motionless when she heard him mutter through gritted teeth, "Did you want me to sign this for you, Khushi Kumari Gupta -- Singh Raizada?!" The twisted way in which he added the "Singh Raizada" at the end of her name mocked the way he had so tenderly called out her name, not just a few days ago. She had just opened her mouth to explain the fact to him, that he had misunderstood her, yet again, when he tightened his grip on her arms, causing a few tears to escape the confines of her eyes.
"Don't even bother to open that mouth. I don't want to hear anymore filth and spoil my whole day!" He said, before he pushed her away, and bent to take the file that had fallen down at his feet. He knew that the file was not that important, after all. And he also knew that she was just returning it back to the locker. But he just couldn't help but remember the fact that she had made him sign the most important papers effortlessly!
Locking the file safely in his locker, he spared a cold glance to Khushi, who sat slumped on the floor, sobbing. Hating himself for letting her tears affect him, even after all this, he rushed out of their room.
_____________________________________
The ring of the cell phone had Khushi running to the washroom to wash her face and wipe all the traces of tears. She caught her reflection in the mirror and was relaxed that except for the slight reddening of her eyes, nothing gave away the fact that she had cried. Tears were best wiped off. They gave away the secrets of her heart and hurt another heart which helplessly watched them reappear in her eyes...helplessly watched them spill on her cheeks.., disappearing into nothing.
She was glad that nobody stopped her as she strode out of Raizada mansion. She fastened her pace, looking over her shoulder to see that she wasn't followed. Hailing an auto, she made her way to the deserted road where she always caught up with him. She heaved a sigh of relief when she saw his car at a distance. Stepping out of the auto she ran towards the car and got inside and shut the door. The car sped up almost immediately and Khushi found her heartbeat settle down.
"You okay?" he asked her quietly
"I'm fine. Fortunately nani and mami thought I was going to the office and didn't stop me. Arnavji left before I did." She said breathlessly
"Thank god... I was so worried." He said flicking the indicator and pulling the car to a stop at the side of the road. He handed her a box which held a new phone.
"This phone has dual sim. For safety reason I don't want the number from which I call you to be traced and I will call you on the other sim. My number will not be flashed on your screen so your husband or shyam will not get to know who calls you. until I give my number myself there is no way to trace it and the same goes for your new number. Khushi we just have to be cautious.. you know that right?"
Khushi nodded, suddenly too tired of the twist her life had taken
"How long will this go on, bhaiyya?" she asked him resting her head on his shoulder
"It will be over soon I promise. Khushi don't call me bhaiyya. You do that over the phone too. We cannot risk Shyam or Arnav checking your background. If you call me by my name, that can be explained."
"I have been calling you bhaiyya forever'" she started but after looking at his formidable expression she held up her hands and said with a laugh
"Okay Karan.. I need to go before anyone realizes that I'm missing."
Karan nodded, thinking how grown up his baby sister sounded when she said that, and dropped her at a place where a rickshaw was already waiting for her.
______________________________
"Rani sahiba, I have an important meeting with my client. So I might not get time to come home for lunch."
Anjali looked at the reflection of her husband in the mirror as she slid bangles of the deepest shade of blue on her wrists, and felt a heart skip a beat at his words. He not finding time would mean that she would get a few more precious minutes with the one who was now the reason of her entire being. That time would pass as quickly as it always did when she was with him but she knew she would play and replay it in her mind and that would help her get through the moments of his absence' till they met again.
She closed her eyes as Shyam walked towards her and dropped a kiss on her forehead trying hard to hide the disgust she felt at his touch. She gave him her sweetest smile and watched him go. She then quickly grabbed her bag and ran to the mandir. She took the pooja ki thaal and told nani that she would be back soon as she got into the car and gave the driver the directions.
Anjali entered the temple, and handed the thaal to the priest. As she folded her hands in a silent prayer, the first prayer that came to her mind, 'Keep my Chotey happy. Let my family be as happy as it ever was and let nothing harm them in any way.' She didn't even have to think about the words. Her mind had recorded these words and it would play it whenever there was a statue or a picture of God in her line of sight. But she also did not forget to add a last line to her prayer, 'Keep HIM happy. And bring him to me as soon as possible, Devi Maiyya!!' The priest handed her her thaal and prasad, and she limped her way out of the temple, and towards a tree. Her tree. She wondered where he was, when she felt a warm hand encircle her wrist and she was gently tugged towards the tree. The thaal was taken out of her hands and she happily slid her hands around his neck as he straightened after keeping the thaal on the ground.
"Did you have to wait for long? Shyam took his own sweet time and so I couldn't leave. But I can spend longer time with you today." She told him happily
He didn't reply but his hold on her tightened. She could sense a tension in him.She knew he hated the fact that they had to hide their love from everybody. As if they were committing a sin, whereas what they shared was the purest form of love. She saw the faint shadows around his eyes and she knew that he hadn't been sleeping properly
"How was everyone's reaction yesterday? You shared nani's room right?" he asked her. Though he looked calm there was a hint of desperation in his voice.
"Shyam must be glad that he has the room for himself. Nani and mami fussed endlessly when I told her that the doctors have said that there can be risks but nani has told Shyam that till the baby is born, I will be sharing nani's bed. Don't worry, I don't go anywhere near him if I can help it"
"How can I not worry when the woman I love shares a same roof.. the same room .. the same bed with someone else? And he is the same person who has tried to hurt her more than once. And I'm so f**king helpless...that even if I want, I have to be silent spectator of it all."
"Soon. . . Very soon we both we shall be together. Don't stress yourself too much??" Anjali said, her voice earnest, as she cupped his face with her hand and looked into his eyes. He sighed and turned his head to a drop a quick kiss on her palm.
"Hum khaana kahi baahar khaaye??" ("Shall we have our lunch somewhere out today??") Anjali asked as she smiled, her face lighting up with the thought of eating out with him, and getting to spend some more time with him. He smiled, taking in her joy, and nodded as he took the thaal in one hand, and guided her to his car.
Anjali sent a prayer of thanks to god as she walked with this man who had once broken the news about shyam to her and shattered her world... She remembered the time when she had felt as if he had pushed her from the edge of the cliff and there was nothing to break her fall... But he was the one who had caught her.. He was the one who had held her. At first she had hated him for shattering her world and now she couldn't think of a world without him.. Of herself without him.
_____________________________________________
Manorma acted as if she was totally immersed in the latest fashion magazine as she surreptitiously watched her husband getting ready in a hurry. 'What ijh the hurry, Mr. Manohar Raijhada? Waiting to go to my Sautan?! Agar humne bhi ee baare ma pata nahi lagaaya, tho humra naam bhi Manorma Singh Raijhada naahi, Hello hai Bye Bye!!' ('What is the hurry, Mr. Manohar Raizada? Waiting to meet your Second wife?! If I don't find out about this, even my name is not Manorma Singh Raizada, Hello hai bye bye!!') Manorma thought, as she lifted her chin in defiance.
"Mano. Hum ka kuch kaam hai. . . Jald hi lautenge. . ." ("Mano. I have some work. . . I will return soon. . .") Manohar said, wondering if he would be able to catch up with the person he was suspicious about, and stomped out of the room. And as soon as he exited, Manorma got up and stood in front of the mirror. After a final touch up she sported her pink goggles and gave a determined look to herself, "Ab hum bhi dekhbe ki humri sautan hai kaun! Manorma Baand in ackson, Hello hai bye bye!!" ("Let me see who my sautan is. Manorma Bond in action, Hello hai bye bye!!")
_____________________________________________
"Is there anything you want to tell me Payal?" Akash asked looking at his wife's tense form.
Payal lowered her gaze not knowing where to begin. She had hidden so much from him from the beginning of their marriage that revealing anything now would be the deaths kneel of their relationship. She was tensed ever since she had learnt to recognize the glint in Shyamji's eye every time khushi was around. It wasn't a glint of lust any more. It was a glint of obsession.
But Payal knew she couldn't say anything as revealing it all now would mean she would lose Akashji. And she didn't know if she could live through that
Akash cupped her cheeks and raised her face till she was looking at him in the eye.
"Is there anything you want to tell me Payal?" he repeated.
Payal looked into the eyes of the person who loved and trusted her completely
"Nothing." She lied.
_____________________________________________
"Humri paise ka aasmaan se tapakta hai, NandKisore?? Hum dus rupaiye denge bas! Ek aur rupaiye zyaada math maangna!!" ("Does my money drop from the skies, Nandkisore?? I will give you ten rupees! Don't demand a rupee extra!") Madhumathi shouted at the vegetable vendor. Usually her flabby body would be enough to scare the vendors to accept her bargain. But the younger ones were a little hard to budge, or so she had experienced. 'Iss zamaane ke bachchon ka ka kiya jaaye. Badon ko ijjhat hi naahi dete, Nandkisore!!' ("What do we do about the children of this generation. They don't have an ounce of respect for the elders, Nandkisore!!') She thought and shook her head in disappointment, when she saw the familiar sleek, black car pull up near the market making her almost drop her vegetables in alarm. She picked her heavy body and ran as quickly as her body allowed her to, and heaved a sigh a of relief after she had secured the door.
"Ab Arnav bitua ko yeh baat bataana hi padega. Pata nahi uss Shyam ka sach kab unhe pata chal jaaye. . . Khusi bitiya ki shaadishuda zindgi tho barbaad hui jaayega. . . ." ("I will have to tell this to Arnav. When the truth of Shyam comes in front of him, Khushi's married life would be at stake. . . .") She told herself, as she dialled her favorite son-in-law's number and waited for him to pick up the call, "Kaisan ho, NandKisore? Hum Buaji baat karath hai. . ."
("How are you? Its me Buaji talking. . .")
There was a slight pause on the other end, before Arnav asked, "Ji Buaji. . .Kaisi hai aap? Kuch kaam tha??" ("Yes Buaji. . . How are you? Did you want something??")
"Oo. . . Baat hi kuch aisan hai Nandkisore, ki phone pe bataaya nahi jaa sakta. . . Agar aap yahaa jald hi aajate tho. . . . ??" ("The matter is such that it cannot be told over telephone. . . If you could come down as soon as possible. . . . ??")
"Ji, Buaji. . . Main abhi nikal raha hoon. . ." ("Yes, Buaji. . . I'm leaving now. . .") Arnav said, not thinking for a second about his busy schedule.
_____________________________________________
Arnav sat frozen in the chair, his mind reeling as Buaji narrated the tale of Shyam's deception, apologizing for hiding it from them all. As all the pieces fell into place, Arnav realized the gravity of the error he had made. Khushi had been telling the truth all along. She had always told the truth and he had always doubted everything she said. He closed his eyes in regret, as her soft voice echoed in his ears
"Believe me Arnavji, I cannot even dream of hurting Anjaliji'. Shyamji deceived my family just as he deceived yours."
"Arnavji I just took your signatures because Shyamji had promised me that he would tell you the truth of my innocence. I wasn't supposed to give him the papers till you had them checked but Shyamji found them'"
He opened his eyes and buaji flinched at the hurt they reflected. He felt as though he had gone through hell and back and he knew his suffering was nothing compared to the pain he put her through. He had always shot words like knives at her and she had taken them all like roses from him. He didn't know if she would ever forgive him. He didn't even know what he would do if she left him. Because gone were the days when his heart had told him that she loved him. It had been a month since she had withdrawn herself from him.. she had stopped giving him explanations, stopped trying to prove her innocence. It was as if they had just drifted apart and everything they shared had dissolved into pieces and disappeared into thin air.
Arnav stood up and ran his hand through his hair. A sudden thought had him look at Buaji suspiciously
"Buaji, why are you telling me this now? I mean what triggered this revelation?"
Buaji gulped remembering the car and its owner. She couldn't tell damaadji that. Not now.
"Some secrets are the best revealed babuwa because they don't remain hidden for long and when they surface, they shatter much more than they could have, if revealed before."
Arnav nodded understanding. He had kept shyam's truth a secret from his family. A secret that was buried alive but could resurface any moment. It hid behind the closed doors rattling the knobs' gathering force with time' wanting nothing but to be released in the form of a storm that would destroy it all'
But for now, he hoped he would make it all right with khushi. He hoped he could convey to her how much he loved her.. a love that had never reduced no matter what he had believed. He hoped he would get another chance to prove his love.
He hoped it wasn't too late to tell her that he cared.
PLEASE DO NOT COPY UPDATES TO OTHER SITES, THIS UPDATE IS MEANT EXCLUSIVELY FOR INDIA FORUMS MEMBERS


Edited by Lyraa99 - 18 September 2012 at 4:59am