Chapter 3: The Barbeque and Birthday Celebrations
The day of the outing had come. Maya had planned for a barbeque and stayover at her farmhouse with her fiance NK. She had invited her students who had become more like her friends. Maanvi was invited too. The farm house had three rooms, a large hall and balcony and a poolside area.Overall it was a cozy place and everyone loved the arrangements. Viraat was eager to see Maanvi and when Maanvi arrived he was stunned by her beauty. She was simple yet cute in her suit.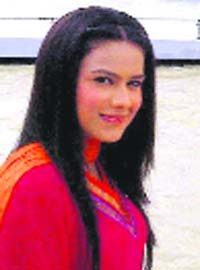 The barbeque began and Viraat had noticed both Maya and NK looking flustered. He approached them and Maya told him that she had forgotten it was Maanvi 's Birthday the next day and had only planned a surprise for Viraat since it was his birthday the next day. Viraat reassures Maya and goes out with one of his friends. He gets a cake for Maanvi at the nearest bakery, a bouquet of red roses and a gift. He reaches back in time and realises everyone had gone to sleep. He sneaks in through the back door and appraoches the poolside. He decorated the area and slowly goes to wake Maya up. Maya in turn wakes everyone up and they hide. At the stroke of Midnight, Maya wakes Maanvi up and brings her to the poolside.
SURPRISE! Happy Birthday to you, Happy Birthday to you, Happy Birthday Dear Virmaan, Happy Birthday to you sang everyone. Maanvi asks My name is Maanvi but why is everyone singing Virmaan. Lavenya replies Maanvi there is one more person sharing the birthday with you and he is none other than Viraat . She then pulls Viraat out from behind his friends to the front. Maanvi freezes on seeing his cute Look.
Her trance is broken when Viraat introduces himself. Hi Maanvi , I am Viraat . Happy Birthday. Maanvi wishes him the same and they both cut their cakes at the same time. Maanvi hugs Maya and thanks her when she says the rightful owner of all this praise should be Viraat . Maanvi approaches Viraat and thanks him.Arnav then gives Maanvi her gift and bouquet. Maanvi apologises for not having a gift. But Viraat says Its your smile that matter most.
The next morning, Maanvi informs Maya that she will be going to the mandir. Maya asks Viraat to go along. Viraat drives her there and prayers are done. On the way back, Maanvi talks to Viraat.
Maanvi : So Viraat why is it that i never saw you in class these two terms
Viraat: I was there just hidden but i see you everyday
Maanvi : Oh really well so tell me how do you usually celebrate your birthday
Viraat: With my family
Maanvi : Talking about Family, I miss Mum and Dad. Just wish they stayed here instead of Canada
Viraat: Maanvi can i give you a surprise. Will you come with me?
Maanvi : Well I love surprises and since its a birthday request, it shall be granted.
Viraat stops the car, texts someone. Viraat then drives to Vadera Mansion.
Maanvi : So Viraat this is the surprise, this is your house right. It's beautiful
Viraat: Yes it is. Thanks.
Maanvi : But Viraat i am nervous
Viraat: Don't worry. I am here. Let's go
He rings the bell of Vadera Mansion. Shlok opens the door.
Shlok: Happy Birthday Bhai
Viraat: Thanks Shlok
Shlok: So this must be your friend Maanvi. Happy Birthday Maanviji. I am Shlok, Viraat's younger brother. Come in
Maanvi : Thanks Shlok
They proceed in to the house. There Viraat 's parents were waiting.
Amar: Welcome Beta.
Maanvi : Thanks Uncle
Maanvi gets blessings from Amar and Vanshika.
Vanshika: Have a long Life dear. Come and sit down
Maanvi: Thanks Aunty
Maanvi takes a seat when Vanshika realises she left her son behind. She goes back and Viraat gets blessings from them before giving his mum a hug.
Everyone take a seat when Vanshika begins to talk to Maanvi . Shlok gets seated beside Viraat and says Bhai she is beautiful. Is she your Girlfriend? Viraat smiles and says Nope but i do like her. Soon it was about time for lunch so Vanshika enters the kitchen. Maanvi follows suit and requests to let her help.


Edited by JasmineShabir - 09 May 2012 at 12:58am