I don't post much on here, I'm mostly just comment on your posts, but today I just had to do this mini-rant.
So the ratings continue to fall for this show, the script seems to have lost all sense of direction, the characters have been butchered and we the viewers are surviving with one good scene per episode.
I just don't know what to say that has not already been said, but please CVs if you're reading this, what happened to that show I fell in love with last year, the one where the leads would fight but it would stay private. The one where their chemistry was electric and not the forced rabba ve moments we have recently been given, where there was comedy but not OTT comedy that make our leads look childish. How long will you rely on our love for the leads to keep us watching? You think that it's ok to feed us nonsensical scripts and scenarios and we will continue to watch just because we love SaRun? Well, look at your numbers today and you will see many of us have stopped watching and the ratings will continue to fall if you don't start paying attention to the script, and no IPL is not an excuse for bad writing.
After watching today and seeing the falling ratings I'm seriously beginning to worry about how long this show will remain on air.
The CVs have two amazing actors who are phenomenal in their acting abilities and yet are making them perform these asinine scripts.
This is still the best serial on TV right now, in my opinion, and I hate to see it ruined so thoroughly especially since the marriage track. I think we could all agree this marriage has been the worse thing for this show as it has completely taken the show off track, ruined the chemistry between the leads (characters, not them in real life), and is being led further downhill with a disjointed script.
The only good moment from today: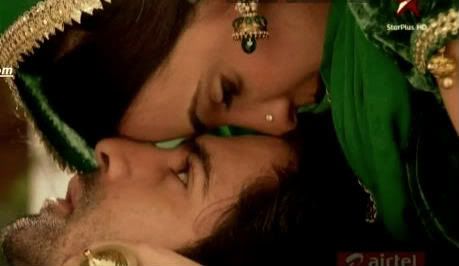 Other than that scene the episode was forgettable and not worth watching.