The trodden paths...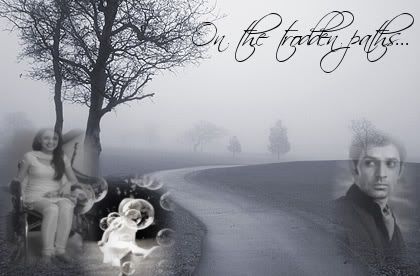 Prologue
"They say you never know what you have until you lose it, and once you lose it, you can never get it back."
She sat back and closed her eyes... letting the memories wash over her... An image drifted up to her, an image of her former self.. she remembered tapping her feet and swaying her hips methodically as she danced on the tunes of 'ek do teen', she remembered running around the house being chased by her buaji innumerable times, the sounds of her mischievous laughter echoing in her mind.. She remembered tripping innumerable times only to land in his arms...
Khushi blinked back tears and looked at the sky. It was cloudy but she could still see the two stars shining at a distance. She frowned in concentration as she tried hard to find the third star... where was he? Finally she saw the star shining faintly in the cloudy sky at a distance from the other two stars that were her parents... she heaved a sigh of relief...
A tiny pair of arms gripped her breaking her train of thought. She felt her heart beat with fierce affection as she brought the soft hand to her lips.
"I love you mamma." The childish voice said...
She sighed the sigh of a person who had grown up a lot faster in a short space of time.. who had seen too much, felt too much.. lost too much... Now life had brought her to such crossroads, where she had to choose whether to let go and stay forever on memories or whether to hold on and walk on the trodden path again...
"They say you never know what you have until you lose it, but that is not true...You always know what you have, you just don't think you will ever lose it.."
He watched them from a distance and felt his heart twist with a familiar regret... they reminded him of what he had.. what he had lost... If only he could turn back time and wipe out all the mistakes, he would give everything he owned to do just that... but here he was looking at his life.., drinking in her memory, imprinting the image in his mind.. he was destined to love from a distance... he had lost her.. he had lost everything...
But who were they to walk away when they were bound by destiny... it was fate that brought them together in the first place, fate that separated them... and fate that brought them together... again
"They say losing in life and regaining what you have lost makes you the most confident person.. because you are no more afraid to lose.. as you now know your ability to regain.."


Edited by Lyraa99 - 16 July 2012 at 12:29am