Wow thx for your love guys. I wasn't planning to update but seeing the number of likes and comments I am forced to update
so here you go guys.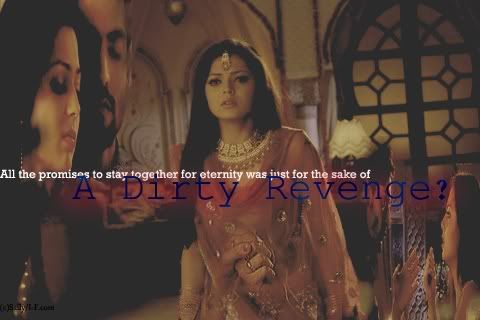 Part 2
Geet went to her room and looked at Maan's picture. So much has changed but still I don't have it in me to tell everyone the truth.But when I have to will. Cause I am not anymore the little weak girl you now. Geet Handa who was tied down at fake relationships. no I am now Geet Shinghania who has saved the life of girls in HP at the hand of men like you. Geet put Maan's pic down and grabbed her daughters pic.She caressed the pics. They where twins but didn't look like each other.
(Nisha)
(Ruchi)
Why maan would it be easier of you would be a good person for all of use. If only you would respect women an ristey's. My girls could have a father. But I know there better off this way, then living in that hell. Geet went into her own thoughts
Past
Maan came back late a night. Geet was waiting patiently. But she got a shock of her life what she saw. She saw Maan and a girl walking into the Mansion. Maan had his hand on her shoulder. He was whispering something in her ear. The girl was laughing She was wearing a short skirt a tiny blouse. Geet took a deep breath and walked over to them.
G:maan what the hell is this
M:SHUT UP GEET HOW DARE YOU TALK LIKE THAT TO ME.AND BABY I WILL SHOW YOU WHAT HELL IS DON'T WORRY.
Geet was to shocked to react Maan had never talked to her in such a way. Why was he acting like that, when it was just yesterday that she had confessed. Maan walked upstairs to there bedroom with that girl. When geet came out of the shock she ran upstairs she wanted to now what was wrong whit maan why was he acting like this what had she done to get deserve such a behavior. She went to her room but the door was locked she heard all disgusting noised from the room she ignored it.She knocked at the door.
G:Maan please open
M:Geet get lost let me enjoy with my sweetheart go and sleep in the guestroom Me and my jaan are going to stay here tonight.
She heard the girl giggelg and maan muttering a I love to that girl.Geet started crying what the hell was happening in her live.
G:Maan please don't do this Please open the door.
Maan barged outside. he was shirt less and his chest was full of lipstick marks.
M:Why they hell can't you let me enjoy get lost geet.
G:Maan what are you doing why are you behaving in such a way. You love me na then why are you hurting me like this
M:Love you have you ever see yourself in the mirror No geet I don't love you I never did now go and don't ruin my mood I will tell you everything in the morning
G: But maaan whyyy (between hicpus)
M:GEET I SAID LEAVE NOW.
Geet go really scared and looked at maan in shock but she didn't move a inch.Maan went back to that girl and closed the door geet fell on the ground and started crying hystercially. Maan openend the door again. he grabbed her hand dragged her to the guestroom and pushed her in the room.
M:IF YOU WANT TO CRY THEN CRY HERE DON'T RUIN MY NIGHT.
He locked the door and went to his room leaving a broken geet behind. Geet was crying the whole night. She hadn't close a eye. She heard the door of her room open. Maan walked in. Geet stood up her eyes where swollen and red due to all the crying. She grabbed maan by his collar and started shaking him while she again cried.
G:WHY MAAN WHY WHAT DID I DO TO DESERVE SUCH A BEHAVIOR FROM YOU
Maan jerked geet hand away.
M:Don't touch me with your dirty hands.
Geet fell on her knees she couldn't take it anymore. She kept crying.
G:Wwwhhhyyy (She said between sobs)
M:You want to know why I will tell you why. Because
End of flashback
N:mom mom wakky wakky
Geet looked up what was it already morning. Looks like she didn't close her eyes she thought about her horrible past the entire night.
N:Mom are you okay
G:Yes sweets I am just tierd
N:Kya mom did you work again till late can believe you slept by the window. let me geuss you must be thinking about your new client and you would be feeling bad for her.
Geet smiled and looked at Nisha's hand. Hmm so Madame had made breakfast and came to bring it to her room.
G:What do you want Nisha
N:
Dehk re ho na babaij I just made breakfast for Mom because she must be tired and look what mom is saying that I am doing this because I want something. Aap hi kuch ki je Mama khe aisi soch ne ka babaij
Geet giggled seeing Nisha's drama. Nisha glared and geet.Nisha sat infront of geet but didn't say a word.Silent treatment.
G:Meri drama queen
Nisha mad a
mouth
G:Acha my princess to you want to go the party on your scooter.
N:yes mom please
G:Fine but be home before 10 and behave yourself and listen to Ruchi
N:But mom
G:Do you wanna go
N:Yes
G:Good
N:love ya mom
Nisha kissed geet's cheek
N:Mom
G:Hmm ab what do you want
N:
I want nothing dehka na geet ke babaij when I call mom she always thinks I want something how unfair
G:Sahi to soch ti ho babaij dekh le na kuch to Nisha maanf ge gi
N:Nahi toh I just wanted to ask why I have to listen to Ruchi while I am one whole minute older.
Geet giggled.
G:Kyunki my sweetheart she is more then one whole year responsable r then you.
N:Well that true
Geet smiled Nisha was defo one piece Nisha got ready for the party.
Precap: Oh oh Nisha shouting at Maan Ruchi trying to control but in vein
Next:
http://www.india-forums.com/forum_posts.asp?TID=2925491&TPN=19&#55682815


Edited by mel420 - 12 April 2012 at 5:10am