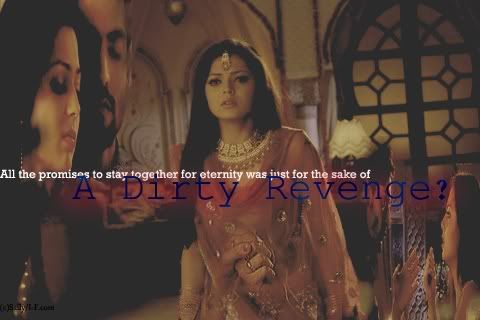 Ishq tumne bhi kiya
Mohabbat humne bhi kiya
Phir kahan galti hui hamari
Kis kadar badla yeh rishta humara
Jo liya aapne humse badlaa!!
Zindagi badal di aapki Dirty Revenge ne
Puchti hun kya maaf kar payega kahbi dil se apne??(written by Ananya)
Part 9
Ruchi's happiness new now bound. She couldn't believe she was standing in front of her dad. Without thinking she hugged him tight. Maan felt a kind of peace in his heart he hugged her back. He was feeling great. At least Ruchi didn't hate him. Nishu didn't had it in her to see this horrible sight in front of her eyes so she left. Geet knew that the hell she had closed 16 years back had openend again. But she was readdy to live in that hell again if that meant her girls happeniss. Geet saw Nishu leaving she found it weird. She was also sure Nishu looked at maan with digust and anger.geet followed Nishu up to her room. She saw Nishu paching up and down. She grabbed her phone and started texting someone. Geet put a hand on her shoulder. Nishu turned around.
G:Nishu aren't you happy to see your dad
Nishu kept quit
G;What's wrong
N:Mom you don't have to tolerate him. Please mom don't go back yo that hell.
Geet was shocked.
G:Nishu what do you now
N:Everything.
Geet sighed.
G:How
N:I eh I hypnotized you
G:YOU what
N:Sorry
G;It's ok does Ruchi now
N:No
G:Don't tell her
N:Mom please don't do this to yourself
G:Don't worry i will be fine I am not a 18 year old girl anymore. Relax Nishu. Trust your mom.
N:Are you scared that Brij will do something if you dont stay with maan then let ,me tell you, you don;'t need to worry. Come on mom you saved so many lives of girls who where going through the same. Don't do this mom.
G:Don't worry I know what I am doing to you trust your mom
N:Yes of course I do
G:Good then don't worry nothing will happen to me and please try to forgive your dad he was blinded in his sisters revenge. But trust somewhere he loves you guys.
Nishu gave a sarcastic smile
N:Mom if he loved us even a tiny bit he wouldn't have utterd those words when OI figured out that you where pregnant.
geet closed her eyes.
G:He didn't knew better his sister was in coma. He thought I was responisble
N;I will try mom
G:Thank you
Geet left she knew she had to be strong. No she couldn't fair maan. Her girls needed her.What she told Nishu was cause she didn't want Nishu to hate her dad and she was scared what Nishu could do. She knew her daugther had a weird mind.
The moment geet left. Nishu smirked sorry mom I trust you when it comes to protecting us but not when it comes to protecting yourself. Mr. maan Singh Khurana you will pay for every tear that has fallen out of my mothers eyes including with rent and that is Nishu Singhania's promise. Maan and Ruchi talked for hours. Ruchi told him about his childhoud. How she wanted to study ecnomics and her love for writing.
maan was impressed. She was like a photocopy of his Geet.
M:So have you every written anything
N: Yeah a story called Aaiynaa
M:can I read it
N:No dad wo I mean it's not that good
M:Why don't you let me decide that.
Ruchi went to her room and grabbed her laptop. She gave it to maan.Maan started reading. He looked confused/shocked.
R:What's wrong dad
M:Maan geet the name of the
R:Woh dad while writing I those sweets moments I thought of you and mom. I imagend you guys must be like that.
Maan fellt tears clouding his eyes. He rememberd the way he mentally tortured geet. Ruchi would hate him too if she would find out. Maan was all lost in the past. When Ruchi's voice brought him back to the present.
R:Dad do you like it
M:Woh Sorry I started thinking about the past.
Ruchi grabbed the laptop.
R:Dad why don't go to mom. You can read this latter. Maan nodded and started searching geet. he looked into her room but she wan't there. When he left her room he saw that the lights of her study was on. He knocked on the door.Geet came in the study she saw a box and flowers laying on the table. She opened the gift. It was a heartshaped diamond nekclace. There was a card on the flowers. She readed it.
Sorry for making you mad
Sorry for everything I said
Sorry for lying to you
Sorry, I'm so sorry
Sorry if I disappointed you
Sorry if I hurt you
Sorry for everything
Sorry, I'm so sorry
Sorry for turning in to a monster
Sorry, I'm so sorry
Sorry that I hurt you
Sorry that it had to be this way
Sorry, I'm so sorry
Sorry for still loving you
Sorry for hurting you
Sorry, I'm so sorry
(written by kalista mccart, put a litle bit changes)
Suddenly geet heard a knock.geet turned around fear rised again in her. She closed her eyes and imagend Nishu and Ruchi' s face in front of her. She needed to be strong she promised Nishu.
G:What do you want
Maan walked over to geet
M:I am sorry for hurting you
Geet gave him a sarcastic smile
G:Come to the point. tell me how are you gonna blackmail me this time.
Geet walked around Maan with the sorry letter in her hand. She smacked her head.
G:Stupid quetsion I already now. I mean that's why you brought my parents her and Brij to remind me that nothing changed and I should obey my pati ij.
Tears fromed in Maans eyes.
M: No geet your getting it all wrong.
G;Oh really So then why did you tell everyone in HP including my daughters that your a live.and why did you bring my parents back huh. Answer me
M:I just wanted to give you all the hapeniss back you lost thx to me. That's why I brought your parents back. N ot to blackmail you.
Geet clapped in her hands. Maan looked at her bewilderd.
G:Vervy good maan you deserve a noble prize for such a noble thing you did. You must feel great. So what do you want back fot it. Do you want me to wear tiny dresses and dance for you.
The word pained maan. He closed his eyes.
M:Geet please.
G:Do you want me to arrange some other girls for you
M:Geet no I promise I never touched any other girl except you. I swear geet. (between sob)
G:Oh really. So what did these girls come to do there huh. tell me
M:They never touched me. We made fake noises to hurt you. I put the lipstick marks on my self I swear geet I swear.
Geet gave him a sarcastic laught.
G:Ow I see. You now maan you should get a oscar fot this scene you playing right now.
Geet walked to the table grabbed the neklace and flowers and put it in his hand.Maan looked at her shock written over his whole face.
G;Here you will be needing this to impress another girl.
M:Geet believe me your the only one.
G:Yeah I noticed that maan after three months of marriage.
M:Geet please trust me I didn't touch those girls I even didn't look at you when you where performing and I am not here to blackmail you.
G:Fine then why are you here why don't you leave
M:Cause I can't live without you I love you. These 16 years where a living hell for me trust me.
G:But I hate you and these 16 years where my best years without you
Maan closed his eyes in pain.
M:Pleae geet I promise I will make it up to you. I will do everything you say.
G:You now Maan I don get what your doing here. Nishu hates you she can't stand you face. remenber how you said you would make my daughters hate me looks like they hate you now. And Ruchi when she will come to now the truth she will be disgusted to call you father.
M:geet please don't gtell her give me one change
G:Looks like the table are turned Maan. One wrong move and I promise I will show the world your real face and everyone including your Ruchi will hate you and no one will be able to stop me from punishing you now even Brij. So you better make sure there never comes a tear in Ruchi eyes or else I promise maan I will take my dirty revenge.
M:I promise geet I promise.
Geet torn the sorry letter into pieces and threw it on maans face. She left from the room.
I was really scared will writing this part please tell me honestly how it was. I really want to know. Even If you hate it I wouldn't mind. It's important for me to now. so I now which way to go with the story.
Precap: Look out Maan Nishu and Sara won't spare ya
Next: I am really busy so I don't now when I will be updating next
Next:
http://www.india-forums.com/forum_posts.asp?TID=2943244&TPN=4


Edited by mel420 - 22 April 2012 at 5:27am