I wish all your pain and suffering goes far away,
I wish you get to see a brighter and happier day.
I want my enthusiastic and bubbly friend back again,
I miss your old self so much that it is driving me insane.
What is life without you my dearest friend?
I promise to watch your back till the very end.
I pray that you get well really very soon my dear,
And bring back the wonderful glow of your vibrant cheer.
The medicines may be bitter,
Enough to make you my dear suffer.
But they will heal you faster,
And get rid of any possible danger.
So promise me you'll have your medicines on time,
So that together we can later happily rhyme.
You'll get well really very soon and join in the fun,
In a matter of few days, you'll be strong enough to run!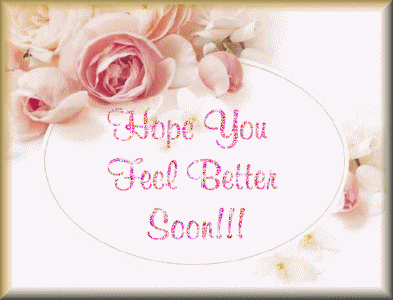 Has a bad bug gotten hold of you
Making you feel queasy?
You're energy's low, you're indisposed
Being sick's not easy!
Just take this opportunity
To recuperate and rest
And then when you return to us
You'll be your very best!
I'd think good thoughts, I'd send you love
I'd transmit healing vibes
My wand and I would surely beat
Whatever the doc prescribes.
here comes Fairy...