Hi everyone! I AM BACK…
Sorry I was away in Africa for a long vacation with family
and could not get a wifi connection at all
as I was in the middle of jungles. We had gone for wildlife safari holiday, so really very sorry girls that I couldn't even inform you.
Well I didn't have any means to do so. I just came back yesterday and am still catching up with all your pm messages as well as comments. Here are the KDCK and BPK updates.
Hope you like them. Will update again soon!
Part 25
Arnav drove the SUV into the driveway stopping at the entrance of the Vadhera Haveli. Nani and Khushi got out of the car.
Arnav slid down the window pane of the passenger seat and bent down calling for Nani.
Arnav: Nani, I'll just park the car and come. I'll see you both inside.
Nani: Alright Beta! Nani and Khushi proceeded inside the Haveli. Khushi saw the lush green gardens in and around the Haveli. It was unbelievable to her. Did her mother really spend her growing years in such a lavish residence? She was simply amazed to see the intricacies in the stone faade built in front of her. Khushi walked through the little veranda and then reached the Hall from where she could clearly hear music being played and ladies singing songs laughing and giggling.
The moment Nani and Khushi entered, a group of ladies hurried to her greeting her warmly. Shanti Vadhera or Rani Sahiba, as she was better known as, welcomed and greeted everyone. Khushi simply stared at the on goings in front of her in awe. The Vadhera Haveli was probably three times in size of the Raizaada mansion and she didn't even want to compare it with the place her mother had spent the last 25-30 years. There was a very different feel to this Haveli; a very royal and attractive feel. It didn't hold any sort of a dead feeling like the Raizaada Mansion but definitely had this aura of dominance and fear. Something which made Khushi feel extremely inferior and undeserving. But what was it that was making her feel so, she couldn't tell.
Khushi looked around silently standing just a step behind Nani. She looked around the Hall and then scanned the large portraits of possibly the ancestors of the Vadheras', which were walled one after the other over the long wall on her left. Khushi walked through it looking at each picture carefully. All the men in those portraits were pretty simply dressed. But the confidence, glow or rather pride that each one had on his face couldn't have gone unnoticed.
Khushi reached the last portrait which was of Mahinder Vadhera. She recognized him as Arnav's Mamaji and Akaash's father as she had met him in the hospital when Nani was admitted.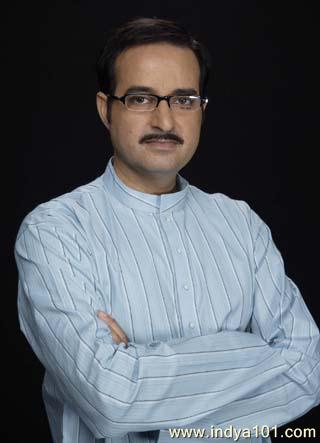 But suddenly something struck Khushi and she was forced to move two steps back and revisit the portrait hung on the wall just before Mamaji's. The portrait was of none other than Ved Raj Vadhera's; Arnav's Nana sahib's.
He was the man Nani had always blamed to be the root cause of everything Maanyata and Garima had to face in their lives. Khushi couldn't help but keep looking at the huge portrait in front of her. She had missed it before but for some reason this particular man didn't just reflect pride but also ego. He seemed ruthless and unforgiving. Even though there was a slight smile on his lips, his eyes emitted just plain coldness and nothing else. Looking in those cold eyes made a shiver run down her spine.
Khushi kept staring at the portrait for a little longer than it was needed. It was the presence of THIS personality which was making her feel so uneasy ever since she had entered the premises of this Haveli. Khushi felt a hand over her shoulder and scared turned around immediately. She was sweating badly with little pearls forming on her forehead.
Arnav: Hey, Relax! I didn't mean to scare you. Khushi sigh a relief when she saw Arnav by her side.
Khushi: Ah, Arnav... who is this? She said looking at Ved Raj Vadhera's portrait.
Arnav looked up at his Nanaji's huge portrait with respect and honor and announced: Nana sahib!
Khushi: Nana sahib? She faked not knowing who Ved Raj Vadhera was, just to know Arnav's thoughts about his Nana sahib.
Arnav: Hmm. He said looking at the portrait with his chin up and chest out, full of pride. He was a great man Khushi. Someone I would always look up to. You know Dad always use to tell me, that to earn respect and live a dignified life one should live life just like Nana sahib, King size. He said with a slight smile on his face turning to look at her. Khushi smiled uncomfortably and looked away pressing her lips together disappointed.
It wasn't bad for Arnav to think such good about his grandfather. It was but natural and something which made Khushi fall more in love with Arnav. That is, that even after living his childhood completely detached from any sort of a family, he still had inculcated values and respect for his elderly. But the only cause of her worry regarding his thinking was that it was all one person's perspective that he followed; his father's. On one side he blindly followed every word which his father taught him; liked and respected people his father asked him to and disliked in fact hated people his father taught him to. And on the other side he wasn't even ready to hear a single word against these two great individuals.
What surprised Khushi was that he was so very blinded with this thick layer of thought process that he couldn't even understand that it was his own Nani, his Nana sahib's wife who was against his principles. She held him responsible for everything wrong which had took place, ruining Vadheras as well as Raizaadas. Khushi remembered Nani's words.
Flashback:
Nani: I know you will be able to change his views with time, but you need to know Khushi, that the hatred sown in his mind has been there for three generations. First his Nana sahib, then his father and now him; Arvind had to pay for it Khushi, but I don't want Arnav too to pay for something he has no role to play in. That is why I tried to keep him away from his father's deeds.
End of flashback!
Khushi was lost in her thoughts when she heard Arnav's voice again.
Arnav: shall we? She looked up at him confused and then realized that Manorma Mami was calling them both from the far end.
Khushi: Hmm.
The two of them moved towards where the ladies were standing. Khushi saw Sumitra too standing with Nani, Mami and a couple of other ladies who looked at Arnav with smiles and praises. Khushi suddenly felt a pang of jealousy in her heart and possessively caught hold of Arnav's arm linking her hand in his elbow. Arnav smirked knowing what was bothering Khushi and smiled back at the ladies making sure Khushi notices. Khushi's jaw dropped shocked at his response. The ladies were more than double his age and still were ready to flirt and eye him as if they were some sixteen year olds.
As they reached the ladies, Khushi composed herself and slowly slid her hand out of his arm trying to be a bit civil as Nani was standing just next to her.
Lady 1: So Arnav, how is work going? We've seen you after so long in a social meeting; That too for a puja?
Manorma and Nani exchanged a look hinting at Khushi.
Arnav smiled back and replied: Aunty work does keep me a lot busy, but I promise you I'll take more time out for family from now on.
Lady 2: Arnav beta, at least you should have informed Lavanya that you would be coming here... she too could have come to meet you... It's been almost two weeks since you both have met!
Khushi immediately caught Lavanya's name, wasn't she the same girl Arnav was talking to about Garima? She looked on her side at Arnav to see his expression and the way he responded to Lady no. 2. Who was she by the way and why was she so interested in Lavanya meeting Arnav?
Arnav: Sorry Kaveri aunty, I'll sure call Lavanya the first thing now.. is she home?
Khushi (self thought): Oh! so she is Kaveri Kashyap; Lavanya's mother.
Kaveri: Yes beta... she's home. Why don't you give her a call and ask her to come?
Arnav: Sure, I'll do that right away... excuse me everyone. Saying this Arnav left leaving Khushi feel extremely jealous and angry. How could he just leave her like that?
Nani noticed Khushi's reaction to the talk between Arnav and Mrs. Kashyap and thought that it was now time to introduce Khushi to their family friends and social circle.
Nani: Everyone, some of you have already met this young lady standing next to me, but I would please like to introduce her to you all. This is Khushi Gupta, Garima's daughter and would be very soon our daughter-in-law as Arnav's wife, Khushi Singh Raizaada. Khushi immediately looked at Nani stunned at her announcement. Did she just say that???
More than her the ladies standing in front of her were shocked. Khushi slightly looked away from Nani's smiling face towards them to notice all sorts of different expressions she had not expected. Some of them, probably the ones who had their daughter's in queue to get married to the most eligible bachelor in town looked jealous and angry. Others looked ashamed to have got Garima's daughter as their future family member and some including Sumitra aunty smiled but still with pity towards Khushi. But no one except Manorma looked extremely happy with slight tears of happiness in her eyes which she unsuccessfully tried to hide and then hugged Khushi kissing her forehead lovingly.
All the other ladies unwillingly congratulated Nani and asked her to pass on their good wishes to Arnav as well. Only a few came up to Khushi and wished her well. Khushi seek their blessings by touching their feet and stood calmly next to Nani.
After a few over twenty minutes of helping Mami with the procedures of the havan and greeting other woman, Khushi silently escaped into the balcony terrace looking out into the front lawn of the Vadhera haveli.
She kept looking out lost in her thoughts. Was it all happening too fast? Will it really be a good decision for her to choose Arnav as her life partner? She could only make a decision after knowing the complete truth. That was it. But then again will it be a good idea to judge a life with Arnav on the basis of how his ancestors have been? She was frustrated with the on goings of her life at the moment. And yeah one more thing, who the hell is this Lavanya? Is she that very important person in Arnav's life?
Khushi kept thinking of all this when she suddenly felt a pair of strong arms on her waist encircling her tummy and his rough stubble and soft lips in the nape of her neck.
Arnav: missing me?
***
Next: Purani haveli!!! The second part of the Vadhera haveli which remains closed.
Plz hit the like button and comment!
Love
Shopau