PART 18
Sun dawned on the outhouse of the KM where the beautiful had slept in each other embrace peacefully.But the girl was still rubbing his husband's body to warm up him.This was Geet & the man who had slept circling his arms around Geet's waist was her husband Maan Singh Khurana.Both were slept in each other cutely but Sun disturbed them showing his rays on their face.
Maan stirred in his sleep while Geet still was rubbing her hands on Maan's body.Maan opened his eyes rubbing & shielding his face from the sun's rays then his room came into focus.Maan saw around him but he noticed that he slept half naked & covered in numerous blanket.Maan was shocked to see himself half-naked & saw that Geet had slept on his chest breathing heavily.
He saw around him & saw cold water vessel which was kept on his bed side table.He saw that his hand was on Geet's back & one hand inside her kurti.Maan noticed her lips were swollen & her hairs were messy.Maan saw Geet that she was moving her hands on his bare front which made him seduced feeling her soft hands on his bare front.
Maan didn't understand that why she was doing this but reality hit him.Maan couldn't bare the truth that she had intimated with him that his anger went to its peak & pushed her from him immediately.He thought she's rubbing her hands to seduce him & he gave a murderous glare to her.
Geet fell off the bed & she banged her back to the ground & she opened her eyes.Geet got up immediately seeing Maan's murderous glare & said softly,"Maan...aap theek hai...!!!!!!!"She was abt to keep her palm on his forehead but he jerked her hand angrily.Geet was shocked & saw him with alarmed look while Maan gave a deadly glare to her.Geet asked softly,"Maan kya huva...aap itne gusse mein kyun hai...!!!!!!!!"
Maan said angrily,"Gusse mein kyun hoon Geet...tumhe yeh bhi nahin maaloom kemein kyun gusse mein hoon...mujhe nahin lagaatha ki tum itne neeche gir sakthi hai...mujhe haasil karne ke liye...tum mere saath suhaag raat bitaadiya...aur jab mein hosh nahin tha tab...!!!!!!!!"His every word was breaking her from inside but she tried to explain,"Maan...meri baat toh suniye...humaare beech aisa kuch bhi nahin huva hai...!!!!!!!"
Maan said immediately,"Toh ab tum yeh sab isiliye keh rahi ho kyunki tum yahan par humesha ke liye rehna chaahthe ho na...!!!!!!!!Isiliye tum mere peeche padi thi...mere paison ke peeche padi ho...haina...!!!!!!!"Geet's eyes welled up & tears poured down from those almond eyes immediately & she said with shock,"Maan...!!!!!!!!"Maan was bothered with those tears but still he kept the furious pretence & said,"Yeh aasoon ko mujhe mat dikhaana...mein in sab se pigal nahin saktha...!!!!!!!"
%20http://" border="">
Geet collapsed to the ground while Maan went outside angrily immediately.Geet who was crying hoarsely sat there just like a stone.She remembered yesterday's events which went on in her mind vision which made her happy...but Maan crushed those incidents in one accuse.Geet sat there crying continuously for those hurted words which echoed in her ears.
Geet saw upwards & asked,"Kyun babaji...aap kyun meri itni pareeksha le rahe ho...kal rat jo kuch bhi huva woh meine nahin kiya tha...woh sab kuch unhone kiya tha...kyun yeh mujhe itna dard de rahe hai...kyun...!!!!!!!"Fresh tears leaked from those almond eyes which wasn't stopping for the limit also.Maan who had went inside the washroom was seeing the mirror in which Geet came to his vision.
Maan threw some stone to the mirror & it broke immediately.Maan couldn't bear this truth & he went to the clinic to confirm that he's ok or not.For a second he entered the doctor's cabin where he saw Samir there.
%20http://" border="">
Maan couldn't believe it that he had become doctor & hugged him immediately.On that time he also saw Milind there who had sat holding his six months old daughter Vaidehi.Maan saw his friend Milind
%20http://" border="">
Maan was overwhelmed to see his two pre-university friends who had parted to their destinies.[Guys u r thinking how come Maan didn't know that Prachi is the wife of Milind..that's becoz he was blinded with his anger & had not having any patience to see that who's the boy whom Prachi had married]
Maan saw a baby too in the arms of Milind & asked,"Who's this...???????"While the baby gave a toothless grin to Maan in which Maan smiled back at her.Milind said,"Maan...yeh meri beti hai...iska naam Vaidehi hai...!!!!!!!!"Samir asked,"Lekin Milind tumhe yahan aane ki kya zaroorat thi...tumhaare ghar mein toh doctor phirse hai...!!!!!!Maan milind ki biwi ek gynacology doctor hai...phir bhi yeh yahan mere paas aaya hai...!!!!!!!"
Milind said smiling,"Aisa kuch nahin hai yaar...yeh meri biwi ka hukum hai ki meri beti ko tumhaare paas laavoon...subah se rat lagaa kar biathi thi ki mein Vaidehi ko tumhe dikhaadoon...kyunki kuch logon ko apne diagnosis pe yakeen hi nahin...!!!!!!!"Maan was a bit attracted towards the cute little Vaidehi which showed its dimples smiling.
Maan came forward & took a 500 hundred ruppes note & kept it in its tiny fist & blessed it cutely.Milind asked seeing 500 rupees,"Maan yeh kya...!!!!!!!"And he was abt to take the note then Maan said,"Usse mat nikaalo yaar...meri daadi keththi hai ki pehli baar kisi bachche ko dekhe toh khaali haath mein nahin dekhna chaahiye...yeh shagun hai...!!!!!!!"Samir gave the prescription to Milind while he checked Maan's pulse.
Samir said,"U r perfectly normal Maan...lagatha hai biwi tumhe achchi tarah se dekhbaal ki hai...haan Maan behtar hai ki tum baarish se mat bheego...nahin toh kal ki tarah ho jaayega...!!!!!!!"Milind asked curiously,"Kya huva tha isse...??????"Samir said immediately,"Kal shaayad baarish mein bheega hoga isne jisse thodi tempertature high ho gayi thi...aur phir low bhi ho gayi thi...shaayad inki biwi ne thodi garmi dee hogi jisse yeh ab normal huva hai...!!!!!!!"
Maan was shocked hearing his words & he remembered the whole situation why Geet was rubbing his bare body.Then he remembered that it was him who had kissed her.He couldn't believe himself that he did that to Geet & he cursed in his mind that he shouted & accused at her harshly.When Samir appreciated Geet to Milind then Maan cursed himself for scolding & accusing Geet without any proof.
Maan came back to the home to talk to her but she wasn't there & dadimaa told her that she has some project for which she had gone to the college.Maan came to the martial arts school but Geet wasn't also found there & Jhanvi had told him that she left the class very soon asking the permission from her.She also told him that she was so disturbed with something.
Maan knew that he had done enough damage inside which is gonna affect her health.In office Maan tried to talk to Geet but she answered to his questions in single word as yes or no.Maan couldn't bear this silence of Geet & was trying to talk to her but Geet went to home looking blank.
Maan came back to home while Geet was setting the dinner table.When Maan came there then she didn't say anything & she went from there.But Maan wanted stopped her & asked,"Tum nahin bata sakthi thi ki kal raat mera temperature low huva tha...!!!!!!!"Geet stood there completely blank...she didn't say anything while she struggled her hand to free her from his grip.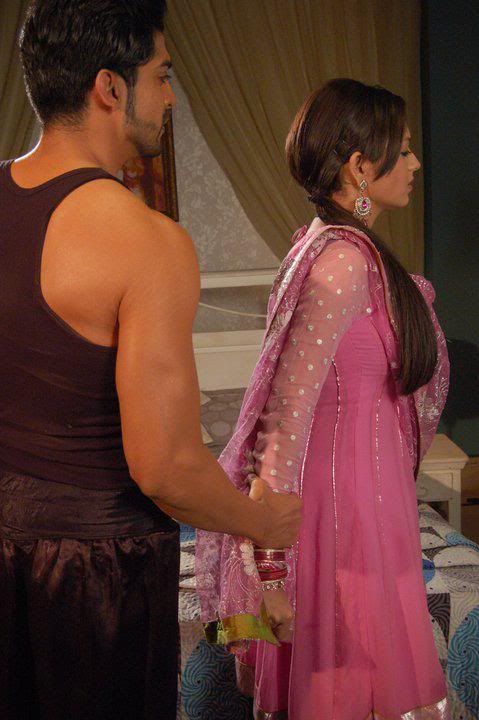 Maan came & stood in front of her & asked,"Mujhse baat karo Geet...!!!!!!!"Geet's warmth filled eyes had gone & had replaced a blank expression.Maan slowly whispered,"Geet am sorry...mujhe is tarah baat nahin karni chaahiye thi...mujhe maaf kardo Geet...pls...!!!!!!!"But still Geet didn't budge while Maan sat on his knees in which Geet turned & went to her room & slept immediately.
Maan couldn't bear this silence from Geet becoz she was always chirpy,bubbly girl which he had made her silent these days.Geet got up next morning & prepared the breakfast for him and took her lunch box as usual & went from there.Today was the special day and Maaneet were going to the party which was kept by their client.
Geet came back to the house & wore the sari which Maan had given the previous night before he fell ill.Geet felt awkward becoz it was backless blouse & her waist was exposed.
%20http://" border="">
Maan was mesmerised seeing her in that sari where Geet's beauty was swelling in that sari.But Maan noticed the red marks on her back which had made her skin reddish blue color.Then he noticed those same marks on her waist also.Maan asked,"Yeh nishaan kaisa...!!!!!!!"And then he remembered his deeds that he was the one who held her skin like that's why she didn't wanted to wear this sari.
Maan asked abt this once again then Geet answered rudely & angrily,"Ek paagal kutta mere peeche pada tha ussine kiya yeh nishaan...!!!!!!!"Which made Maan angry & asked,"Tumne mujhe pagal kutta kaha...!!!!!!!"For which Geet gave a taunting smirk & was abt to go but Maan stopped her & asked,"Am sorry Geet...mujhe galath faime ho gayi thi...am really sorry...dekho tum mujhe maaro...gaaliyaan dedo...magar aise moo modkar mat jaavo Geet...pls...!!!!!!!!"But Geet freed her grip from him & went from there closing the scratch.
Precap-Guys urself guys...
Previous Part-17-
http://www.india-forums.com/forum_posts.asp?TID=2923708&TPN=56
Teaser 02-
http://www.india-forums.com/forum_posts.asp?TID=2923708&TPN=64
Next Part 19-
http://www.india-forums.com/forum_posts.asp?TID=2923708&TPN=67


Edited by geetsrir.maan - 29 May 2012 at 3:34am