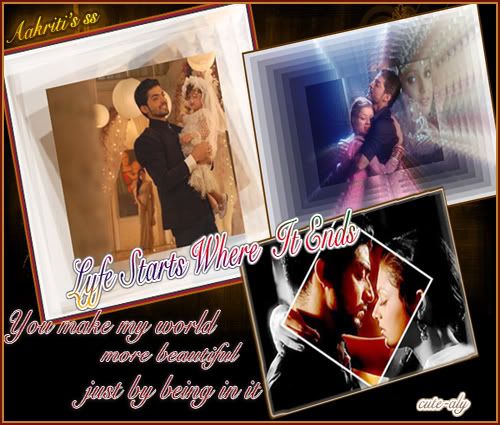 Part 3:
"Adi I don't care about my job nd I am sure you both too. I am just concerned about Geet's job. You both know how much this job is important for Geet. I just hope that MK won't take any decision in haste." Sasha said as she sat on the chair nearby
"Don't worry Sasha nothing will happen to Geet's job nd if Maan sir will think of anything like this den we'll talk to him. We'll ask him to fire us but spare Geet nd I am sure he'll understand." Adi said as he put a comforting hand on her shoulders nd Sasha nodded slowly.
But amidst of all this everyone failed to notice what impact their talks are having on Seher's mind who was sitting over there at couch looking at the scene in front of her. She couldn't understand what they are talking or doing. All her small mind could comprehend is that she had done some mischief nd her Mom will get its punishment from her boss. Just like in her day boarding kids get punishment for their mischief. She thought of saying sorry to Maan just like she use to say sorry to her teacher nd will ask him not to punish her Mom. Thinking this she quietly got down from her couch nd went outside. Everyone was so much engrossed in their worries that they failed to notice Seher missing. She stand at the cabin door for sometym as if memorizing the way towards Maan's cabin nd as she remembers she slowly made his way towards his cabin to apologize to the teacher of her Mom or in other words, her Mom's boss
**************************************************************
Maan's Monologue:
I was in my cabin leaning my head back at the chair lost in deep thoughts nd unable to concentrate on work at all since the tym Adi, Sasha nd Pinky had left the cabin with that cute little girl. How could I concentrate in any work wen my mind was wandering just over one question; was Geet Married? Since the tym all 3 of them had left my cabin I was just thinking of one person nd that is Geet. I had thought in each nd every possible way to believe that Geet is married but nothing seems to be working. I once again checked my employee's records where she has been addressed as "Ms." Rather then "Mrs." Not once in these 3 years I had seen her wearing any signs of marriage nd as far as I am able to know her she's not in one of those modern girls who doesn't wear signs of marriage due to fashion den how can be she's a mother of one child. Is she a divorcee or a widow or may be she's a mother out of wedlock? Probably yes nd may be thatsy she's living over here in London away from everyone
But why it's bothering me if she's a mother of a child; if she was or is married to someone else? Why do I feel like I had lost something very important? Ok I agree that I admire her infact I had realized this fact long before that I am attracted towards her. Her down to earth nature, her sweet smile, her innocence, her melodious voice everything had nd still drawing me towards her nd I had no regret in admitting this that for the first tym Maan Singh Khurana is admiring any girl apart from his mother, sister nd Grandmother nd that girl is Geet. But today when I came to know that she had a daughter den it's really very difficult for me to digest this fact. Why, I don't know that? Probably I had never seen him with any other men before or probably I am having very strong attraction towards her? But is it right to feel for her in this way especially now wen I know that she's a mother. Probably she's having some problem with her life partner nd thatsy they are not living together or may be she had purposely given her marital status as 'single' in our office records.
I know whatever reasons I am giving to myself is just to satisfy my heart which continuously urging me to look beyond what I am thinking. I can't ignore that piercing feeling of my heart due to the fact that Geet is or had been married. I can't ignore the restlessness in me to know what actually the truth is. I can't ignore the feeling of my lyf slipping away from hand due to the fact that Geet belongs to someone else. The mere thought is giving me immense pain. But why, why all this happening to me if the feeling that I feel for her is just an attraction? Or is there any other feeling too that I am not able to realize yet. There's something between us, some invisible thread that always pulls me towards her. That always wanted me to know more about her; that always wanted me to be a part of her life. Shut up Maan! What are you thinking? You can't think about her in that way. It's a sin but den y my heart is not listening to me. y? Geet had always been a mystery to me nd now it seems that I got more tangled up in this mystery.
(Maan's Monologue ends)
The sudden knock on his door gave a halt to his thoughts nd that's wen he realize from how long he was lost in Geet's thoughts. He immediately straightens himself nd started working on the laptop pretending to be busy.
"Come in" he said while looking in the laptop as He don't want any of his employee to witness how lost he was all this while.
It's been 5 minutes since he asked the person to come in but strangely no one had beckoned him yet. He looked up from his laptop to look towards the door only to find no one present over dere. He knotted his brows in confusion as he saw no one in front of him. Does that mean that he was imagining it; he thought nd then shakes his head in disbelief nd again resumed to work wen he felt a tug at his trousers. He frowned nd looked beside him only to find Seher standing over dere looking at him with her big innocent eyes. Maan didn't understand wat is he doing over here. Last thing he expected is to be Seher in his cabin. He immediately got up from his chair nd kneeled down in front of her to her level.
"Aap Yaha kya kar rahi hai?" he asked softly yet sternly as he still haven't forget the condition of his office nd his fav statue nd in return Seher just hold her ears blinking her eyes innocently still scared from him nd Maan was confused at her this behaviour
[What are you doing over here?]
"I am sorry Mishter Khulana. I broke your statue but I didn't did it purposely. Wo na gande wale uncle mele peeche bhaag lahe the pakalne ke liye aul main galti se us staue se takra gayi nd wo gil gaya nd toot gaya but sachi I haven't did it purposely. U please don't punish Mumma for dis. she haven't done anything, I broke your statue. Please don't punish Mumma." Seher said innocently in her baby language nd Maan just couldn't say anything but just kept on staring at the innocent angel in front of him
[I am sorry Mr. Khurana. I broke your statue but I didn't did it purposely. Wo bad uncle was running behind me to catch me nd I collided with the statue nd it has been fallen down nd den shattered into pieces but sachi I haven't did it purposely. U please don't punish Mumma for dis. she haven't done anything, I broke your statue. Please don't punish Mumma.]
She's exactly the replica of Geet. Same big hazel brown eyes, same curly hairs, same complexion, same innocence, nd same way of explaining everything calmly without any fear. If till now he had any doubts den it is all confirmed now that she's Geet's daughter only. Nd strangely he was not at all angry on this cute little angel now infact he just wanted to wrap this bundle of joy in his arms. He would have done it also if he hasn't noticed her expression of fear on her face.
"Who told you that I am going to punish your Mumma" Maan asked softly smiling slightly.
Wo Adi uncle, Pinky Maasi nd Sasha Maasi were saying that you'll punish Mumma because I made a mess in your office. Please don't punish Mumma. If you want then I'll do the sit ups or will write "I am Sorry" 100 tymes in my copy but please spare Mumma." Seher said while still holding her ears nd Maan could see the layer of tears in her beautiful eyes nd he just wanted to strangle Adi, Sasha nd Pinky for scaring such a cute girl

"Don't worry I'll not punish your mumma" Maan said as he wiped away the tear from the corner of her eyes.
"Really?" Seher said excitedly to which Maan just nodded while smiling slightly but next moment her face fell off.
"Wat happen? Aren't you happy that your Mumma is not going to be punished" Maan asked confusingly.
"Are you going to punish me then?" Seher asked innocently while fluttering her eye lashes while Maan just chuckled.
"No I am not going to punish you also." Maan said nd Seher's face lit up.
"Plomishe" Seher asked still uncertain for his behaviour.
[Promise]
"Promise. But I have a condition?" Maan said smirking while Seher looked at him confusingly.
"What condition?" she asked as feel scared of the condition he was about to put.
"Hhmmm so my condition is that you have to give me a big smile first den only I won't punish you." Maan said nd in return Seher gave him a big smile
"Thank you thank you thank you so much. You are really very nice, just like my angel." Seher said as she hugged Maan tight expressing her happiness. Though it was unexpected for Maan but he immediately hugged her back smiling widely.
This is for the first tym when someone had behaved so informally with him apart from his family that too a kid whom he had known from just few hours back but he couldn't deny the satisfaction he felt the moment he took her small nd soft frame in his arms. It was then only he realizes that he too likes Kids. He felt like he got something that was missing from his lyf. Last tym he felt like this was then wen he saw Geet for the first tym in his office nd now it's her daughter who had made him feel in this way. Strangely he felt connected to both of them. Is this a sign of destiny that he didn't understand yet, he thought as he gently patted her back.
"By The way Aapne abhi tak hume apna naam to bataya hi nahi." Maan asked as he gently pulled her out from hug.
[By the way you haven't told me your name yet]
"Uffo Sasha Maasi has told you twice doesn't you remember." Seher said while making a disapproving face nd Maan just couldn't himself from chuckling at her cute antics.
"Nop I forgot." Maan said while playing along with her.
"Budhu ho aap bhi. Anyways my name is Seher Handa." Seher said proudly nd Maan was just amazed seeing her attitude at this age. First she called him stupid which no one had ever dared to call him nd strangely he didn't felt bad nd den how proudly she had told her name as if she's a princess of somewhere. Ofcourse she's a princess; princess of everyone's heart
"So Ms. Seher Handa what's your mother's name." Maan said as if he was taking her interview.
"Aap to sach mein Budhu ho. She works in your office only don't you know her name." Seher said disappointedly as she slightly hits Maan's forehead with her cute little fingers while Maan just nodded his head in no innocently.
"Her name is Geet Handa nd she's the best mother in this world." Seher said smiling sweetly as if she was saying the sweetest truth of this world.
"And your Father's name?" Maan asked curiously while holding his breath. He don't know how he's going to react when Seher will tell her father's name but what she said next had both shocked nd surprised Maan.
"Geet Handa." Seher said as a matter of fact confusing Maan.
"Geet Handa? Beta I am asking your Father's name nd Geet is your mother right?" Maan asked thinking that probably she had not heard him correct
"My father's name is also Geet Handa. Mumma says that she's my both Mumma nd Papa." Seher said innocently but Maan went thoughtful at her revelation.

If Geet was married before nd is Divorcee or widow at current then y did she hide from Seher her father's name den is she a mother out of wedlock, he thought as he felt Geet's lyf being more nd more mysterious to him. The mere thought of someone betraying such an innocent girl like this has filled him with Rage nd anger but right now he can't come to any conclusion before knowing the actual truth.
"What are you thinking?" Seher poked Maan's shoulders bringing him back from his reverie
"Nothing. Just like that" Maan said smiling nd that's wen his gaze falls on Seher's arm where he saw marks of someone's fingers
"How did this happen? Maan asked in concern as he examined Seher's arm nd she winces in pain
"Does it hurt?" Maan asked softly while Seher just nodded.
"Who Did this?" Maan asked as he felt anger coursing through his veins once again but this tym reason is different.
"Wo Bad uncle did this. He had held my hand tightly wen he brought me in front of you." Seher said while rubbing her arm where it's paining.
Without wasting tym Maan quickly got up from his sitting position nd immediately called Receptionist asking her to send in that peon. Seher was looking all this quietly as she had no idea what is going in Maan's mind. Moreover she didn't have courage also to ask anything seeing him clenching his haws nd fist in anger. Though they had talked so much yet she's scared from him somewhere. After a while both heard a knock on the door nd Maan immediately asked that person to come inside.
"You called me Sir?" Peon asked as he came inside unknown of the danger waiting for him.
"Yes. I wanted to inform you that you are fired." Maan said giving that peon biggest shock of his life.
"But Sir what did I do? Trust me sir I had cleaned that place in less then 15 mins only nd now there's not a single bit of mess is over dere." Peon answered sweating badly.
"You are not getting fired because of that. You are getting fired because I don't want any beast in my office." Maan said in anger as he reminds of the fingers print on Seher's delicate arm.
"But sir……" Peon tried to say something only to be interrupted by Maan.
"Not a word more because I am not going to buy that. The person who doesn't know how to behave with a child had no place in my office. So just leave my office premises within 15 minutes nd I don't want to see your face again in my life. Now LEAVE!!!!!!!" Maan roared out loud in anger scaring both Seher nd Peon.
Seher who was watching all this quietly though couldn't comprehend what's going on but still feels that Maan is punishing that Peon as she saw his scared nd low face. She slowly comes near him nd holds his hand in her small tiny hand to calm him down nd as soon as Maan felt her touch he felt his anger melting away. He turned to look at her only to find her looking at him innocently nd scared with his anger.
"Aap unpe kyun shout kar rahe ho? Statue to maine toda tha na. Aap please un uncle ko punish mat karo." Seher said as she flutters her eyelashes innocently nd Maan felt all his anger going away from the window.
[Why are you shouting on him? it was me who broke the statue Na. you lease don't punish this uncle.]
"Beta, he had hurted you Na thatsy I am punishing him." Maan said as he gently caressed her head.
"I am sorry sir." Peon said as he found the best opportunity to apologize.
"See he's saying Sorry also. Wen I said Sorry then you had not given me any punishment Na. My teacher also doesn't give punishment to the kids who say sorry. Please you also don't give him any punishment Na." Seher spoke before Maan could say anything to peon. Maan looked at peon who had his head dipped down nd den back at Seher who was looking at him expectantly. She's just like Geet not in her appearance but in her nature too who can't see anyone in problem, he thought as he registers her innocent talks.
"You may go now but don't think that I am finished with you. I'll deal with you later. Now LEAVE!!!!!" Maan said out loud nd Peon literally ran away from his cabin saving his lyf. Once he was gone Maan just flopped in his chair in order to calm down his anger wen he felt tug on his trousers yet again. He smiled knowing who it was. He looked at Seher nd did something which was totally unexpected. He took her in his arms nd made her sit on his lap lovingly nd applied ointment on her arm that he had taken put from his drawer.
"You really anger a lot. You know Mumma says that Good girls nd boys don't get angry this much. See you get creases on your forehead also." Seher said as she softly touched his forehead nd Maan frowned
"Don't worry I'll say Mumma to iron your forehead like she use to iron my dresses" Seher said as she saw Maan worried face causing Maan to laugh out loud, something that he didn't did from years but Seher managed to do with he cute innocent talks. No one would believed that he's the same MSK who's so harsh, tough nd ruthless for outside world but completely changed in front of this cute little girl. So much changed that he was laughing whole-heartedly
"You know something, you are really very cute." Maan said as he kissed her cheeks lovingly.
"I know, Mumma also says that. She says that I am her angel." Seher said as she opens her eyes wide.
"Your Mumma says right. You are indeed an angel." Maan said as he looked at her affectionally.
"Acha tell how many friends you had in your school?" Maan asked as he loved to converse with her leaving all his work behind.
"I had…. Ummm…. wait let me count, Abi, Sally, Abby, Aliena, Mansi, Anu, Ameena, Annie, Julia …………" nd her list goes on as she counted each nd every name in her cute little fingers while Maan looked at her amused.
"Ya that's it. Only this much" Seher said as she finished counting almost 20 names yet she says 'only this much'
"Bas, only this much" Maan asked sarcastically
"Ya, this much only. Y is it less?" Seher asked frowning nd Maan chuckled seeing her innocence.
"No it's not at all less. Infact it's more then enough. So do you fight with your friends also like everyone does?"
"No I don't fight with anyone. Mumma says that only Bad girls fight with each other nd I am not bad Na. I say the same thing to Abby nd Sally also but they don't listen to me." Seher said as she made a cute pout nd Maan was like 'Awww'
"But why do they fight with each other? Its bad thing Na." Maan said while playing along with her
"Haina! I too use to say the same to them. Wo Na Abby had more boyfriends then Sally thatsy they always use to fight with each other because wen Sally tries to make any boyfriend Abby had already took over him." Seher said as a matter of fact nd Maan's eyes literally popped out listening to her. Maan these kids were just 4 years old nd they are fighting upon boyfriends, Gosh! These kids now-a-days.
"Boyfriends?" Maan asked yet not believing wat he heard.
"Ya nd you know Abby had 5 boyfriends; tom, Eric, Mike, Thomas nd John while Sally just had 2; James nd Michel. Thatsy they always fight with each other." Seher said while making a sad face while Maan just shakes his head in disbelief.
[Sally nd Abby very bad Girls! You guys haven't told me about it
…. See Seher is so worried for you both
….. Chalo now don't fight with each other anymore ok.
]
"Hhmmm that's really a big problem. Do you also have Boyfriends?" Maan asked innocently nd Seher jaw just dropped open
"Chi Chi Babaji! I don't make boyfriends nd all. Abhi to main choti hoon Na." Seher said sweetly nd Maan smiled seeing her understanding but what she said next had made Maan having second thoughts.
"I'll wait for 2 more years den I'll be 6 years old nd den I can make boyfriends. I'll be big enough by then na" Seher said while smiling widely as if she had just told the most sensible thing in this world nd Maan just laughed out loud listening to her statement while Seher looked at him making a pout.
"Aap has kyun rahe ho. Main sach keh rahi hoon. Mumma says that if I'll drink Milk everyday then I'll grow up soon." Seher said while getting angry nd Maan found it hard to control his laugh.
[Why are you laughing. I am saying true. Mumma says that if I'll drink Milk everyday then I'll grow up soon.]
"Ok ok I am not laughing anymore ok. Don't get angry." Maan said as he manofies his cute little doll. Something that he never did before for anyone.
"Gud. Acha tell me do you have any girlfriends?" Seher asked as her eyes went wide with excitement nd Maan just stiffened.
Girlfriends and He? He didn't even remember wen was the last tym he had paid any attention towards a girl even if they are ready to throw themselves on him. He just didn't have enough tym nd moreover he never find any girl who was not after his money. Geet was the only girl towards whom he felt this much attraction nd now he can't think of her too as he had no right.
"Batao na? Do you have any girlfriend?" Seher voice bring him back from his thoughts as he saw her shrugging his shoulder in order to gain his attention.
"Tch! I don't have any?" Maan said as a matter of fact.
"Why? You are to so big den y you don't have any girlfriend?" Seher asked with a frown as if it's a very serious thing if Maan don't have any girlfriend
"Wo I haven't got any sweet cute innocent angel like you na thatsy" Maan said as he pulled her nose affectionally.
"Will you be my Girlfriend?" Maan asked nd Seher Gasped.
"Hawww me nd Ur girlfriend. No no, I am so small nd you are so so big" Seher said as she opens her arms wide along with her eyes.
"So what? See abhi you are talking to me like a friend only Na nd since you are a girl to Hui Na aap meri Girlfriend. Did I say anything wrong?" Maan said shocked at his own words nd actions. He had never mingled with any kid like this before but she had managed to change him in just matter of few hours.
"But Mumma will not allow me." Seher said after thinking for a while.
"We'll not tell anything to your Mumma. It'll be our little secret." Maan said as he winked at her.
"Chi Chi Babaji! I won't say lie to Mumma. Mumma says that it's bad thing to lie to your elders." Seher said as if she's a teacher nd Maan is a student whom she's teaching Moral values.
"Arey wen did I say that we'll lie to your Mumma. We'll just not tell her. It'll be a secret nd wen she'll come to know den we'll tell her everything ok." Maan said as he ruffled her hairs lovingly while she went thoughtful tapping her cute little index finger on her chin.
"Ummm ok but I'll not give you kissy-wissy like that uncle use to give that Aunty in that dirty Movie." Seher said after thinking for a while shocking Maan to its wits. Man! wats this girl is made up of
"Hey you watch such movies." Maan asked unbelievingly.
"No no I don't watch. Wo dat day by mistake I had put it on. You know Mumma was so angry on me. She told that good girls don't watch such things." Seher said in order to prove herself innocent nd Maan just chuckled.
"Don't worry we'll not do anything like that. We are not bad like them na. So will you be my Girlfriend now?" Maan said hopefully
"Ummm ok but it'll be our little secret only ok. I don't want to spoil my image Warna my friends will tease me" Seher said as she pointed her finger towards him nd Maan just smiled seeing her attitude.
"Don't worry we'll not tell to anyone. Deal?" Maan said as he extended his hand towards her. Seher looked at his hand for a while as if unsure to wat to do nd den gently meet her small hand with his.
"Deal" She said as she shakes her hand with his nd Maan smiled widely while kissing her cheek.
This was the start of the new bond between them. Few hours back they were totally stranger to each other but now Destiny brought them together to write a new story keeping this little angel as a catalyst. Within few hours he had transformed Maan Singh Khurana into the person which he never know had present inside him. at that moment only he realize that he too had a heart which can Love nd see things beyond Money nd business just like he felt wen he realizes that he's getting attracted towards Geet. Maan don't care that if Geet is married or not, he didn't care whether Seher is born out of wedlock or not all he knows that he just wanted to shower all his Love on this cute little angel who is exactly like her name. Seher – a sunshine that had really brighten Lives of both Maan nd Geet with her presence nd unknowingly became a link between the starting of new journey of relationship between Maan nd Geet. Destiny is going to write a new chapter in the lives of 3 of dem to which all 3 of them are yet oblivious.
Ok so dis is it guys! hope you all are going to like it... as i said earlier also that there is no Maaneet in it nd i told you all its reason too... hope you like the moment of Maan nd Seher together... Do tell me how you all find becasue i am damn nervous wen it comes to this FF... Hit the like button if you all like it nd do leave your comment/criticism... its necessary...
Aliena, Mansi, singh24(sorry dont know your name), maansi007 nd for all those whose names i had left out... this update was specially for you guys for keeping patience nd waited for the update nd sorry to keep you all wait this long...
nd Ehsaas Readers dont get mad on me as i need sometym to update Ehsaas because i am again stuck up at one point not knowing wat to write further so will update it once i decide wat to write further....
Next update after 20 pages so see you all at page no. 57
...
Luv Aakriti