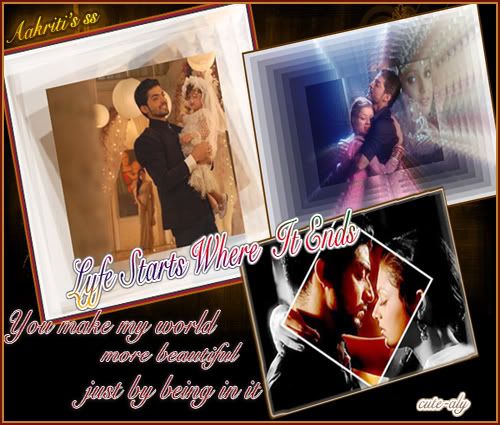 (Siggie: thanks to Aliena (cute-Aly) Love you sweety)
Part 2:
"Geet enough of discussion. We are discussing on it from past 30 mins. its final now Seher is coming to office tomorrow" Sasha said before Geet could protest
"And don't worry we all will take gud care of our Princess just trust us" Adi said knowing how sensitive Geet is for Seher
"I trust you guys" Geet said as she sighed knowing that there's no other way now
"Gud so it's final now tomorrow we all are having Day out wid Seher. O god it'll be so much of fun." Pinky said chirpily nd Geet gave a faint smile.
They chatted for a while planning everything for next day nd den bid gud bye to each other. Geet goes to Seher's room nd saw her still playing wid her toys. She smiled nd went near her. she played wid her for sometym nd den took her to Bed nd gently patted her to sleep praying silently to God that everything goes fine next day nd Maan wont be able to know anything as knowing him she knows that he never compromises wid discipline nd if he'll come to know about a kid in the office then he'll definitely not think twice before doing anything worse wid her. He can fire her from the job also. She didn't care for her job all she care for is Seher. She don't want anyone to hurt her angle. No she'll do everything to save her Angel from Maan's wrath. She thought as she slept beside Seher silently praying that her angle will be all fine nd Maan don't do anything wid her even if he found her out in the office.
*********************************************************
It was past midnight nd whole world was in deep slumber but sleeping peacefully was the thing that Geet had not experienced in these 4 years, just like today. She was tossing nd turning restlessly on bed crying. Her whole body was wet wid sweat nd fear was evident all over her face. She was continuously murmuring something barely audible in her sleep as if begging someone to leave her, to have mercy on her nd den finally she got up wid a scream waking up from her worst nightmare that she faces every night.
She looked around herself only to find herself in her room wid Seher sleeping beside her. She took a deep breath to calm down herself nd wiped away the sweat from her forehead. She once again looked at Seher nd hugged her tight to make sure that wat all had happened just now was just her another nightmare. After calming herself a bit nd making sure that she nd Seher are safe she slowly gets up from the bed nd headed towards the washroom to take shower.
It was not new for Geet. She is facing the same nightmare from the past 4 years. Even after coming so far from her past she still feels herself stuck up over dere only. Though she's far away from the place which had given her unbearable pain yet the haunted memories of her past were still tormenting her like dis only in the form of nightmare from past 4 years. Though she keeps herself busy wid Seher nd office to get away from the memories of her dreadful past but somewhere deep in her heart this fear us always dere that wat if one day he'll find her nd Seher nd den no one will be able to save both of them from his evil clutches from which she had freed herself after so many efforts
She closed the shower as she shrugged the thoughts that just crossed her mind. There's no way he's going to find her anyhow. Afterall he didn't know that she's here at London. No one knows where she is except one nd for one thing she was sure that the person who knows where is she will never open her mouth as she was the only one who had helped her to escape from him nd had taken a promise from her that she'll never contact anyone people from her past including she (the person) herself.
Even after making sure that she nd Seher is all safe nd sound Geet couldn't able to get rid from her fear even after 4 years but she never showed this to anyone as she don't want anyone to take advantage of her weakness. That's the reason that she had made such a low profile in the office nd only Adi, Sasha nd Pinky knows about her nd Seher but they were also unaware of the things that she had faced in her past but neither did they asked her anything nor she had told dem anything. She was happy the way her lyf was going on wid Seher over here nd she was sure that as the tym will pass she'll get rid from these nightmares also.
She thought nd stepped out from the washroom in her night dress only to find Seher all awake nd sitting on the bed crying. She immediately puts the towel aside nd rushes towards her nd hugged her tight while rubbing her back.
"Baby wat happen sweetheart? Why are you crying?" Geet asked as she patted her back to calm her down.
"Mumma……. Mumma I was….. I was…… scared." Seher said between her sobs hugging Geet more tight
"Y my Bacchha is scared this much." Geet said as she wipes away the tears from her beautiful face
"I couldn't… I couldn't find you near me, so I thought…… I thought that you had left me……. that devil…… that Devil has taken you away from me" Seher said while still sobbing nd hugged Geet tight again.
"Baby Mumma is not going anywhere. See she's here wid you only. No one is taking me away from you." Geet consoled her little angle who had probably seeing a nightmare.
"But mumma where had you gone? I was so scared." Seher complained as she pulled out from hug nd wipes away her tears cutely after making sure that he mumma is with her only
"Beta mumma has gone to take shower. But don't worry she's here now. Now c'mon lets go to sleep. It's late Na nd mumma had office tomorrow." Geet said as laid Seher back on Bed nd slipped beside her in the spread.
"Mumma u'll not leave me again na." Seher asked as cuddled up to Geet.
"No my Baby, never." Geet said as she patted her back to sleep

"Mumma you know my teacher says that wen Devil comes continously to haunt us then god sends an Angel for us in order to protect us. Mumma he'll send an Angel for us also na so that that Devil wont scared us in our dreams." Seher asked innocently nd Geet smiled seeing how true her words were but in her lyf she had lost all the hopes of coming an angel who'll take out all the fears nd nightmares from her heart nd lyf but for her daughter's sake she has to agree.

"yes Babaji will definitely send an angel for my Baby. no lets sleep or else Angel wont come." Geet said as she patted her to sleep nd soon both mother nd daughter dozed off to deep slumber cuddled up to each other.
***********************************************************
Next morning Geet reached her office along wid Seher a bit early then usual as she don't want anyone to know about being Seher in the office. As she reached her cabin she saw Sasha, Adi nd Pinky all were present over dere before her.
"Hi guys!" Geet greeted as she reached her cabin nd kept her bag on the table while everyone greeted her back.
"Guys! Are you sure wat we are going to do is right." Geet asked as the doubt still lingers in her mind.
"Geet trust me we are doing nothing wrong ok. You just concentrate on your work nd leave the tension of Seher on us. We all will handle everything" Pinky reassured Geet knowing her sensitive nature towards Seher.
They all were planning only everything wen dey all heard the sound of Siren indicating the arrival of Maan. She looked at Seher who was busy in playing wid her toys nd goes near her nd sat on her knees in front of her.
"Seher mumma is going out of office for some work. Adi uncle, Pinky aunty nd Sasha Aunty are here wid you. Don't bother dem with ur mischief ok." Geet said in a warning tone nd Seher nodded cutely.
"That's like my gud girl. Mumma will come soon ok. You play over here with your toys ok." Geet said as she kissed Seher's forehead who resumed playing wid her toys.
Geet took her bag nd started heading towards Maan's cabin giving a pleading look t everyone to take care of Seher while they all just assures her to be relax. Geet smiled as she got an assurance nd left for Maan's cabin nd den for clients' hotel.
***********************************************************
It was an hour since Geet had left from the office nd till now Seher was behaving very nice wid everyone nd Adi, Sasha nd Pinky sighed in relief seeing her so calm nd quiet today unlike the other days wen she's always upto something mischievous. It won't be hard to handle her whole day, they thought as they looked at Seher who was busy in drawing some painting in her drawing book. But least did they know that it was a calmness before coming of storm nd Seher definitely had something on her sleeves.
It was the tym wen Maan had called Adi nd Sasha to discuss the details of the new project wid dem. Seher was behaving quiet well till now so they both left Seher on the responsibility of Pinky nd headed towards Maan's cabin. Seher smirks evily as she knows that now she has to handle just one person nd she was too easy to handle.
"Pinky Maasi!" Seher beckoned Pinky who was busy in doing some paper work.
"Yes Princess. Wat happen?" Pinky said as she immediately left all her work nd sat beside her.
"Maasi I am feeling thirsty. Can u pls bring me a glass of juice?" Seher said as she made the most innocent face of this world.
"But Seher u already had a bottle of juice wid you in the bag." Pinky pointed at her bag while Seher pouted cutely.
"No, I want fresh juice nd dis bottle one is not fresh Na so it's harmful for health. Do you want me to get sick?" Seher said in a complaining voice as she crossed her arms across her chest.
"No baby, I was just saying like that. Acha I'll just go nd bring juice for you ok. But you just stay over here only nd don't move anywhere." Pinky said not understanding the evil intentions of Seher as she made the most innocent face nd Pinky lest from dere giving a peck on Seher's cheek.
As soon as Pinky left from dere Seher immediately closed her drawing book nd gets down from the chair in order to explore her mumma's office. And anyways she just can't remain seated at one place for long so she needs a break too. Keeping this thing in mind she slowly stepped out of Geet's cabin only to find everyone engrossed in their work.
"How boring!!!" she thought as she saw pin drop silence around her. If she was in day boarding then she would be jumping nd playing wid her friends right now but who says she can't play alone. She thought as she smiled widely at the idea that just crossed her mind.
*******************************************************
Though Adi nd Sasha were in meeting wid Maan but their mind was continuously wandering around Seher. Maan was too engrossed in studying the designs to pay attention on their worried faces.
"Adi, we are here from so long. God knows what Seher must be doing right now." Sasha whispered to Adi making sure Maan doesn't hear it.
"Don't worry Sasha, Pinky is over dere wid her nd we both too will join her as soon as this meeting gets over." Adi whispered back but Sasha's worry seems to be at no end.
"I know but you also know that Seher can easily dodge Pinky. I think I should just check on her once." Sasha said in a hush tone nd Before Adi could say anything else Maan raised her head up to look at both of dem.
"Any Problem" Maan asked in a stern voice making both Adi nd Sasha jumps in fear.
"No MK no problem. I was just saying to Adi that we need the design file of Mr. Sen's project to get reference for this project. Can I get that file from my cabin?" Sasha asked hoping that Maan would say yes.
"Hhmmm ok." Maan said as he gets back in studying the designs nd Sasha immediately gets out of his cabin before he can change his mind.
******************************************************
"Seher, here's your juice." Pinky said as she came inside the cabin nd her eyes widens in horror wen she didn't find Seher in the cabin.
"Where is she?" she thought aloud not finding her in the cabin. Just den Sasha entered in the cabin only to find perplexed Pinky standing over dere.
"Wat happen Pinky? Why are you standing over here so dazed? Nd where is Seher?" Sasha asked as she saw Seher nowhere in the room
"I don't know Sasha Ma'am" Pinky said while still standing dazed
"Wat do you mean by I don't know. I nd Adi had left her at your responsibility only den where is she?" Sasha asked not understanding anything
"I don't know Ma'am she was here only playing. Den she asked me to bring her a glass of juice though I refused but den she was sad so I had gone to bring juice nd wen I came back then she was nowhere in the room" Pinky said while making a baby face while Sasha just wanted to bang her head somewhere.
"Are you Mad Pinky? Aren't you aware of Seher's tricks that u have been fooled by her so easily? Now god knows where she is nd if MK will come to know about her then even God can't help us." Sasha said while sitting helplessly.
"I should text Adi about the whole situation nd den we both have to find Seher." Sasha said as she takes out her cell nd texted Adi about everything.
"Phew! I had texted Adi everything. It would be easy for him to handle the situation if he knows everything. Now dnt sit over here, come let's find Seher." Sasha said as she puts back her cell phone but before they both can go outside they both heard noises from outside nd den a loud Thud nd both of there eyes widens in shock as they realize wat could have happened outside.
****************************************************
Without wasting a minute both Sasha nd Pinky rushed outside the cabin only to see that whole office is at Mess as if some tornado had hit the place. Papers were scattered on the floor, broken pieces of glasses were lyieng at one corner nd wat catches their attention was the statue which was kept in a corner now broken into pieces. Their eyes went wide as they both looked at each other nd den at the mess that has been created in the office but the most important question is that where is the person who is responsible for all this? Seher was nowhere to be seen. Just then Pinky spots her standing at a corner with her hand on her eyes as if she haven't seen anything but before she could reach towards her both Pinky nd Sasha heard the door of Maan's door being open indicating the arrival of their death.
"WAT THE HELL IS HAPPENING OVER HERE?????" Maan's voice roared throughout the whole office as he saw the whole office in mess scaring everyone. Pinky nd Sasha gulped their Saliva as they saw Maan standing at the door of his cabin seething in anger with Adi behind wiping the sweat of his forehead.
"I am asking something to you all? Who is responsible for all this?" Maan roared yet again in anger nd that's wen his gaze falls on the pieces of broken statue.
"And who had done this? Who had broken this statue?" Maan asked as he saw the shattered pieces of his favourite statue. Pinky felt like she'll faint any moment now. That Statue was Maan's favourite nd no one absolutely no one is allowed to be present around 10 cm of its vicinity den forget about touching it nd here it is lying over here all broken nd shattered.
"Did you guys lost your ability to talk nd hear or what? I am asking something to you all. ANSWER ME!!!!!" Maan roared out loud frustrated on not getting an answer. Just then a peon came in front of Maan holding Seher's arm tightly.
"Sir, she's the one who had done all this. We don't know who she is but within few minutes she had brought earthquake over here." Peon said as he brought Seher in front of Maan nd the moment she came in front of him Maan felt like his anger melting away seeing such a sweet nd innocent girl in front of him who had tears in her eyes. But as the image of all the mess in his office came in his mind his anger again came back
But before he could do or say something to her he saw her running towards Pinky nd Sasha nd hugging Sasha from her knees. Maan looked at both of them while narrowing his eyes nd the look on their clearly told him that they knew about this girl being in the office. Sasha looked at Seher while giving her a faint smile nd caressing her hairs n den again looked back at Maan who was standing over dere confused. She pleaded him through her eyes to not to say anything to Seher not here in front of all atleast.
"Pinky, Sasha in my cabin NOW!!!!!! Adi you too (den he turned towards peon) nd you I want all this mess cleared within 15 mins. Did you get that? Nd all of you get back to work, NOW!!!!!" Maan said nd goes inside his cabin followed by Adi, Sasha nd Pinky along with Seher while whole office looked at him with their mouths wide open as they saw an unbelievable sight in front of them. Maan Singh Khurana nd sparing someone is just next to impossible but on the second thought probably he must have thought some other punishment probably thatsy he had called them in his cabin.
**********************************************************
"Will anyone of you bother to tell me what's going on in my office that too under my nose?" Maan blasted on all 3 of dem as they stand over dere with their heads dipped low
"What the hell did you all think this place is? Any kind of creche or Kindergarten that you guys can bring kids along with you too? I'll do one thing I'll arrange of few toys also along with kids Water pool nd den we'll name our company Khurana's Kindergarten rather than Khurana's Construction" Maan said sarcastically.
"Hehehehehehe" Adi laughs out his signature laugh listening to Maan's sarcasm while Sasha gave him a glare gesturing to be quiet
"Adi!!!!!!" Maan roared out loud nd Adi instantly shuts his mouth.
"Now will you guys care to tell me who she is? Nd wat is she doing over here?" Maan said while pointing towards Seher was standing behind Pinky peeping her face out by every now nd den.
"MK she's Seher (she said nd paused for a while), Geet's daughter." Sasha said nd color of Maan's face instantly change. Geet had a daughter that means that she's married, he thought as he looked at Seher who was now looking at him with her innocent eyes but as soon as Maan's gaze falls on her she instantly hids back again behind Pinky
"Geet's daughter?" That's all he could mutter after getting the biggest shock of his lyf.
"Yes MK. Woh actually today there's holiday at Seher's day boarding nd Geet had to go with the client's family as you had assigned it to her thatsy we asked her to bring Seher over here at office as she can't leave her alone at home. It was not Geet's fault as she was not ready for this. We forced her to do so." Sasha tried her best to explain everything to Maan so that he won't fire Geet from the job or do anything with Seher but Maan was not at all paying attention on whatever she was saying. His mind was only wandering at the fact that Geet had a daughter.
"Geet is married?" he said after a long silence not knowing from whom is he asking. From the people present at his office or from himself
***********************************************************
Its been half an hour since Adi, Pinky nd Sasha has came back from Maan's cabin nd now present at Sasha's cabin. All 3 of them were pacing restlessly in the cabin not knowing what's going in Maan's mind. Knowing him they knows that Maan never spares anyone who did mistakes whether that person is he himself nd here he didn't said anything to Seher. Ok for once they can think that he had spared Seher because she's a kid but he haven't said anything to them too nd just asked them to go back to their respective Cabins nd that's the reason of their worry. His silence is much more dangerous then his words.
"kahi wo hum sab ko Job se to nikalne ki nahi soch rahe hai?" Pinky said all of a sudden as she thought of every possible reason.
[is he thinking to fire us from our jobs]
"Shut up Pinky. Please for god sake just think positive sometimes." Sasha said irritatingly but she can't ignore that Pinky had a point.
"She's not wrong too Sasha. Maan sir can think of firing us from job nd if not us den definitely Geet's job is in danger." Adi said nd Sasha went thoughtful.
"Adi I don't care about my job nd I am sure you both too. I am just concerned about Geet's job. You both know how much this job is important for Geet. I just hope that MK won't take any decision in haste." Sasha said as she sat on the chair nearby
"Don't worry Sasha nothing will happen to Geet's job nd if Maan sir will think of anything like this den we'll talk to him. We'll ask him to fire us but spare Geet nd I am sure he'll understand." Adi said as he put a comforting hand on her shoulders nd Sasha nodded slowly.
But amidst of all this everyone failed to notice what impact their talks are having on Seher's mind who was sitting over there at couch looking at the scene in front of her. She couldn't understand what they are talking or doing. All her small mind could comprehend is that she had done some mischief nd her Mom will get its punishment from her boss. Just like in her day boarding kids get punishment for their mischief. She thought of saying sorry to Maan just like she use to say sorry to her teacher nd will ask him not to punish her Mom. Thinking this she quietly got down from her couch nd went outside. Everyone was so much engrossed in their worries that they failed to notice Seher missing. She stand at the cabin door for sometym as if memorizing the way towards Maan's cabin nd as she remembers she slowly made his way towards his cabin to apologize to the teacher of her Mom or in other words, her Mom's boss.
Phew! so dis is it guys... hope you all are going to like it...
ok i know that there are not Maaneet in this update nd to tell you honestly there will be very less chance of having Maaneet in the next update too since this story is not just on Maaneet but Maaneet along with a baby therefore i had to frame my update acc to that. its quiet different from my other FF's so i had to show Seher's scene with Maan before i come to Maaneet... hope i havent disappoint you all
... hit the like button if you all like it nd do Leave your comment/criticism... its necessary
Dis update is only nd only for my Darling friend
Aliena (cute-aly) nd Pari(payalpari)
As Aliena had requested me a lot to update this nd Pari has her B'day today... so this update is dedicated to just both of them...
nd ya next update only nd only after 20 pages of comments
... i havent got my 20 pages this tym
but i updated it just because of Aliena but next tym i wont update until i get my quota complete
... so get on to your work nd give me my 20 pages of comments nd ya also tell me how you all are finding this story
nd ya next update will be definitely of Ehsaas pakka pakka
Love Aakriti