Some one needs to shoe me off
Hullo ji I am back
...I am back...
First of all a huge thanks for reading and lubbing my stories and giving me ur precious feedbacks
The warmth of of the readers always motivates me to write something more...
No no mojris please
but with MKKDH and Ankahee almost coming to an end within a week..
.I just could not resist but put this
..I do not know whether there will be enuf readers left to read this after EDT ends or if someone would like me to continue..
But I am gonna listen to my heart and put this on...Hope I get ur support and lubb as always...
SO the concept of this FF is based on ..this...Please do play it once to get a feel of the FF...
http://www.youtube.com/watch?v=PWXHXPQddlY
[YOUTUBE]http://www.youtube.com/watch?v=PWXHXPQddlY[/YOUTUBE]

So Here I present to you New FF Chal..Come with me..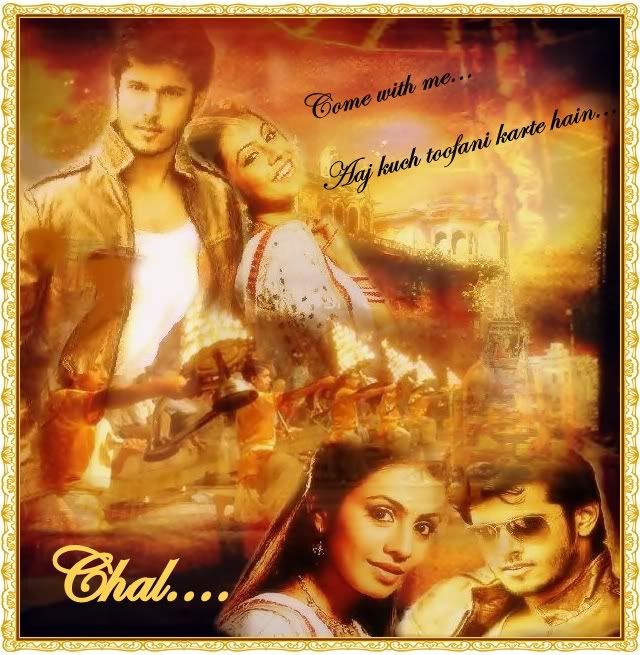 "Life can give us some wonderful surprises ...Life is always so difficult..But then who knows what lies in your destiny..Life is about unexpected twists and turns...It's essence withers away with predicatablity...Once in a while life gives you a chance to live your life to the fullest..Go grab that chance..."
"Kabhi kuch aisa kiya hai tune jo duniya ki nazron mein galat ho ,tere liye bhi bilkul galat ho..Phir bhi use karne ka ji karata ho...?",He said with a strange steadfastness and his freaking evil smile widening an inch every passing second as he winked at her...
"Kya bakwaas hai...jane do mujhe...",She writhed in pain as her wrists almost were squeezed in his strong grip...The dust storm puffed her nostrils and her eyes blinked with a pleading look...
But he knew exactly what she wanted ...
CHARACTER SKETCH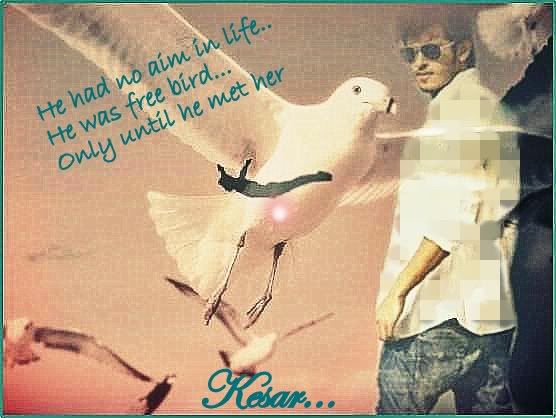 KESAR

He had nothing to lose ,nothing to gain...His life was that of a vagabond..Until he met her..He found his aim..that was only to love her...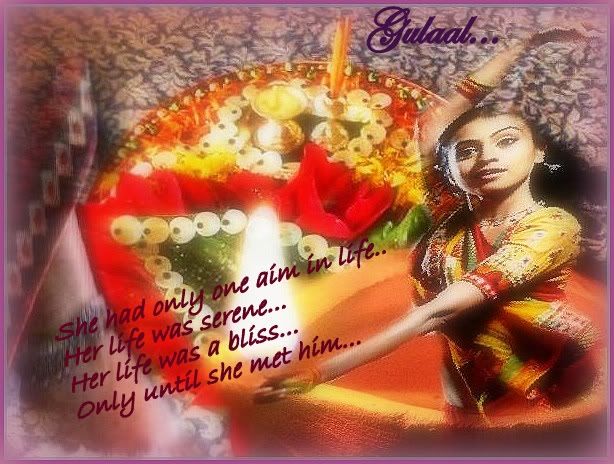 GULAAL a.k.a Nirja
Her life was meant for a purpose..A vow which she was bound to... Her virtue was her honour...Her life was pure ,virtuous and sheer bliss..only until she met him..She forgot she was born with a purpose and just surrendered to his desires...
BACKDROP

The story is set in the mystical city of Varanasi also known as Kashi or banaras...
Koi padhega kya
P.S-A request to all writers in this forum...
It has come to notice by many other FF writers in FF forum that works are being copied and plagiarism is on the roll.And they are also putting these notes in their works too.So Please do put the following note on your works too.
IMPORTANT NOTE

This work exclusively belongs to me and please refrain from copying .If you like to use my work.Please feel free to ask me first..That would be highly appreciated.This update is meant exclusively for India-forum members only.

-Thanks

Piu

Index

Chapter 1http://www.india-forums.com/forum_posts.asp?TID=2921503&TPN=7

Chapter 2http://www.india-forums.com/forum_posts.asp?TID=2921503&PID=56395861&#56395861

Chapter 3http://www.india-forums.com/forum_posts.asp?TID=2921503&PID=56487846&#56487846

Chapter 4http://www.india-forums.com/forum_posts.asp?TID=2921503&PID=56793594&#56793594

Chapter 5http://www.india-forums.com/forum_posts.asp?TID=2921503&PID=56835497&#56835497

chapter 6http://www.india-forums.com/forum_posts.asp?TID=2921503&PID=56937672&#56937672

Chapter 7http://www.india-forums.com/forum_posts.asp?TID=2921503&TPN=23&#57905695

Chapter 8http://www.india-forums.com/forum_posts.asp?TID=2921503&PID=59642095&#59642095
Chapter 9http://www.india-forums.com/forum_posts.asp?TID=2921503&TPN=28&#59857216
Chapter 10-a http://www.india-forums.com/forum_posts.asp?TID=2921503&TPN=30&#60381669
chapter 10-bhttp://www.india-forums.com/forum_posts.asp?TID=2921503&PID=60497988&#60497988


Edited by manzilmukul - 27 September 2012 at 10:11am