AUDIENCE: KHAMOSH(I) (Feng Shoo'd with Smoking Tortoise, Machchads on Mute)
When Khamoshi released & tanked, SLBhansali called his audience, "Stupid!"
This after he cast Nana Patekar & Seema Biswas known for their dialog delivery as deaf & mute.. Salman Khan as an item Boy in a musical stomping away all plant life and worms who cldn't run fast enough to hide in their holes.. Oh! and filming in Goa making it eeeasy for Manisha Koirala to "hit the high" notes.. Pa Da Ni Ni.. Rivi Taaraa Rivi Ri Ri Paa RUM
Shubh Aarambh = SLB was right!
(Formula 1)... Chup Tum raho.. Chup Hum rahen.. Khamoshi ko Khamoshi se
Silence can speak.. Palat.. You feel his scorching gaze and whirl around with eyes that seek
Silence can speak.. You know he's there.. when a puff of air, ruffles your hair against your cheek
Silence can speak.. A simple touch.. A sari clutch.. A bite of lip.. Please! Don't let this moment slip..
His hand on your hip.. you look up quick..
and Shift gear to his lips.. the Wor(l)d makes sense.. you Voice Over his intent..
Oh! Yes Silence can speak.. Only If you are my kind of Romanteek!
~ by Anonymous (aka Scar in PMS mode)
MU KHOL.. DROOL MOMENT
Will the Dil khol MU confrontation clear the air to make ARHI Fevicol Mazboot Jodi?
Why will the Hotwa suddenly trust any explanation that Khushi gives about what he saw on the Terrace? Is the root of their conflict due to external factors like a lecherous family member or is it internal..?
..as in Hotwa's lack of trust due to circumstances in his past and Khushi trusting any random stranger knocking on her door but not in her feelings for Arnav. Why is the Hotwa Ghamandi (love that word) for not sharing his feelings but its ok for her not to share hers coz in her case, she's vulnerable and open to more hurt.. If vulnerability can be one-sided, so can my View-point!
Btw Wat The? Gopal Mami and Laundromat Bahu (Doormat re-mix) khoon burying their differences = CV's Leelas Bansuri :-) ???
(Formula 2)... PYAAAR + FASHION = A Hero with PASSION
So whats in common with FANCY DRESSING (aka FASHION in 4Lions Budget) and EPIC LOVE = TRAGEDY & TORTURE (Pronounced as too-toor like COUTURE)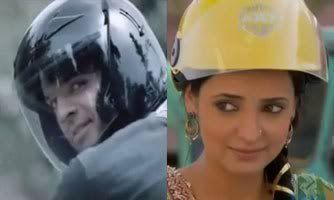 Helmet wearing Hotwa now renting himself out as a Model for Commercials vrooming on bikes than helicopters.. This is what happens if your biwi starts a Dabba Detective Service, SHER-Ni KA DABBA, with an Assistant WAT.The.SON..
Slogan: We Holmes Deliver Food For Thought! (= Brilliant assuming Audience still Stupid)
So we have the Hotwa hiding that glorious hair and face in a Helmet ..I wonder how the Giant Ego fit? (thats just to appease the (f)lurking feminists.. I LUBB your So-Phull-of-I-Me-Myselfness.. PHULL CREDIT To Ya!)
It also made me wonder whether DHRUV Singh RaizYada would be your Alter EGO.. Arnav Look-Alike in Leather Jacket and COOL Attitude to even the rising temperature this summer..
Seeing you in a different Avatar will make Khushi realize she is actually in love with THE ORIGINAL and not the CTRL C/ CTRL V version.
Totally c/v'd from RABBA VE Bana Di JODI (which is inspired from a Historical Romance)... Not into M&Bs with twins or amnesia.. but I like the idea of the same person Alternating as THE ROMANTEEK HERO & THE BEAST... AAA AAA WESOME!
(Formula 3)... Can clothes express Love?
You see in DEVDAS whenever Ash had to express her tragic love.. they increased the length of her sari pallu.. such was the confidence in her acting skills by the Bhansali!!!
and in direct contrast Love "REVEALATION"

MOHABBATTEIN had the girls stripping and stripping.. until the moment of self revelation = Phull Credit(s) will still go to SEE-THRU Ash in Her Ghostly Chiffons as the Main Lead even in her "Special Appearance"
Meanwhile Shahrukh Whines.. er.. Violins over his Tragic LOVe in the background until even the Trees start shuddering and shedding leaves in silent protest!
So My GURUKOOLS, Class work will be
Make the HOTWA.. Go Shirtless and Stomp to O o Jaane Jaana = Our LUBB Expressed!
THE Happy ENDing... EASTER SPL. ANDEs!

Doode-wa (Milk Toast Side Hero) NK is suspiciously timing his return with Dress Less, Wear an AttiDUDE instead La.. Nahiiin.. Why not a Holmely SoutHindi Jodi phor Hinglish NK.. We've all other regional versions of Hindi.. so an Ayyo is long overdue.. if done tastefully.. Last one I liked was Hum Hai Rahi Pyar Ke.. Tamil speaking Choohi & Aamir's Shaadi..
NK IN A DHOTI = A YYY YYY YYY YYY OOOs
My CVivahs MUTED COMMENT TO MY SUPPORT:
CVoiceOver: "...hum par koi ehsan na karna!!!!"...ahahahhahahah!