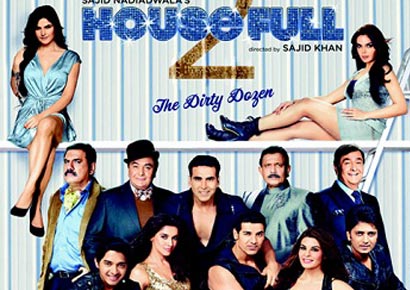 A Housefull 2 poster
Film: Housefull 2
Director: Sajid Khan
Cast: Akshay Kumar, John Abraham, Riteish Deshmukh, Shreyas Talpade, Asin, Jaqueline Fernandes, Zarine Khan, Shazhan Padamsee, Rishi Kapoor, Randhir Kapoor, Mithun Chakrabarthi
Rating: **
After being highly criticised for Housefull, Sajid Khan, who tasted commercial success for the movie, is back with yet another nonsensical, humourous trip. Riding with an even bigger star cast, this time round Sajid made sure he left no stone unturned to promote his latest directorial venture, Housefull 2.
Judging by his previous record, one wouldn't expect a lot from a Sajid Khan movie. His main aim, as accepted by him, is to entertain, whether done by corny dialogues or an intelligently written script.
Before you read the review, you must know that there is no storyline to the movie. All that exists is confusing sequences put together. Then again, that's what Sajid Khan is best known for! If you still insist, here it is... Dabboo (Randhir Kapoor) and Chintu (Rishi Kapoor) are step brothers who can't stand each other and are hell-bent on finding richest husbands for their daughters, Bobby (Jaqueline Fernandes) and Henna (Asin) respectively. Jai (Shreyas Talpade) and one of UK's richest man, JD (Mithun Chakraborty's) son Jolly (Ritesh Deshmukh) devise to send Max (John Abraham) and Sunny (Akshay Kumar) to each of the Kapoors' house as JD's son. By the second half of the movie, all the characters land up in the same house and the confusion turns into a turmoil. You'd expect the film to begin with a bang, but it sets off as boring and forceful.
Despite an ensemble cast, Akshay Kumar carries the film on his shoulders. His scenes are amusing, if not uproarious. John Abraham tries too hard to bring a laugh, but fails miserably. However, his chemistry with Akshay proves to be a strong point for the film. The duo's sequences together are quite entertaining. Ritesh, as a young Marathi bachelor, is funny and does justice to his role. Shreyas Talpade is under-utilised.
Rishi and Randhir Kapoor have done their best. However, one fails to understand their casting because they do not suit the characters. The four female leads do not have much to do and serve only as eye candy. Mithun Chakraborty has a small role but plays it remarkably with complete dignity.
The movie is definitely not a laugh-riot, but it doesn't fail to bring out chuckles in bits. In various parts, the director has tried very hard to force a laugh, but fails to bring out even a smile. The first half is fun, yet disappointing for a movie that promises to be a hilarious hoopla. The second half starts with entertaining portions, but the excitement takes a back seat as it proceeds. The climax is stretched, yet acceptably amusing in parts. Infused in generous portions are action sequences which are more entertaining than the comedy.
The storyline is weak and predictable but does justice to add to the confusion the director aimed to create. The dialogues are witty, but fall flat on most occasions when combined with the weak script. The main characters have been given their individual traits, each of which brings a cheer.
The songs are the high point of the movie. Anarkali disco chali and Pappa toh band bajaayein are definite chart toppers. The background score is normal and in-sync with the movie genre.
In the end, one does agree there is a genre called madcap comedy and intelligence has nothing to do with it. Yet again, you cannot question the sensibility of the cine-goers today and all one demands from movies today is reasonable humour.
Go in with a promise that you'll be entertained, but don't expect an exhilarating journey.