thank you guys for your support
.. this a small part but dont worry ,update soon the next..
Chapter 6 - part 1
When they all about to leave, Yash's mobile began to rang which lighten up his face.
Yash-" Hello..gudiya...(with full of happiness )
hey..wait..what happened to your voice????
Just tell me what happened ?
(tensed up)
Oh my god ..what the hell was happening there ?
(almost shouting)
What alright? haa...
(making a irritated face)
Its not at all alright ?
No ... Not at all..
(more tensed and shouting)
How am I suppose to be calm down when you sound like this..
Oh.. gudiya...
( in sad tone)
What ok ?? you are not at all ok and I knew it..
(again shouting)
Now .. tell me where are you ?
(taking a breath)
No I am not gonna wait now.. I am just coming.. tell me...
What??? No..you can't do that...gudiya...
Don't you dare do that??... Shit!
(angrily)
ok fine... "
Everybody shoot on their legs, and speechless while hearing Yash.
Radhika got all worried when she sense something was really wrong with her daughter, that the reason for her husband's sudden out-burst, but she try to maintain calm and she went near her husband and put her hand on his shoulder and try to calm him.
Radhika-"ji..."
Yash didn't responded to her . There was utter silence all over. Arnav was confused and shocked by viewing all this.
Radhika -" ji.. what happened?"
Yash turn to Radhika he was about to speak when his eye fall on guests. So He just excuses from there and leaves to upstairs. Radhika who very well know about her husband, now try be maintaining the situation smooth in front of guest. She placed a sweet charming smile on her face and move towards their guest, who were now all confused.
Radhika-" ah.. He is very concerned about gudiya.. that why..."
Try to convince them all.
Amar-"oh.. its ok.. we can understand that...."
His sentence was completed by his wife.
Shusheela-"after all we are also parents.. we can understand the concerned for the children very well.."(with a reassuring smile)
Radhika just nodded her head with a smile as her answer. Arnav who witness all was in his deep thought "o.. what a man is he? Just amazing.. How easily he sense she is ill? how much concern he has for his daughter? Damn Lucky girl ! may she will be a person whom deserves all this care.. how will be she look like? And.. "
Amar is the one who bring him back from his thoughts by patting his back. Arnav just looked blank to his father as he is the one who broken his thoughts. Amar return him a curious look seeing his son all dumb.
Amar-"Arnav.. can we move now?"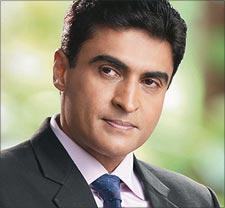 Actually all this while Amar and Shusheela bend bye to all and get set to move back to their house. Then Amar noticed that scene as his son was again in day dreaming. So he went near him and patted his back to bring him back.
Arnav-"yeah..sure.. bye aunty.. see you in the party.."
Radhika (smiles)-"ya sure dear.. "
Shusheela-"don't forget to come on Saturday Radhikaji."
Radhika-"of course not Shusheela behan.. we be there on the party "
Shusheela-"so meet you at party Radhikaji. "
Amar-"so we are leaving.. inform Yashji..bye "
Radhika-"oh..sure.. bye...."
Radhika lead them to the entrance and waved them off. The Raizada's all were leave from there very happily and satisfied as they made a good relation with their neighbor and that to with "Yashvardan Manhotra's family".
-----------------------------------------------
part2 of this part is all on the way..
do comment me and hit "like"
for pm just buddy me


Edited by meniranjana00 - 09 May 2012 at 6:22am