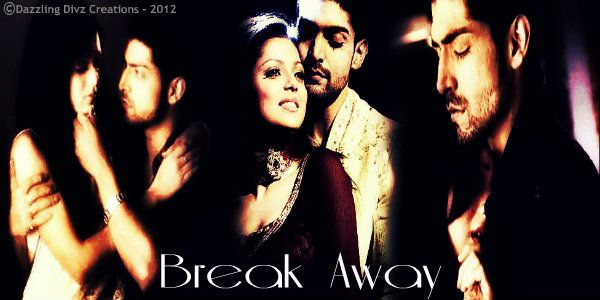 -Break Away-
-Part 14-
(c) Dazzling Divz Creations ' 2012. All rights reserved.
Am so very sorry for the delay but trust me the past 5 months my life has taken a drastic 360 degree turn
I am not even having time for myself. I don't know what else to say. Just sorry and thanks for waiting patiently.
Love you all lot
and and and
not to forget
this one dedicated to my cruella (TichMG) for winning the twitter contest for our beloved Kaagaz Ki Kashti (K3)
CONGRATULATIONS
cruella ab next time konse Fiction degi contest main
please have a look on this note Note
They were together what else she could ask for, he was there with them, with her and moreover with his princess, she knew he waited for her more than she wanted her, the angel for whom he wished more than her, first light of their love for which he lived more than her, with their love, their love's first sunlight, their Aahana. In these 5 years it was only her dreams where he could have reached them again, standing with them in each phase of life they took. It was a dream she dreamt each night she slept with to wake up in his arms, cocooned from the harsh world outside and the hollowness within. It was always a deep desire in her heart where she wished him to come back to them but in the same hollow heart where he lives, yet it was always a pray of her each heartbeat for him never to come over this road where they may collide together again, knowing the hurt and pain he will bear throughout his life which she could never want. She always wished them to be together like a happy family, but contradicting her own desires she prayed him never to come back ever again neither to her, nor to their love. She know this torn away path is full of pain and sacrifice, the pain which she could never give him even in the worst of her dream and the sacrifice which she was ready to give even from his side. She never prayed him back, it was always his safety and smile she prayed in each of her breath even knowing he need her beside him to protect him from shattering, he need her beside him to smile, but keeping a hard stone over her heart she never wished him to come back in her life, nor wished her return in his life. But life was never according to our wishes or prays as well. If it was always a broken path we need to follow sometimes a clean, crowded joyful road then sometimes a tattered stony lone road. It was not a different case for her, it was always with her destiny, and it never happen the same way how she wished for, let her shattered self or her soothing life with her, here they were again together, again against her pray but seems like her baba ji listened her unsaid wish.
She smiled over her fate, not knowing what to feel or expect from her life anymore, a smile she dint knew how to give up over the pain she will include in his life each second he will walk with her, sitting over the dressing chair, combing her hairs, looking at the reflection of her two lives playing and giggling with each other, lost in their smile with those mesmerizing giggles echoing not just in room but also soothing her painful heart. Maan and Aahana were tickling, fighting, playing with each other crumbling the bed sheet, which at a point Maan hated the most, the messed up bed sheet, but with his daughter in his hands he forgot everything around.
Geet...!! He gritted his teeth entering the room from washroom in morning, while Geet closed her eyes, biting the tip of her tongue between her teeth, knowing it was to come, she left the sofa cover she was setting and instantly rushed to the bed, where Maan was already straightening the crimpled bed sheet of their room, she snatched the sheet plastering a grin over her face saying sorry for the sheet, he gave an annoyed look walking away from their stuffing the sheet back to her hands with an irritated look, when she murmured to herself...Can't he come 2 minutes late I was setting the same only...! But no! Now see, janab is giving looks for this bed sheet, sometimes I feel this bloody sheet is my sautan. What is my fault, it is his fault, raat ko to...she left incomplete, flushed with the red hue adoring her white cheeks remembering how the sheet was crushed under their passion last night when he came from behind snaking his cold hands over her bare waist from back her saree, making her shiver under his hands. He kept his forehead over her shoulder when she smiled feeling his breath over her skin while he kissed her back...wo to aaj raat bhi hogi jaan ji...she felt a heat rising in her whole body when he smirked throwing her back to bed in process shuffling the sheet again...BUT, right now make this bed soon, you know it irritate me...he smirked walking away winking her back
Dhusht danav, rakshas, duss sir wale Ravan...you, you, you, go to hell and make this bed of yours by yourself I AM NOT INTERSETED NEITHER IN YOUR BED NOR IN YOU...she whined behind stuffing the sheet in her hands throwing it on his face at the end and then...oOopz...! She said and ran from their knowing the terror she invited for her, when he ran behind.
She smiled remembering how particular he was for a clean bed sheet always, how he used to make her run from one side to other just to get his bed clean and straighten else God knows who was going to come into his remand throughout the day after he see his bed in a messed state. But here, who care for a bed cover when your baby is in your hands straightening your messed up lives. Here in this moment, they were only two, Maan and his princess, lost in their own world forgetting the whole world, just together in their own paradise far from any pain or malice of this dirty world outside. Maan took hold over Aahana's hands locking them beneath his grip in a firm yet soft hand not at all willing to hurt her in any way, stuffing her small legs in between his, sitting over her small legs but keeping his whole weight aside, just to stop her movements not to hurt her, tickling her senseless till she got her baby honey glazed, hazel eyes misty with the continuous laughter, while he tickled her everywhere and anywhere, from her feet to her neck with his free hand. Making her burst out in fits of laughter not having any control over her own self. He got a shine of her pearl drop in his glance and slowed down his pace, but still holding her firm looking at the slight trail of salty water leaving the little hazels of his baby-jaan he instantly kissed her cheeks taking away the tear off her soft cheeks then asked with a small puppy face...Princess you ok!!! Baby I am sorry. Am really really very sorry, did I hurt you? Please forgive me, I dint meant to please baby, why you crying, did it hurt anywhere, tell me where...he panicked looking at her tear drop. Geet, on the other hand who was till now lost in them instantly jerked her seat twirling it round to look why Aahana was crying but was drowned again looking at the concerned father sitting beside him showering all his love over her. A lone tear which has frozen somewhere in her blank eyes long back! May be when her life gave her a second chance to live looking at the baby Aahana in her hands sleeping peacefully, she pledged not to cry over her life anymore, the same frozen tear today made its way down through her thick lashes stocking her cheeks touched her beautiful smile, telling how much wrong was she to keep a father away from his daughter for years, to make a daughter who was suppose to be treated like a princess yearn for the most prior possession of her life, her own father. But now, she need not worry for Aahana anymore, her father is with her, and he won't let even a slight pain touch his baby. She had full confidence over his love for their baby.
But the next moment she frowned getting angry over the little brat. Aahana took a chance to looking at Maan's whole attention was over her face, while her witty playful mind worked and slowly with a steady speed she managed getting her leg free from his hold. But in process to get off his grip she jerked her leg so strong at the end, that it directly hit Maan's nose hard...Holy shit...He gasped hard covering his nose in his hand, thumping sideways on the bed in sheer pain still keeping in mind not to fall on his princess and hurt her in any way, closing his eyes shut tight in pain, his face turned pale, with eyes glisty with tear. Geet stood up in anger, all ready to blast on the little beast for hurting Maan so hard, she was about to shout on her but stood still, the scene in front of her froze her steps, Aahana moved closer to Maan taking his head in her lap stroking his messy hairs of his forehead clearing the sweat bead off caressing softly his skin while tears made their way continuously dripping off her eyes, she asked in between her hiccups taking away his hand from his nose softy caressing it with her hands...zorr se lag gayi, A is really sorry, she dint meant to, please aap roo matt na, please, pakka I won't do it again, please rona band kar do, please! Dekho main bhi ro dungi please! Dikhaao, please! A is really very much sorry, pinky promise I won't do it again but don't cry na, please!...she pleaded in her baby voice flattering with lots of hiccups shaking her voice, she dint meant to hurt him, she just wanted to get out of his grip to overpower him, she never wished to hurt him it was really not her fault, a sudden fear, an unknown pain seeped inside her looking at the man in front of her in pain because of her, his tears pricked her little heart making her cry even more looking at the tear drops shedding from his closed eyes, while her tremulous voice shook his entire being, forgetting his pain he swirled his body around, sitting straight on his knees, cupping her small face in his hands while a pool of hatred for himself soaked his face for making his princess cry, he kissed her eyes and then forehead while she hugged him tight tucking her face in the crook of her neck...shhh baby calm down, see am fine, nothing happened, you dint hurt me, but your tears are doing the worst now, please baby stop crying, see it's not hurting anymore am all good...he pleaded almost on the verge of breaking down, where Geet's condition was no less she curled her hands over her arm taking them high up cocooning herself smiling amidst of tears, hating herself to take such a step in her life which lead to the separation of two in such situation, looking at the concern and care the two possessions of his life were showing over each other when a simple question from the little life of two broke their hearts into million questions...you won't hate A ! Right! A is really sorry, you won't leave us, I dint meant to hurt you, baba ji ki kasam galati se hua jaan-bhujh k ni kia, sachi...a simple question was enough to shake their whole existence Maan looked at Geet with a questioning look asking why she thinks anyone can hate her, how can she think he will ever hate her, how can she think he will ever in his life can leave them, for God sake it was not him who parted, he dint even had a slight idea, how can she think. But for Geet it was all alien itself, she dint knew why Aahana thought so, what came in her mind that she asked such a question, what fear, what is running in Aahana's mind, Geet was totally aloof from all of it...you dint answer A. you won't hate her right? Neither will you leave us? Am sorry, sachi muchi wala...Aahana's little voice tore the gaze of two while Maan immediately cupped her face again kissing her whole face again showering all his love and care on her telling her how can she think like this, intending to shove away the last ounce of fear in her away that he will anytime in his life hate her, damn how can he, when his life got it's meaning from her, a shine from her, how can he throw away his life back in that damp darkness by hating her, he kissed her whole face...baby how can you think like this, I can never ever hate you, I can never think to hate you princess, I love you, and will always love you...
You won't leave us as well?...she asked unsure
Never ever baby, how can I leave you two and go, when my life is here within you two, how can i? I wont baby, please trust me, I won't leave you...
Sachi...!
Muchi...he said kissing the tip of her nose making her giggle finally when he tickled her again to make her laugh forgetting her cry.
After a while when they broke apart she looked back at him concern again...is it paining?...she asked pointing towards his nose.
Nopes, not at all...he lied hiding the truth not to make her cry again.
Then why is it so red?...
Because your blow was quite strong for the weak nose he possess...Geet smirked mocking Maan, taking seat beside him turning Maan's face towards her holding his chin soothing it's pain with the hot water bottle in her hand, while Maan glared at her for making fun of his in front of his princess but before he can retort Aahana shrieked making a angry face...he isn't weak get it...Aahan said as a final conclusion taking Maan's side hugging his neck kissing his cheek...he is my super strong superman, samjhe aap!...she scolded Geet whose mouth hung straight open looking at the little beast taking side of her father in such a authoritative way, when Maan winked at her showing her, her defeat, when she regained her composure and whined in a jeering way telling making faces to Maan and Aahana...yaa! yaa! Who knows it better than me...when Maan rolled her holding her wrist in a firm way, making her bump in his hard frame hard, her breath got shallow with the close proximity creating havoc in her each nerve. She closed her eyes feeling his breath over her earlobe when he whispered in a husky deep tone...exactly my point, who knows my power better than you...he smirked feeling her tremble with his double meaning talk, under him. He looked at the sweet smile adoring her flushed face when he kissed her cheek slightly then winked at Aahana who joined them in a bear hug keeping her small arms around the two as tight as she could.
Geet pulled her face a little from his hold kissing Aahana's cheek before Maan mouthing him a thank you, when he slightly pecked her lips shutting her telling her this was not a good deal to say thanks for something he possess.
The little family moment got over with a bell ringing over the door, when Geet pulled herself out of the hug to look who is at the door leaving Maan and Aahana back who again got busy with themselves.
**************************************
Walking down the stairs she straightened her dress straight when bell again rang telling how impatient the intruder was when Geet screamed...coming! Just wait a while please! She said shaking her head knowing well it would be Amy the impatient creature always in hurry. But neglecting her call the beg was ringing again and again making her highly irritated with the unwanted noise now she shouted back again...one more bell and think yourself dead you idiot donkey...but seems like no one was in a mood to listen her, and with an angry look she opened the door ready to pounce on Amy when the prowler pounced back on her clawing her strong in them screaming madly.
Precap: teaser!
Waiting for your lovely lovely feedback!
Till then
Divzi signing off!


Edited by dazzlingdivz - 14 January 2013 at 5:12am