Originally posted by arnavandkhushi
Now now now...
Maine kaha than na...jaaongi par jaake phir waapis aaongi...
Today's epi had a very good script but poor screenplay that didn't attract me to watch today's epi during the first three four minutes...but i still watched it...will you call me a maniac...yaa that's what my father told me.

I am not an IPL fan either but I too have so much work to do...like apparently watching my first love...HARRY POTTER
But all in all the story proceeded and i was way too cheering for shyam to come back to his own self rather than acting as a baboon...[oh not rafiki ofcourse (lion king one)]...

Shyam's every plan used to be more dumb than some woodwa bahu's reactions to everything...(seriously it was more easier for me to go through all those torturous scenes of constipation and PASTED same expression rather than watching the not so smart...(are you kidding me)...stupid antics of Mr. Shyam Manohar Jha...
Well lets start with my CRAPPANTI analysis...(i should get a copyright of it)...shall we
(only for shweta dii and my woody friends here...you do see wood naa...
)

I was totally sympathising with Arnav bitua and actually the whole of Raizadas and Shyam when he came and sat on the chair among all the lunatics around.
I really find it hard to believe that the Raizadas were a part of such a society with people having no etiquettes at all.koi bhi dekho participants ka mazaak udaane mein laga hain. Sanju baba hate these kind of lunatics seriously who don't have any dare to speak out on the stage and do all their baboonic acts as audience...i give them a booo...(continued from yesterday's episode)
First was the pari and the very famous dress wearing person...all i could remember was our conversation of imagining Arnav in it...wow woh bhi kya socha tha and somebody even made a siggie on it dude...

I really couldn't understand why that so called rakshas was wearing a watch...maybe to remind himself to get off the screen as soon as possible or there is someone present there on planet Earth jiska khoon khaul raha hain and its not good to mess with her...
Oh then the vikram betaal part...well all i was happy that the cv's had incorporated ASR as giving the same reactions to all these acts as the audience...keep up the good work cv's you surely understand your audience really very well.
WHY PAYAL WHY???? WHY SO SERIOUS????? WHY SO SERIOUS RE RADHE...????
Really Sadie dii I adore you for falling in love with a character like Mami...
I mean what a character seriously...i really would love to do an analysis on her someday. Loved her totally when she was giving tips to Payal of not being nervous...wow I was seeing a change in her but BAMMM all my dreams were splashed by this whole BEENA fiasco. seriously payal...

I mean wow what an excuse plan has been thought by the cv's to incorporate future ARHI scenes.
For once only Payal didn't realise that her sister has the maximum chances of winning the competition or even other acts were not worth winning without even watching them...WOW simply WOW...
Sadie aaj khush to bahut ho gay aap...so much screen space to Mami...now you could also incorporate her in your dreams for a longer time...
Now seriously I wanna know who all thought of gopis when Mami mentioned them as the "GOPI"...
If no one I seriously have to book my bed in a mental asylum...ishii didi se kehkar discount bhi mangwa lungi...
Here are some shots just dedicated to Sadie dii...
And all those who really wanted to see something really funny than this "radha are oh radha rani..."
Here is a clip JUST FOR LAUGHS...
I totally adore this whole Raizada clan to the maximum...they surely are set apart in class from everyone...loved how everyone didn't make out a fuss out of it...except for Mami for which even i was feeling bad...well forget it...

Loved khushi and payal bonding as sisters as they really can understand each other to some other level...
All I could remember when Mami was crying backside the stage was this clip...I tell you its damn hilarious...and please don't ask me why i remember these kind of stuff cause I am totally a maniac...ab to prove ho hi chukka hoga...
Exactly dii valid point made here over Arnav and Payal bonding...it has to play an important role as Arnav will become her blanket when all the truth will come out which will strain upon the very relationship of Akash Payal.
I feel when this all fancy dress competition will come out Mami and Payal's bond will be more stronger...see the irony here...Misunderstandings start when you are not able to convey what you want to convey at PROPER TIME...both the parallel stories are having a touch of it...(following gif will convey the meaning of TOUCH 4 me...)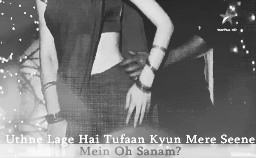 For the first time the anchor did good acting...yeah he was not being a champu that he had been for last two days. But seriously all the reason for the DHOKEBAAZ track is a total turn off for me except that Khushi is becoming ARNAVATISED now.
Yes dii the water is above the brim now and we all wanted it quite a couple of weeks ago...well it happened too like the scene in the above picture...but BETTER LATE THAN NEVER.
But here there was another excerpt of Arnav behaving like the terrace scene...

Here also he doesn't know anything about the truth of all this beena truth and is making up the whole story in his mind with what he listened to...also Khushi is again having problem with words to express her situation and resulting in Arnav misunderstanding khushi...
But here we get the cue of how the whole MU will be solved or diluted...
Firstly i really couldn't ignore to notice the line khushi said to nani...
"Hume jo theek laga humne kiya..."now here she doesn't mean if she was correct or wrong in hiding the shyam's truth but all she knows is what she has done was the best she could have at that situation...and she told this to nani so later on it can be a connecting dot for the Raizada clan to forgive Khushi and understand her part of the story.
Now the Green Room scene had me reminded of how far both the characters of Arnav and Khushi have come...
see the first time they met in the green room...it was same as arnav seeking answers from Khushi but what has changed is the responses given to their respective behavior now...
THEN Khushi was naive and didnt know arnav well so she was being Khushi then...telling the truth that arnav wanted to know...
NOW Khushi is quite Arnavtised now and knows Arnav really very well as a person...Arnav Singh Raizada has too much of pride...so now she was behaving what she has to tackle the ASR...she didnt tell him the reason for her act
THEN Arnav had only one weakness HIS DI...He was a person who could do anything if somebody incite him for the matter of his DI...that's what he did with Khushi with the pearl string
NOW Arnav has two weakness...KHUSHI nad HIS DI...He is still the person who could do anything for his DI...but now the equations are a bit renewed as KHUSHI has also become one of the persons that affect him comparable to his DI...(not equal till now...)...that's why he couldnt do anything even when Khushi incited him...
Now coming to my whole MU clearing theory from this scene
this line speaks it all...
"Aapne wajah khud bata di..."
now that's my girl Khushi who knows how to make the truth blurt out...
but what will happen next...chalo ab padh bhi lo meri theory...after finding the whole truth of ehsaan...what did she say...nahi chahiye aapka ehsaan and what arnav could do was getting out of the scenario...
so when the truth will be out khushi will all be mad at arnav and arnav will get out of khushi's life because of many factors such as guilt and regret...
now the chunni attkofaing in the pom poms ki behena...this scene is of utter most symbolism today...khushi is all lost in the bounds of pain and is unable to free herself from it...meanwhile anjali sub consciously helps her to be free from the pain and become a reason for the rebirth of khushi once again and her uttermost goal to be to save anjali...
i tell you anjali khushi bond is gonna be a major thing in the future...
these two will always be there for each other...just the fact that khushi is helping anji baby which we can see but what we cant see is the underlined truth that anji baby is helping khushi for a long time...just the fact is that we viewers dont know about it...
this whole headache was a drama by anji baby and i am 99% sure of it...1% to error approximation rakhna hi padhta hain...even vernier calliper galat ho sakta hain to sanju baba konsi cheez hain...
anjali here is becoming the decisive factor that i always expected her to be...seeing her i always think why do we misjudge people just knowing what they do in front of us...if anjali becomes the way i want it would be a slap on all those bashers of ASR...implying that anyone can misunderstand anybody cause all the misunderstandings depend on situations and the state of mind of a person which are obviously subject to market change...
shyaam is just falling into the prey anjali is creating to meddle out the whole situation in my guess...here ANJALI is the character that i look upon the most now...even more than arnav and khushi cause really she is one of the apex character of the story along the lines of which the whole story revolves and who will fix the whole equation of revolving of the story...
i bet if that's on cv's mind then i would be more than happy to be blessed upon to see such a creative show that too on indian tele...
now comes our shyamu who for a change was looking good because i dont know why i was too happy to see him back to his ownself...
i fell in love with joker more than the batman in the DARK KNIGHT and that's why i have this soft corner for villians...cause they have a sure shot motive which motivates them to do anything to reach to their goal...they are equally hard working and determined but the thin line that distinguishes them is just what they want to aspire or simply their GOAL...
If the villain is really evil the story becomes great...

all the forum people are remarking anjali as dumb and stuff but mark my words...cv's just dont show us these things like anything...4 lions has been the most intelligent production house...that's what my mom says...she also used to watch geet and followed its story too so she knows they just dont do any scene without cramping their brains in bringing out the symbolism and meaning in it for the future...one of the things i fell in love with the IPKKND team...
ANJALI IS NOT WHAT WE ARE PERCEIVING HER...SHE HAS SO MANY LAYERS TO HER CHARACTER WHICH WILL SURELY UNFOLD IN THE FUTURE...
see the brain game played by anjali from my point of view and you will easily understand how the snake is being trapped in his own illusion like anything...
and look at the irony here...both anjali and arnav dont want each other to worry about each other but the whole world around them suffers from their decisions...

now this chemist baba...i would seriously kneel down myself if you become one of the important dots required by arnav to learn 2+2=4...
and now i tell you i am so sure that this snaku mamu really want to dance like a nagin and is hell bent to find a costume...cant take this from his overly hormonal wife so he was hell bent against trying to find out any of khushi's clothing to stitch the blouse...
he seriously doesnt have a life line now...
i had mentioned this in maa previous posts too...and this theory is also coming true as he was more than happy with the hanky panky...
well see what i found out...
well all i am gonna do is now watch how these four characters will proceed with each other and what is up with cv's mind to incorporate my attention continuously in this show.
lastly i just wanna give my signature video to you guys to enjoy...
this is the result of the marriage of ARNAV and KHUSHI that is being created between children nowadays...see it i guarantee you wont regret.
sorry for inconsistency dii as i wrote this whole thing in parts...initial i had written in the night only and the other part in the afternoon after watching the epi again...
PS - and maa episode rating will be 4.7/5 cause i am more than happy that the story proceeded in the right direction but for some screenplay issues i have deducted 0.3 points...
lage raho cv's if this is the beginning of the intensity you wanna show during IPL...chalo i am totally with you guys cause thoda late ho gayye par track pe wapas to aaye.you're back on track...BACK se yaad aaya...
PPS- i dunno why i am not in the mood of full confession from khushi's side but only giving a hint for arnav to connect the dots would be fine by me...
PPPS- phir se long post...i should really not promise you di about anything related to this...and hell yes no more PPPS now
well finally updated...