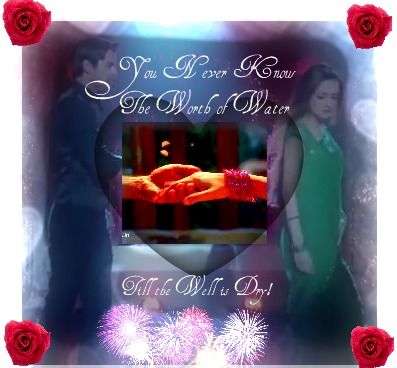 Chapter 12:
There was a knock on the door. Anjali, Harshita, and Nani were in the hall going through an old photo album.
"HPji, Can you open the door?"
"Ji, Anjaliji!"
*****
"Where's Harshita?" said a stranger.
"Harshita? There is no Harshita at this address. I think you might have the wrong address." replied HP.
The guy barged in ignoring HP. "HARSHITA! HARSHITA!"
*****
"Di, do you remember that holi?"
"Of course, Khushiji! It was the first time you and Chottey drank bhang!" her voice saddened when she said the next few words, "I was pregnant with Adi, and you were tourtured physically and mentally by Chottey and him."
"Di, let's forget the past! The good thing is Shyamji has realized his mistake and he is really regretting!" She smiled a little.
All of a sudden they heard a strange voice screaming "Harshita!"
They all curiously went to the door to find Abhimanyu.
"ABHI!" Harshita's face lit up. She hugged Abhi
Abhi is a positive character and he is just Khushi's friend. He doesn't know Khushi's truth, but he knows Khushi was married and she has a daughter.
"Harshita! I was calling you, texting you, and even video calling you for so long! When you didn't reply I called Sarita and Dhruv and they said you were in Dubai! I took the next flight to Dubai and Sarita called me to tell me you were in Delhi! First I want to know why you lied about being in Dubai, second what are you doing here, and third where's my princess?"
"Come in! I will explain everything and Arshi is upstairs!" she grabbed his hand and pulled him in! "Di, this is my friend Abhi from college!"
"Namaste!" Nani and Anjali said to Abhi.
"Namaste!" he responded.
"Mom! Where are you?" screamed Arshi from her room.
"I'm downstairs! Come here!"
"Why?"
"It's a surprise!"
"A good one?"
"Yes!"
"Coming!" she walked down the stairs "Abhi!" she said as soon as she saw him.
"My princess!" he opened his hands and Arshi ran into a hug.
"What are you doing here?"
"Just visiting!"
"Great! I want you to meet my dad Abhi!"
"Arshi, I think Abhiji needs rest. Why don't you take him to the guest house?" Anjali said.
"Sure Bua!" she responded with a grin and began dragging Abhi to the guest room.
"Di, I'll be back, I just need to talk to Abhi."
"Ji, Khushiji!"
*****
"Abhi, you need to pretend to be my divorced husband infront of Arnav."
"First, explain why you are here and who is Arnav?"
"Arnav is my husband, the one that I left years ago. I'm here because he thinks I'm Harshita."
"He thinks you're Harshita? Wait, aren't you Harshu?"
"No, I hid something from you for quite a while. My real name is Khushi, Khushi Singh Raizada. Arnav is my husband, he's the father of Arshi, but he's the one who hurt me."
"Okay, but Sarita was telling me that she wants me to pretend to be your husband. Why?"
"Just infront of Arnav, you need to convince him we were married and now we are divorced but we are still best friends. It's a long story just do as I say."
"What are you hiding from me?"
She told him everything from the first fall in Arnav's arms to the point where she became Harshita Malik.
"Khushi, Welcome to Mumbai!" Sarita greeted Khushi at the airport
"Sarita, please call me Harshita. I don't want anyone to know about my past."
"Sure can do! Anyway, let me get you used to everything!"
"Can we go home first?"
"Sure!"
*****
"Harshita, this is your flat, here are the keys to your car, we'll get you a license soon, unless you already have one, and here are you books for college!"
"Sarita, Dhruv, I can't thank you enough! "
"What are friends for?" They hugged. "Khush'I mean Harshita, you have experience at AR so you can get a good job, all you need is proof that you worked at AR." Letting go of the hug.
"Sarita, I don't want anything to do with the past and I don't need Arnav's help; I want to stand up on my own two feet!"
"I'm so proud to have a friend like you, you know, most people think their strong, but you have proved yourself strong! That's why I'm going to be with you through all of this." Sarita said hugging Khushi again
"Okay, if you two are done, I need to get to work. Sarita, Khushi do you guys need a ride?" Dhruv asked.
"No thanks Dhruvie! I'll take my car and Harshita can come with me."
"Alright sweets. Are you going to come over after work?"
"No, I have to go shopping with Harshu!" she turned towards Harshita "Mind if I call you that?"
"Not at all! It's actually kind of catchy, but Sarita I'm tired can we go shopping some other day? Anyways, it'll give you more time to spend with Dhruv; you barely went out since I told you I'm pregnant."
"Fine, but I'll help you unpack your suitcases. You didn't bring a lot of things right?"
"No, I just bought some of my saris, some jewelry, my make up, and a few pictures that I will keep just for keepsake."
*****
"Harshu, why did you bring these?" asked a sad Sarita holding up a mangalsutra and a box of sindoor.
"I'm still married remember? I still have the divorce papers that I never signed!"
"But Harshu, I thought you wanted to forget Khushi Kumari Gupta, Arnav Singh Raizada, and everything related to them?"
"I do, but I can't forget Arnav."
"Okay, let's drop this, hit the mall for some serious shopping!"
"Good idea!"
*****
"Harshu, you need to buy something that's in! I know you're very cultured but you need to change. If you want to be a good fashion designer you need to buy western dresses!"
"KYA? I can't wear those short dresses Lavanyaji and her friends wore!"
"Harshu, you aren't Khushi Kumari Gupta'"
"Singh Raizada!"
"Yeah, you aren't Khushi Kumari Gupta Singh Raizada anymore; you're Harshita Malik!"
"Fine, but I will chose the dresses!"
"DEAL!"
Buddy for PMs!


Edited by Mahi1219 - 15 October 2012 at 4:30pm