Pyar Ke Rang Odhanians ke Sang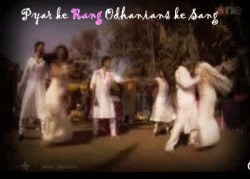 Hello Hello Hello
As we all know coming 5th April 2012 our Rang Badalti Odhani completes two years.
Complete two years of our pagalpanti, gushing about our favorite RLBs (Romantic Love Birds), having fun talking about our crazy Khandelwal family, criticizing each and every moments and our Besharmi
So,
We Odhanians invite our beloved RBO family, Friends and fellow Odhanians to
RBO's 2nd anniversary celebration


Join us on 5th April 2012 00:00- 6th April 2012 00:00 hrs

Place: India Forums RBO forum and Facebook


Let's rock the party!!
So we need help from our RBO friends, please come and join us:
1. We need short write up about each characters of RBO
2. SSs or OSs
3. Siggies and Avis
4. VMs
5. Wishing Messages for our beloved cast and crew of Rang Badalti Odhani
love

Ranjini, Krithika, May, Ramani



Edited by missfilmy - 04 April 2012 at 1:22pm