Unfolding story of a voyeur cum exhibitionist

Apart from money

The celebrities who come on the show to reveal private matters do so to clear the air about a few things that were made public by them,
to tell their side of the story, to get maximum mileage from events in their lives and for publicity.

A few contestants who came on the brastachar ke kilaf episodes said they wanted to tell about the widely prevalent deep rooted corruption,
how they had given and taken bribe, how the system cannot be changed, and took oath to start afresh
But why does every tom, dick and harry and their female counterpart want to reveal their private, shameful truths in front of the whole world
Why expose truth in public, why not seek forgiveness in private!
Why reveal sach that have to be revealed within the four walls of a home or bedroom or not revealed at all!
Why be selfish and not bother about repercussions or hurt caused to others!
Why lay down their heavy burden in front of everyone!

Are they brave sipahis or are they fools; fools who rush in where angels fear to tread...
What motivates them, apart from money...
It must also be the love to be in the limelight.
Love to have an audience.

The common man seems to be more of an exhibitionist and a showoff than a celebrity...
wants to tell the world about every single aspect in his life with images and videos.
Do not want to see whining 'oh poor me' women and their cuckold husbands
or cheating men and their sad wives.
Do not want to be a voyeur of the exhibitionists on the laal khursi
and hear their sordid tales
See it only for the man who is laal khursi khi khareeb.
Season 1 was a daring and shocking show unlike any other seen on Indian TV.
It was also the first time we saw him differently.
Much earlier the mirey tharin song, a few stage performances,

photo shoots like this, the lrl group dance, the fumbling stammering half naked rajveer in the towel scene, made one feel...
huuunnn who is this guy (felt uneasy and shocked like rajveer)
Many must have experienced different kinds of embarrassment and shyness for different scenes.
Could have had the sneha rajveer dialogue with oneself
tumne dekha,
nahii mein kuch nahii dekha
The mind baulked, it cringed'
So when heard him say the erotic sounding shareeerik sambandh it was like...
he is saying all this!!!!!
He and sex... No way. You don't relate sex with him.

You cannot create a sambandh between sujal/rajveer's shareer and sex
The mental trauma one had to go through...
Had to leave behind the 'naive, tremulous teen fan' kind of mentality to see him as a worldly wise grown man of 33 who talks about and asks questions related to sex in a very matter of fact way.
The shareerik sambandh questions should have prepared the mind for the shareerik sambandh simulations in soundtrack, two years later...
Hahaha it did not.
If the mind baulked and cringed earlier it gasped with shock
from
sex and Rajeev???
It finally became
sex and rajeev!!!
Enjoy the heart squeezing moments his intese performances create.
"nahi dekhna chahtha hai kya" asks sneha
that's what the low waist pants wearing strutting peacock too asks.
so only only only for him, as a perfect fan will see enjoy and admire
When so many would not dare take off their shirt without a perfect six pack abs he is extremely comfortable with his body and is inhibitions free
So as a fan let go of inhibitions to do some ogling
From seeing with lots of reservation the pelvic thrusts on the stage in the Dhoom song four years back...
to actually seeing a whole different kind of thrusts and humps... have travelled faaarrr
Soundtrack has helped free him from the set image the mind had confined him in.
Handsome is that handsome does

luuvv seeing everything this handsome does.
Happy that we did not see him do what shonali's boyfriend did.
But then if the script demands he is sure to do that too in the future'
But please please please no full monty not even a veiled/suggestive one.
Take the fan shapath to be a perfect voyeur of this exhibitionist's vertical, horizontal, oblique front and back blatant cocksure display.

Only to give him very valuable feedback like 'you are so handsome' 'you are looking so sexy', 'you have good broad shoulders and nice tapering waist', etc.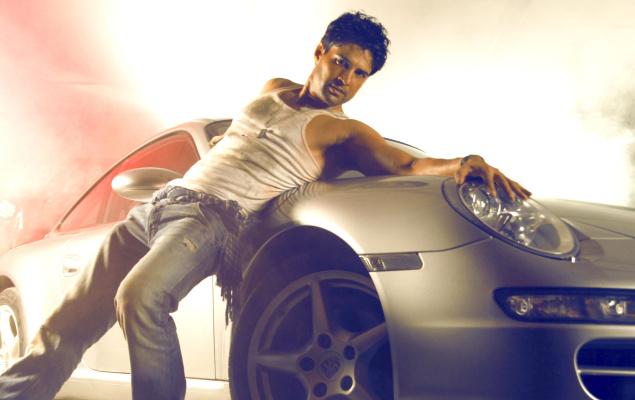 -----------------------------------------------------------------------------------
Sach ka Samna of a Die Hard Loyalist

Host: aap kisi se pyaar karte ho

Fan: Yes.
Screen flashes True
Host: Kaun hai woh? batana chahthe?
Fan: (Doing a Dolly Ghai who said Obama)
Rajeev Khandelwal, love his thought process and views. Bahut accha insaan hai.
Host: (Points to himself) Me.
Fan: Yes!
Blushes... moves onto the next question.
Host: Kya aap ek shaadhi shudha mard (married man) ka shareer ko admire/ogle karte ho?

Fan: yes

Screen flashes True
Host: Yeh sahi jawab.

Host: (facing the audience): pehli baar aisa hua. Polygraph machine attached to the body of this contestant got confused, the lines on the graph moved like crazy and it blew a fuse. The polygraph machine had to be replaced with a latest version.

Host: Kya hua polygraph test mein
Fan: Weelll a thousand thoughts were going on in the mind. In a few secs there were innumerable yes and nos.
Host: Phir anth mein aap 'yes' kaha.
Fan: Yes, because that is the sach.
Host: aap ek shaadhi shudha aadmi ko kaise admire kar sakthe...
Fan: That was difficult to answer... but thanks to yooouuu it became aasaan

Host: Thanks to me, kaise
Fan: Remembered all your interviews.
Bingo!!! Finally got it!!!!
Do not admire the shareer of the 'real' Rajeev Khandelwal.
Admire the guy on the screen, the one on TV and in the theatre.
Admire the actor
Raunak and Rajveer are sooo seeexxxyyy.
The image is the

Raj eve(s) love to ogle

Host: mmm... mmm... mmm...
Fan (winking): Not for nothing are we called thinking women.

Host: iss sahi jawab keliye aap ko ek karor mila.
Zordhar taaliyaan.
--------------------------------------------------------------------------------------------------------------------------------

Thanks to all the SKS contestants for coming on the show.

But for them and their stories the world would not have witnessed such fine hosting skills.
He had said he wanted to do the intimate scenes to make the downfall of raunak seem more effective.
Just like the questions in SKS none of the intimate scenes too were done to titillate.

Loved him in WYMM, rajveer was even more fun than raunak.
Thanks to both the directors for showing us a different Rajeev.





This pic tells why when there were younger, taller, more handsome men with deep baritone voice, dancing skills and perfect dialogue delivery in KTH and LRL he made the most impact.
It tells why he stole the show...
when one among many in shaitan and wymm.
His reaction at 0.03:05 when he removes his graduation cap and shouts...
is proof why his acting makes him stand apart even in a crowd.

Who thought the Rajeev we first knew would give such a fine performance as Raunak and do comedy this well. And dance too...
A huge thanks to him for constantly surprising us.

jo kholna hai khol dena, dil mat khol na...
said a wise rascal on his graduation day
but the only thing we khol/exhibit online in this FC are our dils/thoughts that sambandh mostly his image and also his real.
It is stimulating fun being his exhibitionist fan!!!
From feeling it is blasphemy to even read a few IF FC posts with sexual undertones to actually making this frontpage... definitely travelled far.
--------------------------------------------------------------------------------------------------------------------------
Thanks to the mgmt team for asking me to open this FC.

Surya for the title siggy.
A huge thanks to Purnima for most of the pics and for all the merging and cutting.
He appeared shirtless for maybe two seconds in wymm, but that does not escape our eyes. Thanks to purnima for getting that still.
Dont think anyone has ever given her more sexciting assignments.