10 Mahavidyas are connected with Sati, Shiva. In Devipurana this katha is given. When Daksh didn't invite Shivji for the yagya, Sati asked his permission to go to the yagya. Shivji stopped her, but Sati was determined, she said I'll go to his yagya & either will get the yagya bhaga for you or will destroy that yagya.
While saying this Sati's eyes turned red, she started looking at Shivji with anger, her body colour turned Black, stated looking ferrocious. Her body was shining brightly, her hairs were loose, resembling Kalaagni, wearing Mundmala, with her toungue out, half Moon adorning her head, was looking absolutely ferrocious., she was as bright as many Suns at noon, was laughing loudly. Seeing her in this form Shivji started running away.
To stop him in 10 dishas, her 10 amazing forms emerged. Who are known as 10 Mahavidyas. They are Mahakaali, Tara, Chinnamasta, Dhumavati, Bagalamukhi, TripuraBhairavi, Bhuvaneshwari, TripuraSundari, Matangi & Kamala.
Shivji asked who are they, then Sati introduced each form of her & told Shivji not to fear they are my forms only. They are Raudra & Saumya forms . Mahakaali, Tara, Chinnmasta, Bagala & Dhumavati are visibly Raudra but invisibaly Karunya roopas. Bhuvaneshwari, TripuraSundari (Lalita), TripurBhairavi, Matangi & Kamala are Saumya roops. Without experiencing the Raudra roops, Saumya roops can not be realised.
To remove problems & pain of her devotees she takes Raudra roop. To give them various sidhhis she takes the Saumya roop.
Mahakaali
In her form as Dakshina Kali, she is the real form of all vidyas (goddesses) who give siddhi (success). Because Shiva and Shakti are one, they must be worshipped together.
Mahakaali is the Aadi Vidya, she takes different avatars to accomplish various tasks for Devas. In Markandeya purana, at the end of the Kalpa, when Vishnuji on his Shesh Shaiyya in ksheer Sagar was in yoga nidra, at that time 2 demons Madhu & Kaitabh, wanted to kill Brhmaji, who called Vishnuji but was not able to bring him out of his yog nidra. Brhmaji worshipped Devi Shakti, who appeared in form of Mahakaali.
In Markandeya Purana, while fighting with the demon Chanda, due to anger Devi's face turned black, from her forhead Kalika appeared.
Valmiki has written Ramayan, he has also written, Gupta Ramayan or Adbhut Ramayan, in that while fighting with 1000 headed Ravan, Ram turned unconscious. Sita saw this, got angry turned black, as Mahakaali killed this Ravan, who was 10 faced Ravan's brother. Then Ram worshiped her with her sahastra naam.
Mahakaali, DakshinKaali, Bhadrakaali, Smashankaali, Guhyakaali & Rakshakaali are various names of this Prakruti roopa Devi. Her Shiv is Mahakaal.
Tara
Tara helps in times of need. She is the gentle saviouress who helps in times of need and distress. She guides her devotee safely across the oceans of Maya
In Vedas Sun is considered as main support of the world. Sun was considered the first Rudra. He was Ugra, his Shakti is called UgraTara. She rules centre of the World. After pralaya, when the world becomes smashan, becomes Shav, she stands on the heart of this Shav.
From 12 in the night till Sunrise Mahakaali rules the Universe, after that Maa Tara rules. When Mahakaali took blue coloured form, she was called NeelTara. this form was to kill the demon Hayagreeva. She can be pleased faster, is always eager to help her devotees. Her Shiv is Akshobhya.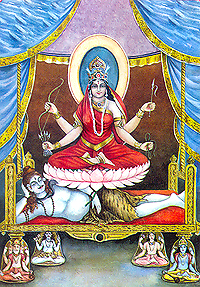 Tripura Sundari
The presiding Deity of Srichakra, Devi, is Known as Lalita Tripura Sundari. The goddess Tripura Sundari in her aspect as Shodasi is represented as a sixteen-year-old girl, and is believed to embody sixteen types of desire. Tripura Sundari, also called Shodashi, Lalita and Rajarajeshvari.
Devi Aadya Shakti appears in her Dark & Fair form. She had appeared from Goddess Parashakti, created the Trimurti, was worshipped by them that's why she is called Tripura. She is Shakti of calm Shiv. panchvaktra Shiv has 5 heads, 10 hands, 3 eyes. His shakti is Shodashi. She is also called Brhma-vidya, Shri-vidya.
Once Agastya rishi saw humans living in bad condition, he was compassionate towards them, he stopped at Kanchipuram, worshipped Mahavishnu, who was pleased with his penance gave him her idol.To explain the importance of the Devi Shodashi, one of his ansh Hayagreeva was appointed, who explained him Devi Lalita Tripursudari's mahatmya. She gives Dharma, arth, Kaam, Moksh to her devotees.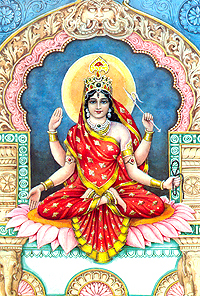 Bhuvaneshavari
Bhuvaneshvari is the fourth of the ten Mahavidya goddesses and an aspect of Devi. Bhuvaneshvari, who is known for her beauty. Bhuvanesvari means Mistress of the World. Bhuvaneshvari's beauty is mentioned often. She has four arms, in two of which she holds a noose and a goad. With her lower left hand, she makes the gesture (varada-mudra) of offering a boon, and with the lower right she signals fearlessness
Shodashi was instrumental in creation of the world, when the same Shakti rulls, the 3 bhuvans she is called Bhuvaneshwari. She has created Brhma, Vishnu &Shiv. She was present before the creation, when the Universe was Shunya (zero) that's why she is called Godess of Shunya Mhavidya. Her Shiv is Sadashiv.
Tripura Bhairavi
Bhairavi is a fierce and terrifying aspect of the Goddess virtually indistinguishable from Kali. Bhairavi is also identified with Kalaratri, a name often associated with Kali that means ''black night (of destruction)
She blesses her devotees with meditation, penance, gyan. She is worshipped in the 3rd adhyaya of Durga-saptashati. Bhairav is her Shiv.
Chinnmasta
Chinnamasta (also called Chinnamastaka), is one of the mahavidyas, and an aspect of Devi, having severed her own head with her own sword, holds her severed head on one of her hands. Three jets of blood spurt out of her bleeding neck, and one streams into her own mouth of her severed head, while the other two streams into the mouths of her two female associates.
Once Adya Bhavani, went to take bath at a river with her friends Jaya & Vijaya. At that time she thought of creatinon of the world, she was in deep thoughts about the creation, her friends told her they are hungry. She told them to wait, again got engrossed in her thoughts. Jaya & Vijaya reminded her once again. The compassionat Goddess cut her own head with her sword, took that head in her own hand.Her friends & her own head drank the blood flowing out of her body.
Once while fighting with Shumbh & Nishumbh, a Demon called Raktabeeja, had a boon that every drop of his blood, one more Demon will appear. To finish him, this Goddess drank all his blood so a new demon will not be created. She destroys the world in the end.
She is also called Prachanda Chandika. Her Shiv is Kabandh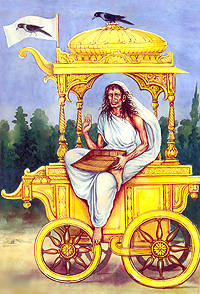 Dhumavati
Dhumavati is one the of mahavidyas (Great Wisdoms); she is one of the many aspects of Devi. She acts as the divine smoke screen in the form of old age and death. Only the ardent devotee is able to see beyond the fear of mortality to the Goddess's promise of immortality.
Goddess Bhagavati faces many problems & obstacles in the creation of the world. Due to that she starts looking old, like a widow. She destroys all the negative qualities of her devotee & guides him spiritually.
The smoke that came out from burning Sati's body is believed to be her form.
As per Markandey puran, she is not widow by unmarried. Once in a war she did a pratigya, whoever will defeat her in war, will become her husband. She is still undeafeted.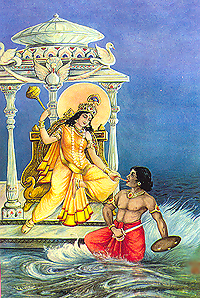 Bagalamukhi
Expounding the great power of the Goddess Baglamukhi the text Mantra Maharnnav states -"The Mantra of the Goddess has the power of the divine weapon Brahmastra instilled in it and the Goddess simply strikes terror in and paralyses the enemies of her Sadhaks
Once in Satyuga there was a very big cyclone. Vishnuji got worried about the expected destruction it can create. He could not find any way out, so at Saurashtra, near Hridra lake he did penance of Goddess Bhavani, as a result Goddess appeared as Bagalamukhi, she stopped the cyclone. She is also called the Brhmastra Vidya.
Matangi
Matangi is the aspect of Devi (in other words, the Mahavidya) who is the patron of inner thought. She guides her devotee to the uncaused primordial sound. Matangi has a dark emerald complexion and has three eyes. She is the Goddess of Vidya. She appeared as the result of rishi Matang's severe penance. She is worshipped for happiness & a good marriage life..
Kamala
Kamalatmika is the Goddess Devi in the fullness of her graceful aspect. She is shown as seated on a lotus, symbol of purity. with a shining complexion. Kamalatmika is the 10th Mahavidya. She is also known Kamala like Lakshmi is a goddess of fortune, ritches, fertility and conception of children, fame, and material well being
Like Goddess Lakshmiji she gives wealth, prosperity. She is Sadashiv's Shakti.


Edited by mnx12 - 20 March 2013 at 12:00pm