JaiGanesh ShivaOm
Hi all, I'm Sia.
I have got this privilege of updating the Written version of the show for
Mondays
and
Fridays
.
I would like to thank you for giving me this opportunity.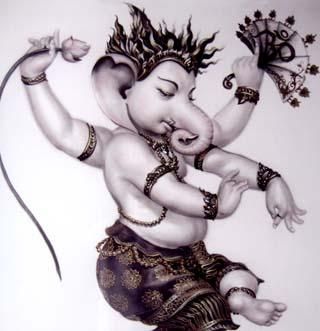 Devon Ke Dev Mahadev
Episode 99

Oh yeh Its 99 Already..Congos DKDMians

And we have a Trip-Fall-Catch scene btw Mahadev and Sati -As a gift on our 100th Epy of the show by the team
26/03/2012-Monday
So far Jataa (Mahadev) Rescues Sati from a crocodile,by signalling it to back off..And The little Kid calls Sati as his Maami and Nakchadi (arrogant) which annoys Sati and she walks away from there.
Nandi (Sevak) is worried that nothing was going according to there plan and in the fit he scolds the kid for interfering into there matters..But Jataa (Bholenath ) Stops Sevak from scolding the kid further and explains that he shouldn't behave in such a manner with a little kid.
Jataa then says that Firstly we have to leave Sukand to his home-but sevak (The eva so caring Bhakt Nandi) is more worried about convincing Sati (His Mataa) and rushes towards her to explain things.
Mahadev smiles at his sevak (Nandi) for his unconditional love and unfathomable care for Mahadev n Sati and the thirst to see them together forever(aww i love this scene where Nandi is desperate to see Maahdev n Sati as one and the understanding look that Mahadev gave here
)
Sevak follows Sati and begs her to stop for a second before taking the matter any further.Sevak explains that the child mistook Sati to be somebody else and that what ever the child said was true..he says that "its a long story Jataa never told anybody about his tale of love-he had to tell this to her -after listening to the story all her misconceptions for Jataa would fade"

And now is the sweetest ,adorable scene eva...aww
Sukand
holds
and
pulls
Jataa's strong hands in his cute little one's and persuades him to go and convince
his
Maami (Sati)
Jataa smiles at the child's innocence and tells him that his sevak would do that better and that he would leave him home .
On the other hand Sevak ..aka .Nandi tells Sati the story of Jataa and the Adivasi Rajkumari -how they
Loved
her dearly and how she was mad a him as she was arrogant being a King's daughter.
Sevak further continues that "She never understood my Bhole..(saying that he stops in middle-realizing that he was talking to Sati...he then continues that) My Bhole Swamy -May be she didn't want anybody to save her in the times of need (Sati gets flashes of the memories of how Mahadev saved her from Vritrasur and even Madanike's words that "Had been Shiva was just an idol of stone he wouldn't have come to rescue her" and the john carter Jaisa/walaa asur bhee
)
Sati tells that "a young girl doesn't need anyone's kindness but Love and May be Jataa was influencing her by his kindness and in her point of view she is absolutely correct"
Sevak replies that" Jataa's love for the lady is beyond comparison- The only waver here was that the princess who has grown in such luxuries would fit in Jataa's life style or not..Before anything could happen the princess swore that she would never come in front of Jataa- This made Jataa so upset and unendurable that the princess cant even think of "
Sati gets reminded of how she swore to Mahadev that she would kill herself the next time he comes save her..
"May be she was incapable of fighting off her father's decisions ..probably she never braved it to offend her father's decisions by contradict them" Sati states.
Sevak then justifies by saying that "now she could see that the child's reaction was just cause of his misunderstanding -Jataa and her situation are almost the same "
Jataa walks towards them leaving the kid to his home..that walk was a walk of a man who was wondering on this earth to do some damage control-
to put things right for him n for his other half -Sati.
Sati agrees to this listening to Sevak's story and she says that she wont say a word to Daksh


************************************
Revathi reaches the spot as the boat rows and is worried as to why Jataa n his sevak are there and how would she take Sati to Kailash
Sati asks Jataa and his Sevak to leave as she has to go for site seeing with her sister..
Jataa and Sevak advances forward in order to join them to which Revathi objects
Jataa asks them whether they can join them for site seeing..Revathi rudely stops them from coming with them saying that they should know who they are and what stature these daughters of Daksha hold...As they try to board the boat- a hole is formed in it and the boat sinks (That was cause of Jataa i suppose..hmm very Smart
) ..Jataa n Sevak stop at that moment.
Jataa tells that since its gonna get dark in a few hours why not they (Sevak n Jataa) escort them to the Palace as its unethical to leave two young ladies alone in the jungle and they would keep distance from them Jataa assures.

************************************
Now they all start to walking back to the Palace making there way along the river side...The still water making their images
Revathi on the other hand is apprehensive that her plan to take Sati to the Kailash hasnt worked out (My dear Revathi open ur Gyaan ki ankhen
HAve a mentos
n try to look who is in front of U...the whole of Kailash itself is in front of u...the supreme lord
Shiv
to whom ur planning to send ur little sister to)
All of a sudden Revathi stops as her mind is engulfed with all those thoughts -stopping the whole tolli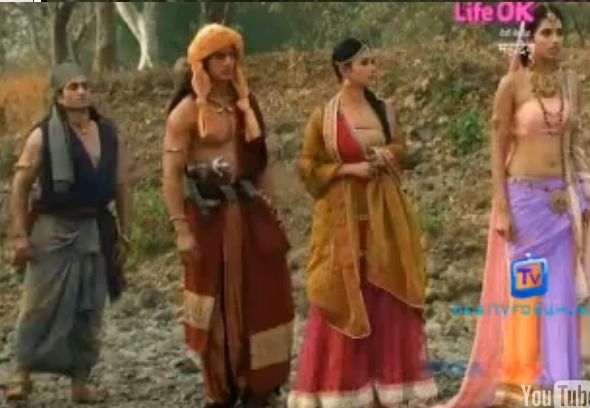 Jataa (Mahadev) and Sati stand there on the banks of the river waiting for Revathi to move forward...Just a sheer second they both are shown -still they never fail to look perfect -made for one other..his perfection of physique matching her delicate one's.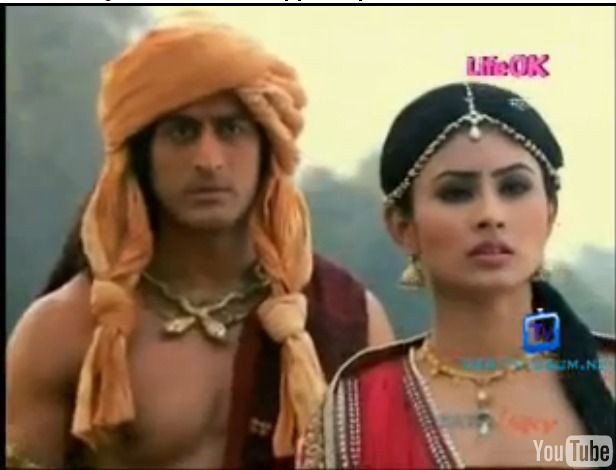 All of a sudden Sevak observes the refection of Jataa and Sati in the water.. It shows the real forms as Maahdev and Devi Shakti- but as two individuals not as
One
-as they are still separate (Vibhajid)
Mahadev and Sati (Shakti) are so inseparable in there soul that even their reflections in water wouldn't leave each other
Mahadev n Nandi are worried if any of these two see the real form of Jataa they would land in great trouble..
The water which stands for Purity which purifies things which
makes /shows things in their real form just by its sheer touch - couldn't hide the reality of jataa-Mahadev the greatest Lord himself.
Revathi is now making plans to make Jataa n his sevak leave them alone...she points out that the sun is still up and they both can still go for site seeing thing..(Jataa n sevak try their best to distract them by keeping there attention towards the sun so that they can hide the refection thing) Revathi says that they would manage n they need not worry-(Mahadev-Jataa man wat ru doing breaking all the rules just to make things work ua way-heh way to
GO
! anything for LOVE)

************************************
Jataa (Mahadev- uses his powers to create a dusk effect) the place instantly turns dark (Nandi is like proud )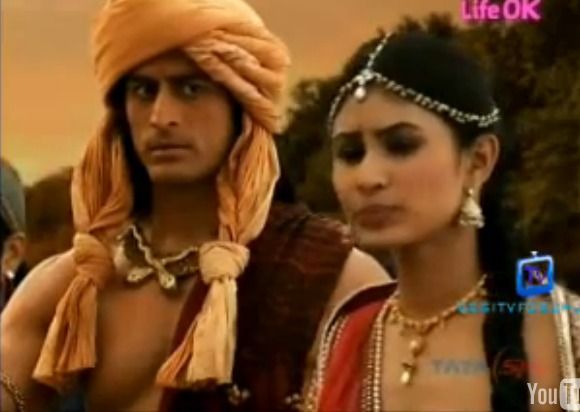 Ohh look at his expression..like a kid hiding something ..Mohirtwa ur muwha muwha muwha..
(Gals dnt come after me wid dandas to chase me away from Mohitwa..cant help u see
)
Revathi n Sati are shocked n confused to see the day turning into dusk all of a sudden!
"now u dont tell that my master is responsible for this" Sevak comments
Sati for some reason feels that there is something unusual about the refection in water as she turns towards the river to see that Sevak throws a stone into the water which disrupts the refection in still water
He justifies his act by saying that since childhood it amuses him to throw stones in water...and he again soes it which in turn splashes water on Revathi n Sati..Pasting a these -guys-are weird expression both Sati n Revathi leave to the Palace.

************************************

At Daksh's Den:
Rishi Angira,Brigu,Kashyap,Prasuti and Daksha again have this convo come aargument about Sati n Satbeesh's wedding and the pact that they had...
The pact was If Daksha giives Sati's hand in marriage to Satbeesh then Rishi Angira gets half of Prajapati's powers and if Daksha for some reason wouldn't do as said -as decided then he has to giveup his Prajapati post completely to rishi Angira (This Man suits Daksha...he is the reason Dakhs's arrogance being tested)
All the murti business is giving Rishi ANgira's patience a hard time so he gives a notice of 24 hours to Daksh for marriage of there children or he has to kiss good bye to his fav chair

************************************
Jataa and sevak sit at a place and talk about the refection thing-That no matter how far Mahadev n Sati be..but they will always be in eachother's existence.
Mahadev says that Sati is a part of him..Even their refection cant stay away from each other.
Mahadev also tells that he is the one cause of whom Sati is upset

************************************
Jataa and sevak reach Daksha's palace when a sevak informs them that Daksha is expecting them at the court..
Daksha requests Jataa about the sculptor of Satbheesh and the proper stone required for it..he informs Jataa that Angira has given him a deadline of 24 hours and its impossible n baseless to go in search of a suited stone taking Sati along..Dakhs asks him to do what is best...to Which Jataa replies that HE being a Prajapti and having Saptrishi by his side couldn't get to a needful conclusion how would he expect that a sculptor would make a wise decision..DAksh asks him now what could be done?
Jataa replies that if a stone (Pathar) comes in search of Sati then its well n good or there is only one way lleft-PRAYER...praying one's deity to make things right...Saying this Jataa leaves from there...leaving a Daksha with an expression very much like this

************************************Sizzling Precap:


At the udyaan...Royal Garden its umm drizzling
or the wind is blowing wildly making the water of the fountain to sparge on Jataa n Sati..Sati who is advancing towards Jataa on the other hand ,finds it hard to even look straight due to the wind..but our Jataa is njoying the weather.
As Sati nears Jataa she Trips and at the right moment Jataa catches her n saves her from hitting the ground...Soo Romantic ahyeee...
Far away from all this Sevak (Nandi) is observing all this and is worrying that Sati migght now get to realize that this is none other than Mahadev...
for better view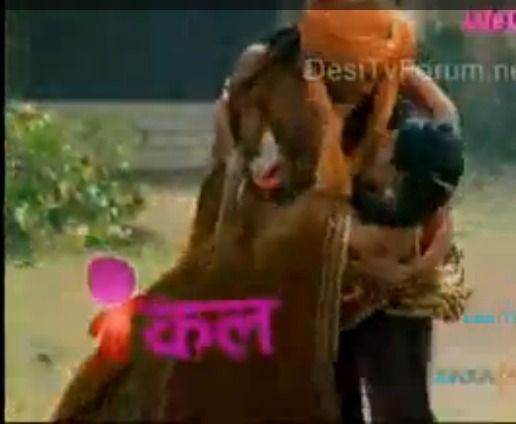 ***********************************

Thanks for reading

Have a nice time
Regards

Sia