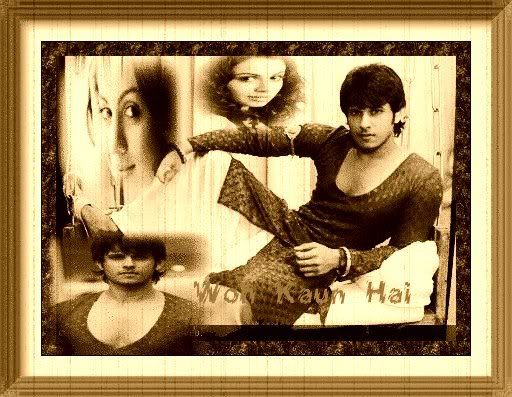 (Poster By Meri pyari... Piyu Mhaari
)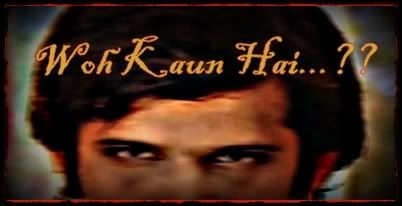 (Poster By Me... Kiran
)
Chapter 3
In a huge mansion far away from the busy life of the city, a person was standing in front of a huge photo frame placed on the wall, his piercing eyes were continuously staring at the picture. Slowly he went closer to it n placed his hand gently on the picture n closed his eyes.
*Flashback*
"Pandit ji kya baat hai? Aisa kya dekh rahay hen aap mere bhavishye men?"

Pandit : "Raj kumaar, hum aap k bhavishye men woh dekh rahay hen jo aap ko kabhi kisi ne bataya nahi hoga"
"Per kya pandit ji? Aisi bhi kya baat hai?"
Pandit: "Yeh haar raaj kumaar, yeh haar, is haar ko hum aaj se hazaaron saal baad bhi dekh saktay hen, hazaron saal baad bhi ap k raaj ka yeh haar aisa hi surakshit rahega, aur….."
"Aur kya pandit ji batayiye na, ap jaisa vidwaan agar koi baat keh raha hai toh us men kuch sachai hi hogi, hum yeh sun k bohot khush hen, ap ki jotish vidya ne toh aaj se hazaron saal baad bhi dekh liya, lekin….. yeh haar? Hamara matlab hai yeh haar ap wahan kahan dekh sak rahay hen?"
Pandit: "Raaj kumaar hamen keval yeh haar nahi dikh raha, hamen who larki bhi dikhayi de rahi hai jo is haar ki maalik hogi"
"PANDIT JI !!! Aap jantay hen yeh haar hamari maa ka hai aur hamen pasand nahi k isay koi aur chuay aur itne saalon baad koi larki? Nahi, hum jaantay hen us waqt hum nahi honge lekin tab bhi hum yeh bardasht nahi karenge k yeh haar koi istemal kare !!! Bas ab ap ja saktay hen"
*Flashback ends*
The person opened his eyes n stared again at the picture:
"Kab aogi tum? Hazaaron saal maine tumhara intezaar kiya hai aur aaj bhi yeh intezaar baaqi hai…. Shayad…. Per jaane kyun aisa lagta hai jesay mera intezaar jald hi khatam hoga….."
There was a knock at the door n he quickly went outside that small room n stepped into his large room to open the door of his room.
"Kya baat hai?"
"Aap ko bahar bulaya gaya hai, durgesh ji ap ko bula rahay hen"
"Theek hai, main aata hoon"
After some time, in a large dining room, it seemed like a meeting of some sort was going on.
"Aao Kesar aao" durgesh smiled while staring at him with his deep black eyes, his face a bit dark as his chair was placed far from light as he didn't like to be under the sun or light. He was the head of the clan.
Kesar: "aap ne mujhay kyun…"
Durgesh: "Hum jaantay thay tum yehi sawaal pucho ge hum se" then he continued with a stern face, "Phir waheen thay na tum, usi tasveer k agay apna qeemti waqt barbaad kartay huay kharay thay !!"
"Maine pehle bhi kaha hai, us k baray men main aik shabd nahi sunoon ga !!"
Durgesh: "Bas !!! hum tum se behas nahi karna chahte !! tumhe samjha samjha k hum thak chukay hen, is pagal pan ka kya anjaam hoga kya tum jaantay nahi !! tum bhool chukay ho k tum akhir ho kya? Aik insaan k peechay bhaagna aur paglon ki tarah us ka intezaar karna !!! Kya yeh hamen shobha deta hai !!!"
"Mujhay yeh sab nahi pata, aur na main yeh sab kuch sunna chahta hoon, ap mujhay hazaar baar samjha chukay lekin main bhi ap ko samjha chuka hoon, woh mera pyaar hai, hamare pushtaini haar ki maalkin hai woh, hazaaron saal us ka intezaar kiya hai main ne aur agay bhi karoon ga, woh aik din zaroor ayegi"
Durgesh: "Tum bhool gaye ho kesar k woh insaan hogi lekin tum….. kya ho tum? Hum kya hen? Insaano k bhesh men khoon peenay walay darinday !!"
There was silence in the room, kesar was also silent now.
Durgesh: "Raaj kumaar kesar….. aik khooni darinda hai, yeh sachai batao ge tum usay? Kya karay gi woh yeh jaan kar? Tumhe galay laga k apni maut ko galay laga legi? Nahi !!! woh apne hi jese insaanon ko hamari sachai bata degi aur phir hum sab khatam ho jayen ge !!! Itne saalon humne kya kuch nahi seekha in insaanon k saath guzara karne k liye…. Insaanon ki is dunya men hum apni pehchaan chupa k ghoomte hen, woh tumhen qubool karlegi is sab k saath? Kabhi nahi !!! aur aik jotish ki baat sun k tumhen lagta hai k koi aisi larki ayegi, hahahaha bakwaas hai yeh sab !!! hum nahi maantay is sab ko !!!"
"Aap k mannay ya na mannay se sachai nahi badlegi !!!"
Durgesh: "Aur na tumharay mannay ya mannay se yeh sachai badlegi k hum insaan nahi, vampires hen !!! Jinhe Pishaaj bhi kaha jata hai, jo insaano k khoon pe zinda rehtay hen !! Hum jaanwaron k khoon se apni taakat letay hen lekin sachai toh yeh hai k agar kisi ne hamari dunya men anay ya isay barbaad karne ki koshish ki toh hum usay maarne se bhi peechay nahi haten ge !!! Kisi ko bhi nahi !!!"
There was fear n anger in kesar's eyes. He angrily turned n left the room.
A girl stood up being all worried n was about to follow kesar when durgesh's voice echoed in the room.
"Talli !!!"
Talli was very scared n stood right then n there.
Durgesh: "Hamari meeting khatam nahi hui hai jo tum uth k us k peechay jao !!! beth jao !!!"
Talli quietly sat again on her seat while being very worried for kesar inside her heart.
In Kesar's Room:
"Talli jao yahan se, main ne kitni baar kaha hai mujhay kuch samjhanay ki zaroorat nahi hai"
Talli: "Kesar akhir tum kyun nahi samajhna chahtay, hum un jese nahi kesar, hum is baray men kuch nahi kar saktay, hamen koi haq nahi k hum insaanon ki zindagi barbaad karein"
"Koi haq nahi? Haan hamen zindagi barbaad karne ka haq nahi lekin pyar karne ka haq toh hai, kya hum kisi se pyar bhi nahi kar saktay !!"
Talli: "Nahi kar saktay !!!"
Kesar looked at him shocked.
Talli: "Tum jantay nahi ho kya k is sab ka result kya hoga? Maar dalen ge sab us ko, tum chahte ho k woh mar jaaye? Kesar woh apni dunya men khush hogi, tum kyun us ki zindagi men aa kar usay maut ka tohfa dena chahtay ho, kyun kesar kyun? Hum un jese nahi hen kesar, un ki aur hamari dunya men farq hai, bohot farq !!! apne bharam ko tor do kesar, apne khayalon ki dunya se bahar ao !!! apni asliyat dekho kesar k tum kya ho !!! us insaan ko maut k hawalay mat karo kesar, usay zindagi k bajaye maut mat do !!!"
With this talli left his room while kesar stood there feeling his urge to be able to cry but he was not able to do it. His heart was filled with pain n anguish n he felt like being burnt on a pyre. He quietly stepped inside his small room n looked at the portrait one final time for a very long time. Then finally stepped outside the room n locked it n kept the key inside a box n put it in his almirah n locked it.
"Shayad sab sahi kehtay hen, meri aur tumhari dunya itni alag hai, mujhay koi haq nahi puhanchta k tumhari khushiyan jala k un pe maut ka saaya lehra doon, nahi main aisa nahi kar sakta, tumharay liye poori dunya se lar sakta hoon main toh kya tumhari zindagi k liye khud se nahi lar sakta?" He closed his golden eyes (golden as his need for blood was fulfilled) "Maar dunga apne pyaar ko, khatam kar doonga, khud ko hi….. tumhe bachanay k liye mujhay hamesha k liye khatam hona hoga……. Hona hoga…. Warna mera yeh dil mujhay phir tumhari aor kheenchay ga aur ab main yeh nahi hone doon ga" n he finally opened his eyes n there was a very determined look in them.
Hey guys so here is the third chapter of the SS, hope u guys like it