Love makes you do crazy things, says Sakshi Tanwar
TNN | Apr 15, 2012, 12.00AM IST

The actress believes that even the most matured and sensible people behave childishly when they are in love and that's what her character is doing in Tv serial 'Bade Achhe Lagte Hain'...

Your acting in the ongoing track is a bit over the top and exaggerated. Why is it so?

(Laughs) The answer is love. It's been around two months only since Priya realised that she is in love with Mr Kapoor and this realisation changed her entire perspective towards life. It was very important for Priya to let her guard down and realise and relish this change in her. How else would she have got another dimension to her character? The realisation also came up at the same time as the breast cancer scare which brought her child like wishes in the forefront. Maybe the way I portrayed it was childish but then what the heck! Haven't we seen even the most matured and sensible people behaving childishly when they are in love? Maybe pyaar mein achhe achhe bhi bachhe bann jaate hain. May be for this track we can call the show, Bade 'Bachhe' Laggte Hain.

As told to Neha Maheshwri Bhagat

Sakshi Tanwar is getting comfortable with intoxicating beauty

13 April 2012




It is difficult to know and... understand Sakshi Tanwar real look or is it Ekta Kapoors way to increase the TRP- (They r referring to the pic of Sakshi and Sunny). Because of the fact that she portrayed the role of Parvati Bhabhi, it became her trademark which was difficult to erase where she took a leap from being 20 to 30 and in this way she bagged the role in BALH. Sakshi Tanwar Parvati of Kahani Ghar Ghar serial in the world did not make law. (they r comparing her with Neena Gupta), the same happened to her.

(Talking abt NG) It never was very talented with Neena Gupta. Today, the breath is the mother of the family serials. But there was something to witness. She stare at the facial expressions - making - understand there is a day that it looks really nice. But it was not the same with Sakshi because the fact she portrayed the role of Parvati Bhabhi where she was always giving gyaan n all to the family members, but suddenly the role of Priya showed that really Bade acchi lagti hain..
Ekta Kapoor's serial was not imprisoned in the cage. Witness the story of the house to safety. After the story ... off pulses bread around the perverted too. Vidya Balan had to wander, but he also found a way in the form of Parineeta. There was no communication with the witness.
The entertainment , entertainment and the entertainment world of social - political - economic benefits memory (Malhotra) has Irani. Members to the Rajya Sabha today, has its own production house. Nina was also made.
The view I have not seen, so I can not say how much he will be Seksia scene. This may not be in the serial. But the true false witness statement in the paper that the scene before her sister, parents - family - friends he discussed. In the old days was called the leg or back is a duplicate.
Apr 8, 2012, 12.00AM IST
There's no need to to blow up things out of proportion, says Sakshi Tanvar, under fire from critics for the her steamy act on the small screen
Much in news, Sakshi Tanwar, aka Priya Kapoor of "Bade Acche Lagte Hain", is not happy with the way her bedroom scene in the show, is causing tounges to wag. In Varanasi to shoot for "Mohalla Assi", the actress says that unnecessary hue and cry is being made about the whole thing.
Reacting to the brouhaha, Sakshi says, "My serial has not brought sex on television. In fact, there have been serials in the past when I had not even started working, on TV, like " Tara", "Saans" and "Hasaratein", which were far bolder in content than this show is. In our show, the scene was the outcome of a gradual progression of a very mature relationship, which was eventually consummated. Though, I agree that it is perhaps one of the longest such scenes, but shows like "Maryaada" also had similar scenes. In fact, ours was not even the first liplock on TV as it being claimed out to be, so why is it being blown out of proportion?"
The actor who started off with the role of Parvati, considered to be epitome of the Indian values on tellyworld, says "I was apprehensive, initially, about doing such a bold scene since I belong to a conservative family. The creative team took a lot of time to convince me and then I needed time to convince my family. I spoke to my sister and it was she who spoke to my mom and dad about it. Once I was prepared, then it was like any other take and I did it the way an actor is suppose to shoot any scene. Moreover, I feel it was beautifully depicted and aesthetically shot. I did not get any negative feedback from any one," she adds.
The actor also rejects all the criticism, based on the ground that television is a medium for family entertainment. "The scene was not aired out of blue as the promos for the same were running 15 days prior it and were steamy enough," says Sakshi. Going further, she says, "There is a thing called remote too, which I am afraid they forget to use. The scene came at the end of the episode so why did anybody wait to see the entire episode? Right now, TV is in a state of flux, where mature subjects are being accepted. Any phase in any medium that brings about a change should be welcome," she says.
Already successful on the small screen, Sakshi is graduating to the silver screen, with "Mohalla Assi". The talented actor says that she is not ambitious. "There are no career plans for me. "Mohalla Assi" just happened, as did television. I don't do acting to prove myself. If this had been the case, I would not have sat at home for two and a half year doing nothing. Instead, I would have gone out, met people and looked for work. In fact, it took several years for Ekta to make me do "Bade Acche Lagte Hain", since she had planned to start this at the time "Kahani Ghar Ghar Ki" was off air. But I wanted to take a break after "KGGK", so "Bade Acche Lagte Hain" got delayed. I work by my instinct and I am always in a state of surrender to the amighty so I do not plan. So many of my friends call me lazy but this is what I am," says Sakshi, who has been approached by several film makers.
Ask her if she is being choosy in Bollywood, the Sakshi clarifies, "The roles I have been offered so far are not the typical commercial ones as directors who are into off beat cinema have sent feelers. In fact, I had worked in a film, "Saalon" of Pritish Nandy production house directed by Nikhil Nagesh Bhatt, which has not hit the screen so far," she says before signing off.
Ram and Priya face a new trouble in Bade Achhe Lagte Hain!
After coming across this news, we certainly feel like saluting Ekta Kapoor, known as the queen of television.
Once known for the shows based on mindless kitchen politics, Ekta and her creative seems to have come a long way. Her newly launched shows namely Bade Achhe Lagte Hain, Parichay and soon to air Kyaa Hua Tera Vaada have a realistic approach to them.
The TV czarina has taken a step ahead by highlighting the vital issue of breast cancer in highly popular Bade Achhe Lagte Hain aired on Sony TV. As seen Priya Kapoor aka Sakshi Tanwar has been reported to be suffering from breast cancer. This development has brought in a new twist in the story where Ram and Priya are struggling hard to battle this situation out. While the viewers were expecting some romantic moments between the two along with Ram accepting his love for Priya, this has come as the most unexpected of tracks.
We are glad that Ekta could think in such a way where she is not only spreading awareness about the disease but is even showcasing an ideal husband-wife relation who promises to be by each other's side under all situations.
The current track is certainly great and we hope Ekta to justify it fully!
Exit Role Model, Enter Girl Next Door
This year television's ideal bahus made way for women we are familiar with.
What would Parvati make of Priya? What would Priya, for that matter, make of Parvati? Parvati, TV's ideal bahu with her prim bun of hair, the sindoor emblazoning her status, the perfect pleats of her saree matching the equanimity of her demeanour. Parvati, the protector and the preserver of the Aggarwal parivar.
Priya's long hair, on the other hand, falls untidily about her face, her saree spills off her body as if it has a will of its own and she giggles insanely; she's 30-something, carefree, recently married to a very large Mr Ram Kapoor and doesn't care much for the Kapoor clan. Priya tipples and sings Bollywood songs; Parvati sang bhajans at aarti and drank water only, always neat.
A funny thing has happened to Sakshi Tanwar as she went from the first decade of this century to the next: the actress who played the straitlaced and self righteous Parvati bhabhi of Kahani Ghar Ghar Ki is now the bubbly, wide-eyed wife of Bade Achche Lagte Hain. They're about four years apart, on the screen, and no two women could be more unlike: if they met, they'd disapprove of one another, instantly. Come to think of it, Parvati would sniff at many of today's leading ladies and they are likely to stick out their tongues at her.
Ram-Priya (Ram Kapoor And Sakshi Tanwar)

It's a bet that none of the above couples could beat their chemistry on Indian television. The middle-aged couple is rocking on screen and their chota-mota fights make it even cuter.
Revved up on success- Sakshi Tanwar
Sakshi Tanwar is not only a popular figure on television but a talented actress who recaptured her glory with her hit show Sony's
Bade Achche Lagte Hain
. At the Big Star Entertainment Awards, she was in all glory, dolled up in a sari and with a spring in her step. Was she confident on winning some awards? We ask her about doing a film with Ekta and the success of her show.

Success of show
When we all work towards a goal and it becomes a hit, the feeling of euphoria is unbelievable. When the product works, the drive from home to work doesn't seem long and the hours don't seem endless either. I am enjoying my work and I couldn't be happier that the audiences love Bade Achche Lagte Hain.

Film with Ekta

I heard about this but I have no clue if I am doing a film with Ekta. She is the best person to answer this question. You should ask her. As for doing films in the future, if I like the story and the character offered to me, I would love to do films.

Her Sari

I had gone to Banaras and I bought this Banarsi sari. I love the rust colour and the texture of the fabric. This occasion seemed apt to wear it. I like wearing saris as I have worn them for my TV shows too in the past.

New Year plans

I will be at home celebrating New Year's with my family. With hectic schedules I don't get enough time with them, so this would be a great opportunity to ring in the New Year with the people I love.

Winning awards

Awards matter as they are the recognition for the whole team. It is a support for the whole team. We will keep doing good work till the audiences' appreciates our work.
Red bindi style

Sakshi wore a red bindi with her banarsi sari and a blouse that showed off her back. "I love the colour red and it worked well. And deep back blouses too work wonders."
2011's Most Lovable Actors
Sakshi Tanwar

From director and co-stars to fans and media, who doesn't love Sakshi Tanwar? She is jovial, friendly and talented. After a hiatus of two years, Sakshi returned to television with Balaji's
Bade Achhe Lagte Hain
on Sony. Delivering a powerhouse performance, as the unmarried 30+ Priya who gets into an arranged marriage, Sakshi even won the Best Actress award for the show. We are buoyant that she will continue her charm in 2012.
Sakshi Tanwar meets Salman Khan
It is a rare moment to see a star light up when they spot another star. The same happened to telly land's hit heroine Sakshi Tanwar who was getting ready to pose for the shutterbugs, when Salman Khan walked in and stole the limelight. But Sakshi was all smiles and waited her turn bravely. She even engaged in a little smile and exchanged greetings with the Khan star. Cho Chweet.

Ektas new heroine!

After putting Vidya through the gruelling sessions of weight loss and weight gain and making her the ultimate male fantasy,Ekta Kapoors found her next project.And she didnt have to look too far beyond her own production house for her next leading lady.The lucky lady is Sakshi Tanwar the coy Parvati bhabhi from Kahaani Ghar Ghar Kii,and the protagonist of Ektas new show,Bade Acche Lagte Hain.In an exclusive chat with Telly Talk,Ekta revealed,Ive told Sakshi that I want to launch her in Bollywood.She insisted that she was too old for a Bollywood debut,but Im not going to give up.Shell be launched in one of my productions.
Watch Ekta Kapoors exclusive interview on Telly Talk this Fri,Dec 9 at 12.30 pm on zoOm
Indias No 1 Bollywood channel.

BIG SCREEN HERE I COME: Sakshi Tanwar



Brand ambassador of arranged marriages
Sakshi Tanwar wins award--Indya.Com
Sony's and Balaji's most happening fiction show Bade Achche Lagte Hain is making waves everywhere. The show has given us new on-screen hit jodi Ram Kapoor & Sakshi Tanwar.

The audiences have appreciated their chemistry and the show received its' first taste of success at the recent awards function Indian Television Academy Awards 2011.
The show bagged four awards in the Jury category. The show got award for Best Serial Drama (Jury),Best Director Drama (Jury)-Ravindra Gautam, Best Actor Drama (Jury) 'Ram Kapoor and Best Actress (Jury) 'Sakshi Tanwar. We spoke to an elated Sakshi Tanwar aka Priya Kapoor on the success of the show.
"I would like to thank the jury of ITA for giving me the award for best actress category. For me, this award is very special because I share this award with none other than Surekhaji aka Dadisa from Colors hit show Balika Vadhu, a much respected and admired actress on television."
Further we asked her about her on-screen honeymoon sequence, "I have no clue about this track and its' not yet confirmed, so I really can't comment on it."
After Sakshi Tanwar, we texted Ram Kapoor for his reaction but he sent an sms saying, "I am not in India and I will be back after three weeks."
Don't forget to watch Sony's
Bade Achche Lagte Hain
every Monday to Friday at 10.30 pm.
Sony tv's upcoming show Bade Achche Lagte hain gives a unique concept...
Sony's
Bade Acche Laggte Hai
' Yeh Dharti,Yeh Nadiya,Yeh Rainna Aur Tum, produced by Balaji Telefilms we hear, will talk of the repercussions caused in two families, after the dual marriages that happen in the house holds.
A little birdie tells us, " The basic plot of the story arises from the fact that
Saakshi Tanwar
's brother Kartik, played by
Mohit Malhotra
is in love with
Ram Kapoor
's sister, played by Sumona. Kartik being a very responsible brother will not commit to getting into a tie of marriage with the girl till the time he gets his elder sister Saakshi married. And this will bring Ram, the suave and enterprising business man into the picture. He will decide to look for a suitor for Sakshi, in order to see his sister happily settled".
This journey of Ram to find a suitor for Saakshi will eventually end in the couple getting together. The story will also focus on the repercussions that one marriage will create on the other.
So get ready for a Love V/s Arranged marriage scenario in Sony's new offering that launches on 30th May.
Swapna Waghmare Joshi is tipped to direct Ekta Kapoor's next show on Sony, which is likely to see the comeback of Sakshi Tanwar and RamKapoor..

Ekta Kapoor will soon be back with a fiction show on Sony Entertainment Television.. The show is apparently a fascinating love story between a middle aged guy and a lady. With this show,
Ram Kapoor
and Sakshi Tanwar, the two loyalists of Balaji Telefilms are expected to stage a comeback.
Our source states, "The show will focus on the pure romance between a middle aged guy and a lady. Ram and Sakshi have been approached for the show, and talks are on at the moment. They have in fact verbally committed to the show, and formalities are being worked out at the moment".
The news abuzz is that Swapna Waghmare Joshi, the renowned Director who is presently co-producing
Rang Badalti Odhani
along with Beyond Dreams has been roped in to direct this special show.
"Swapna and Ekta's association has always been strong, and they have worked together for many years now. Ekta is indeed looking forward to working with Swapnaji all over again", adds our source.
When contacted, Swapna Waghmare Joshi told TellyBuzz, "Yes, talks are on with Ekta. We have had one narration and Ekta has an interesting concept in mind, and wants me to get on board as Director. But nothing has been finalized till now".
The show is supposed to have a tentative long title in 'Bade Achche Lagte Hai' Ye Dharti Ye Ambar Aur Tum'. The show is expected to launch in April at a prime time slot.
We tried contacting
Ram Kapoor
and Sakshi Tanwar, but both remained unavailable.
Medium is not important the role is
For the last eight years, the nation has known her as Parvati Agarwal. In fact, so powerful has been her presence and role that viewers just refused to accept her in any other role. It would not be an overstatement to say that she, along with Smriti Irani (Tulsi in
Kyun Ki'
) epitomized the character of a
bahu
in Indian television. Meet Saakshi Tanwar, who has taken a new stride in her career by deciding to move to the big screen. The pretty actress chatted with Tellychakkar on life after
Kahaani Ghar Ghar Ki,
her upcoming film
Coffee House
and other plans for the future.
How is life after Kahaani Ghar Ghar Ki?
(smiles) Well, I have to admit that initially it was very weird! It was difficult to imagine a day when I could wake up late and leisurely do everything instead of rushing to get ready and heading for the sets of Kahani 'Guess eight years had made me get used to the routine! I really felt weird and lost when I did not have to go to the sets of Kahaani, meet my colleagues and start shooting for an episode. It was difficult to adjust.
But I guess I needed this break ' on the personal and professional front. In fact, I feel even the audience needed a break from me! I am sure they were also getting bored seeing the same face in the same role for eight years!
I went on a long holiday to the US and UK and chilled out. This is the first time I went on a holiday without having a tight schedule. I really took it easy and stayed there for as long as I wanted to. After coming back to India, I went to Rajasthan and spent a month with my parents. I am back now, recharged to take on new challenges in my professional life.
Are you in touch with your Kahaani' colleagues?
Yes of course! They are like my second family. We had been working together for eight years and these are the people who supported me when I came to Mumbai eight years back. I am in touch with almost everyone associated with this show and we meet up pretty often.
Did you watch television during this break?
When I was working in Kahaani', I hardly got time to watch even one episode of any show. However, after Kahaani', I have been relaxing and watching two Balaji shows regularly ' Bandini and Kitni Mohabbat Hai and am liking both of them. Another serial I have been following is Balika Badhu ' it is one of the best ongoing shows today. However, in the last few days there is some interior work that is going on in my house and thus I am not being able to watch television.
Did you stay away from work completely?
Not really. I have a friend who has a production company. She offered me a very interesting role for a month. She produces a serial called Samman for DD1 and wanted me to help her with the production of the serial. It was a fantastic opportunity and I readily accepted it. Today I am thankful and grateful to her for having given me this opportunity.
Actors come on the sets, deliver their bit and go back thinking they are the most important aspect of a show. But this behind-the-scenes stint taught me how important the other aspects of production are. I did everything ' reading and discussing scripts, sitting in the editing table, deciding on sets and even going down on my knees to find a lost earring of the heroine to ensure continuity! I think I am much enlightened after this stint. My friend was very gracious in putting my name in the credit list as creative consultant.
How did you get the offer for Coffee House?
While I was shooting for Kahaani 'I got a call from the director of Coffee House ' Gurbir Singh. He asked me whether I was ready to take up a role in his film. Not many people are aware that Gurbirji was the person who offered me my first role in television ' for a show called Dastoor. Those days I was a greenhorn, but still he had faith in my capabilities and offered me the role. Since the offer of Coffee House came from him, I definitely had to give it a good thought.
Plus, many times it has happened in my life ' and perhaps in everyone's life ' while talking to someone about a project, an instinct tells you that it is something good for you. There may apparently be no rhyme or reason, but you do sense an inner voice telling you that it will be good. I got the same feeling with this film. Plus my saying yes also meant me saying thank you to him for restoring his faith in me.
Tell us something about the film and your role in it.
I am playing the role of Kavita, the wife of the male protagonist (played by Ashutosh Rana) Kamal. He owns a newspaper and runs a theatre group. Both of them are completely different individuals and have different ways to approach life and have varied ideologies. Kavita brings in the much required balance in their relationship.
The couple visits a coffee house where they meet up with a number of friends and discuss their life, politics and the society in general. They spend hours there to understand different points or view and also present theirs on various issues. In other words, Coffee House is a contemporary, socio economic statement.
Have you ever been to a coffee house in your real life?
Yes of course! During my college days in Delhi, we used to go to Coffee House a lot. And anyone who has visited a coffee house will know that this is usually located close to the University and government run. As a result, you get inexpensive but good food there. So it was a much-favoured hangout during our college days, since we had to run on limited pocket money. Most of our birthday parties and other celebrations took place in coffee house. So I can relate to the film's scenario very well!
Any plans for the small screen? Will it take a back seat with you being busy with Coffee House?
Honestly speaking, I believe that we are ruled by our destiny. In my eight years of television career, I have never met anyone with a request to give me a role. But destiny has its own plans stored for me. If working in films was there in my destiny, I could have done this movie six years back. But that is not how it was supposed to be.
For me the medium is not important, the role is. If the role is good, I am ready to do a film, TV serial or a street play ' it does not matter to me. Also, for most actors getting out of the comfort zone is very important. I am happy that I have been able to do that after Kahaani. I feel now is the time when I need to create my niche space in the industry.
Television is changing. Films are becoming more experimental. I think the division and gap between films and television is getting bridged.
Any plans of getting married and settling down in your personal life?
(Smiles) I am sorry I could not hear that question!
| | |
| --- | --- |
| Srabanti Chakraborty | Posted on 26 March 2009 3:30 pm |
Suvidha Gaurav awards
A galaxy of over 27 showbiz awardees were honoured with prestigious dazzling 'Suvidha Gaurav' trophies at the 22nd Suvidha Foundation Awards (NGO) event 2009 convened by its President Shankar Lalwani on Sunday 12th April late evening. Prominent among the award-winners were Bollywood actor-models Ayaz Khan (the Casanova character in JAANE TU YA JAANE NA), Manisha Kelkar (LOTTERY movie--promising debut), Meghna Naidu , vivacious actress-model Neha Mishra for smart debut in movie COFFEE HOUSE), Manish Rajsinghani, Pooja Ghai, Anjana Sukhani, Girija Oak (of TAARE ZAMEEN PAR), Rucha Gujarati (LOTTERY), pop-playback singer Sneha Pant & actress-singer Simran Sood. The coveted 'TV Superstar Awards' were presented to Saakshi Tanwar (Parvati of 'Kahani Ghar Ghar Ki') and to 'dude' actor-cum-TV show host Shabbir Ahluwalia amidst thunderous applause Meanwhile the husband-wife duo Sunjoy and Comall Waddhwa (of 'Sphere Origins') who have produced over a dozen Top-TRPs serials including 'Saat Phere' and 'Balika Vadhu' were honoured for their trend-setting excellence in TV software.
We are drama queens
KATHMANDU, July 22: A decade ago, Sakshi Tanwar was nobody to many, like most of us. Her father dreamt of her becoming a software consultant. And he invested heavily on her studies in in Software Engineering. She walked around as a free bird with no big dreams. She had options: if she would not be a software consultant, she would pursue either teaching students at a school or a job as civil servant.
And one day she met Ekta Kapoor (of the Balaji Telefilms). After which everything changed for her.
"I sill remember that day nine years ago. As I met Ekta, she offered me the lead role in her serial. I wasn't comfortable in the beginning. She warned me how my life would change in two weeks if I signed her offer," Sakshi reminiscenes.
And it did.
The idea was to accept the challenge of Ekta Kapoor. The debutante accepted the offer and got into her first serial. Her first step to showbiz was called "Kahani Ghar Gharki" (KGGK)
Before KGGK, there were hardly any teleserials on Star Plus channel. A different genre of Hindi soaps including crime investigation and horror used to dominate the evening shows. The household stories of "normal families" were never the content for the television audience. With the arrival of KGGK and "Kyunki Saas Bhi Kabhi Bahu Thi" ' another Balaji production ' and wave of such women-based family shows the idea of producing such shows was soon adopted by Sony Television, Star's archrival in India. In fact, KGGK was one of the very few teleserials and one by Ekta Kapoor that ran for eight straight years and got the highest TRPs for Star Plus so far. Now Star Plus is entirely known for daily soaps that are based on family dramas and are high on emotive story content. In Nepal, the audience limited itself to Pakistani teleserials shown on Nepal Television (NTV).
Sakshi, more popularly known as Parvati of KGGK, had her role in the serial well received not only in India but also in Nepal. Housewives started to gather around their television every evening and the story content started to dictate the norm and understanding of a middle class urban family. The wives, daughters and mothers fell in love with Tanwar's character, and they made sure that they didn't miss any of the episodes. And if they did, they made sure they were updated with either a re-run or from their "saheli." It was then began the battles between husband and wife, father and mother started to erupt in families across. Men could not stand the soaps while women could not stop gluing themselves to such shows. The intense attraction of the family dramas may have shifted to reality-based shows like Indian Idol and Rakhi ki Swayambher, but the tussle between the men and women for remote control still holds strong.
On her short visit to Kathmandu for the promotion of a women's accessory product, Sakshi Tanwar talked to Republica about the growing popularity of serials in India, its influences, her career and more.
Excerpts:
Republica: Just like in India, there are a lot of people in Nepal, too, who love watching Hindi serials. How do you guys make people addicted so much?
Sakshi: See, when KGGK started, we wanted to make sure that we touched everything that happened to one's life. We wanted to deal with human emotions and we wanted to give people different ways of coming out their problems. We largely succeeded. That's why we're loved by so many.
You're talking about going close to reality through serials. You mean to say all that emotional dramas keep on taking place in real life? Often, it's just tragedies in serials.
Don't you think human life is so full of tragedies and miseries? And when it comes to women, it's even more. Isn't it a truth that we go through difficult times more that we come across happiness?
But because of these serials, men are often upset with their wives. Channels like Star Plus and Sony show serials one after the other and mostly during the evenings and men don't get to grab the remote control.
If the remote control is left to your "home minister" just for the evening hours only, what's so wrong about it? [Laughs]. Women look after everything from dawn to night. So let her chill down during the evening, and let her relate her own life and problems to the serials.
You said the kind of family drama serials Star Plus has been coming up with helps people come out of their problems. But there have been much complaints that the same serials add mess to households.
How can you say that? We always show that no matter what, truth wins by the end.
It may be true. But those sisters-in-law, who never fought before, started fighting with each other because they are influenced by Parvati and Pallavi of KGGK going the opposite directions in the serial. They are influenced by their lifestyles, and the accommodation standards your serials often depict. Now they want highly embellished and sophisticated lifestyle, heavy makeup kits, jewelries like you all wear. Even in boutiques, women are found saying 'I want saris like Parvati and Prerana wear in their serials.'
Yes, it's true that women want to look like us, want to dress up stylishly like the actors do in the serial. But what's wrong about that? Women are often tagged with beauty and sensitivity, aren't they? And if so, we ought to be beautiful. Even men want their wives to be like Parvati, a dedicated wife, a good homemaker, a good daughter-in-law, and a responsible mother. But they forget to be like Om (Parvati's husband in KGGK)) ' a complete man in all disciplines. So if you behave like Parvati, your in-laws will get all what you want.
You talk about getting close to reality. Everything's portrayed so picture-perfect in the serials. But don't you think women in real life don't wake up wearing an embroidered sari on and in full makeup even when they are physically ill. Take yourself for example. You must've been 90 to 100 years in KGGK before the serial came to an end. And you still looked like you were in your mid-thirties when you already had you great grandson.
[Laughs aloud] See, somewhere one has to draw the line between fiction and reality. You can't bring a 90-year-old to do the role. Besides, as actors, we come at the last stage of filming. We do have our say but we don't poke into the ideas of producers and directors. All of us are given our jobs. We concentrate on that. Apart from that, there's always good and bad about everything. It's up to you to what you want to take up.
Why do you think almost all Indian serials are so women-oriented? Can't there be serials based on lifestyles of men?
We have to admit that women are very emotional. We're drama queens, and television is a medium for us to get inspiration. We can't be rational like men. We don't understand James Bond coming out and shooting here and there all the time. We want relief, and we look forward to relating ourselves to something that's close to us. So serials are the right platform for women to come up with all that they face in their lives. And there are other reality shows for men on various channels.
Okay, coming to your personal life, KKGK ended more than half a year ago. What next in your career now?
After working for eight years, I surely deserve some rest. I've already worked for Ashutosh Rana's upcoming film "Coffeehouse" and I'm doing the Crime against Women program in Doordarshan. I guess I may not be doing serials again because somewhere in life you need to move in another direction. Let the new generation follow our steps. I'm single and I hope to be like my character in real life too.



How came Parvati from SakshiA grey-haired Parvati bhabi wouldn't work'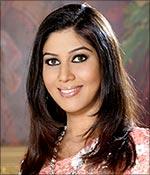 Sakshi Tanwar
S
akshi Tanwar
is not your regular television
bahu
. For starters, she is
Ekta Kapoor's favourite bahu
. Secondly, the actress has had a stunning makeover by Manish Malhotra when her serial,
Kahani Ghar Ghar Ki
, went through a generation leap.
So instead of an older, greyer woman, Sakshi's Parvati bhabi looks more glamorous now.
Srabanti Chakrabarti spoke to Sakshi about herself, her initial years in showbiz, and playing a gorgeous 60-year-old woman.
You have become an established actress now. Looking back, do you feel you have achieved what you wanted?
Frankly, I never thought I would become such a busy actress. I always wanted to do something creative and had an interest in acting. But I never thought it would become my career.
I took studies very seriously and wanted to become an IAS officer. I was also very active in extra-curricular activities especially acting, dancing and elocution. But I did not do it with the intention of becoming an actress.
From an aspiring IAS officer to a TV actress, how did the transition happen?
When I was in Delhi, I would do small roles in Doordarshan programmes. Since I had a passion for acting, I did some roles for Sony and Star Plus too. I came to Mumbai for one of those serials, and stayed with a friend.
As luck turned out, she had some work at a Balaji studio and took me along. Ekta's aunt noticed me and asked me to leave my portfolio. Unfortunately, I didn't have a portfolio then. In fact, I still don't have one. So I left a few working stills with them.
So that's how Sakshi became Parvati?
Yes. Ekta saw my photographs and within a month, when I was visiting the Balaji studio again for some work, she spotted me.
'You are my Parvati,' she said.
I thought she was talking to someone else. Only after she said, 'Excuse me, I am talking to you,' did I realise that I had bagged the role!
But I was not sure whether I wanted to take it up because I was just starting my career and was being offered the role of a bari bahu (eldest daughter-in-law). When I expressed my concern to Ekta, she narrated my role in detail and told me that within a week of the serial being launched, people will call me Parvati. And that actually happened.
Tell us something about the initial days of getting into Parvati's skin.
Don't ask me. When we started shooting for Kahani, we would work for 15-16 hours every day. It was like getting into a new life altogether. I hardly had time to think of anything else.
At times I would feel so low that I would call my mother and start cribbing about the work schedules. It was only after she scolded me and said that I need to stick my decision, did I realise that there is no shortcut to success.
After playing Parvati for so many years, has Sakshi Tanwar changed as a person?

Sakshi has remained the same person. I have become more confident and responsible after playing the role for such a long time. Today, I live alone in Mumbai; something I never dreamt would happen.
Being the youngest in my family, I have always been pampered. So, this is something that Parvati has taught me.
Parvati and Sakshi are different in many ways. While she is the decision maker in the family, I prefer if my decisions are taken by others.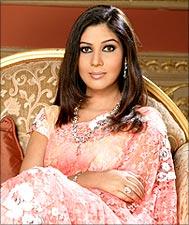 What is Sakshi's weakness?
Sleeping! I am extremely fond of sleeping. Whenever I get some time off, I catch up on sleep. On my day-offs, all I do is sleep.
You have not been seen in other serials for a long time...
That's not entirely true. When Kahani started, there was hardly any time for me to do anything else. When I did get the time, I started working in serials like Devi, Gurukul and Sansar. But I realised I was working 24/7. I didn't want that.
Now, I am happy and content with just one serial. Besides, most of the offers I was getting were similar to Parvati.
Are you happy with your new look -- that of a 60-year-old woman without any signs of greying?
As an actor, I am never really concerned about my getup. The modern look that you see Parvati in now is a decision taken by Ekta. I have immense faith in her. Plus, I believe that you cannot judge a person by her dress.
In the last six years that Parvati has been seen on screen, she has got her share of success and failure. She was vulnerable, she made mistakes and learned from them. Now, she makes a comeback with a motto of revenge and a grey-haired Parvati wouldn't have conveyed the message properly. Thus, the modern look.
Sakshi talks about her filmSakshi Tanwar aka Parvati bhabhi of Kahaani Ghar Ghar Kii will make her big screen appearance in Pritish Nandy's Saluun directed by Nikhil Bhagat.Before this she did a film called Coffee House with Ashutosh Rana.
Why you signed this film?
"My instinct guides me while signing any project. I found the plot very fresh and the character very striking. Saluun is a black comedy and the subject is very fascinating. Sasiji my character has shades that I had not explored as an actor earlier, and I found the character quite interesting. "
How is Sasiji different from Parvati bhabhi?
"Sasiji
is an agitator (firebrand) but how different she is from Parvati is something you will have to wait and watch."

After Kahaani you suddenly disappeared,so what is the reason?
"It was a conscious decision to be on this gap. I have been part of the creative team of a show
Sammaan Ek Adhikaar
on DD 1. The show is on air for ten months now and being on the other side of the camera was learning and inspiring experience."
With the entry in films, have you quit TV?
No. I am not on TV five days a week but I am very much around. I am in touch with Ekta, of course. Balaji was a family; still is. I recently finished a made-for-TV film, similar to HBO's one-hour series. It is adapted from the classic story Kabuliwala and is a tribute to Tagore. It is produced by Rohit Roy Productions and is directed by Sudipto Chattopadhyay. "
So now what after Saluun?
"I am and will always be open to exciting roles. Whether they are on film or on TV... My short film O Re Manvaa that recently screened at the New York International Independent Film and Video Festival and was well received. I also plan to accompany PNC to the Cairo International Film Festival where Saluun will be screened."
About the film
Saluun is the story, which based on the incident that took place in villages in Bhiwandi taluka in 2000 where the villagers decided to teach a lesson to the Government officers who had filched all the money sent for digging wells under the Integrated Rural Development Programme (IRDP) scheme. Apart from Sakshi Tanwar,Gaurav Kapur,Razak Khan and Murli Sharma are other star cast.
Ratings dont guide my performance.. Sakshi Tanwar
Now that Sakhshi Tanwar is back on TV-circuit she is all set to break her Bhabhi image. These days she is not at all touching upon any thing, which is even remotely close to Bhabhigiri. Apart from hosting Crime Patrol, she was also seen lately in a small but substantial cameo of a Rajasthani-woman. She is yet again in light to have entered as a Rajasthani woman in Colors's popular show Balika Vadhu. In an interview, the excited actress candidly spoke of her entry in BV and the journey so far.

Shed some light on your entry in Balika Vadhu?
I play the role of Teepri who in her childhood used to play with Bhairon and Basant, and was Maa sa's favourite. After many years, circumstances make Maa sa bring her back to their house and in their lives too. What follows thereof is what the story entails. More than me my parents are happy about my entry in Balika Vadhu as it is one of their favorite shows. My niece and Mom are going to love it the most.

After a Rajasthani cameo in Do Saheliyaan and then Balika Vadhu which is again a Rajasthani cameo, what are you heading to?
I would call it a mere coincidence that after the cameo in Do Saheliyan, I am offered the role of Teepri in Balika Vadhu, which also has Rajasthan as the backdrop. As far as cameo is concerned for me whether it's a cameo or full-fledged role, a role is a role. I am game for challenging roles.

Why would you opt for a show that's already been running for a year and a half?
I had been waiting for something different and challenging. The character of Teepri is beautifully penned by Purnendu ji (writer of the show) so when I was offered I took up.

Do you feel your entry will help the ratings shoot up?
As an actor my job is to portray the character I am given, with full conviction and sincerity. The rest is for the audience to judge. Ratings don't guide my performance.

Is your exit from the show is pre-decided or will depend on the ratings?
I have just begun and I hope that by the end of my journey in Balika, however long it is, people say "Just so long!"

What kind of offers you are turning down at this stage of your career?
What really matters is what roles I am doing presently.

Do you think the swarming new comers have left little scope for seasoned actor?
Even seasoned actors were newcomers once. But like my dear friend Achint says, "In every lot of newcomers, there are few actors who make their mark and are here to stay."

Had the journey been satisfactory so far?
As an actor, one is never satisfied with what one has done. There is always room for improvement. I personally feel that television is a writer's medium and I was very lucky to have got good author backed central roles to portray whether it was Kahaani Ghar Ghar Kii or Devi.
Sakshi to be seen in a detective show
Abhishek Sharma was last seen as Hritik Roshan's younger brother in the blockbuster film Kaho Naa Pyar Hai. He is all set to do his TV debut with Walkwater's upcoming detective show. The show is as of now untitled and is slated to air sometime post IPL. Varun Badola , Kiku Sharda and Abhishek Sharma trio will play detective in the serial. Apparently, Sakshi Tanwar will also be seen in a cameo. Presently the team is shooting a song sequence where the trio is performing on the song from the film, Amar Akbar Anthony. Sakshi will play a rich and royal lady who fears the theft of her expensive necklace worth a fortune. And so she approaches the three detectives to help her nab the suspect.
PNC Saluun
Mystery man in Sakshi's life (Balika Vadhu)
TNN May 14, 2010, 12.00am IST
Balika Vadhu may not be ruling the TRP charts anymore, but efforts to bring in newer tracks to boost TRPs are constantly on.
Now there's a mystery man linked with Teepri (played by Sakshi Tanwar), who will enter the show. Some high points in the serial are expected in the days to come. Anandi will leave a gas knob open in the kitchen and there'll be a fire after which an angry Maasa will put down many restrictions on the little bahu. The fire sequence will be followed by the entry of the mysterious character. He will be shown inquiring about Teepri in the village. If the character clicks, the track will be taken ahead. Last heard, actor Manav Sohal has been selected to play this role and he has started shooting for it. The serial apart, what's happening in Sakshi's personal life? Well, the lady always maintains she is happily single. We haven't really heard of any link-ups either. Guess, she's married to her work and likes it that way.
Rupali goes ga-ga over Teepri
May 15, 2010 (Sampurn Wire):Having played the good Indian Bahu for a considerable period of time, Sakshi Tanwar a.k.a. Parvati of Kahani Ghar Ghar Ki took the audiences by surprise with her entry in Balika Vadhu as the villainous obsessed lover. And with that the Indian television scenario witnessed its virtuous daughter- in - law turning into this sly, mean vamp hell bent on destroying the happiness of a good Indian happy family.
Whether the change was welcomed by the Indian janta is yet to be tested but news has it that Sakshi has managed to create a fan following already. It seems Rupali Ganguly popularly known as Monisha of Sarabhai Vs Sarabhai cannot help going ga- ga over Sakshi's performance as Teepri. In a chit Chat with TellyCafe Rupali says, "Amazing performance .Absolutely stunning .It's also the most interesting character on television today."
Well, Sakshi's new avatar has definitely not gone unnoticed.
Sakshi goes down the memory lane
At Ekta Kappor's Birthday bash
Ekta Kapoor's delayed birthday bash on Wednesday night was high on the fun quotient. There was the usual TV crowd -- Saakshi Tanwar, Hiten-Gauri, Ronit Roy, Shabbir Ahluwalia.
Also present was the Once Upon A Time in Mumbai gang -- Kangna Ranaut, Emraan Hashmi and Prachi Desai. And the Bandra boys -- Karan Johar, Manish Malhotra, Kunal Kapoor, Sameer Soni and the lovely Neelam.
Sakshi talks about rain
The manner in which the rain falls and cleans everything around is both cathartic and therapeutic. I love going with friends to the hills to quietly watch the rainfall.
Sakshi to be roped in CP season.2 again
Sony's Crime Patrol which had a very successful run in its first season is soon to return.
We hear that the show will begin in the end of September and will be a biweekly to start with. Optimistiz and Sony will be retaining the host of season 1. Anup Soni initially, and might rope in Saakshi Tanwar later.

When contacted, Producer Sanjiv Sharma said, " Yes the channel is committed to bring back Crime Patrol the launch is going to happen very quickly the first season saw lots of success and we will be retaining the same flavor for season 2. We have had lot more time this time for our pre-production phase and we are looking ahead for the launch."
Producer, Vipul Shah too asserted "Crime Patrol will return to be a biweekly. It will launch at the end of this month but we have not been confirmed the exact launch date and time slot."
We tried calling
Anup Soni
but he remained unavailable for comment.
In Meethi Chhoori No.1
As we know,
Imagine
is coming up with a different show, titled
Meethi Chhoori No. 1
following the trend of bringing to small screen different concepts.
According to our source, "The unique chat show will see women talking about issues. We have always witnessed women bitching about each other but in this show a celebrity has to do it openly. Right on the face and even rate the other celebrities."
Adds the source, "In one of the episodes
Neha Marda, Yami Gautam, Ragini Khanna, Veebha Anand, Karishma Tanna, Urvashi Dholakia, Rakshandha Khan
and
Rupali Ganguly
will discuss about an issue and also comment on tricky issues. What makes it interesting is that they would comment about each other and not generally."
Tellybuzz had already reported few names like
Rubina Dilaik
, Ashita Dhawan,
Rupali Ganguly
and Kashmera Shah. We had also said that Jay Bhanushali and Shabbir Ahluwalia will be hosting the show.
A little birdie further says, "Shweta Tiwari, Saakshi Tanwar, Mona Vasu (
winner of Iss Jungle Se muje Bachao) and
Shweta Salve
(last seen in Fear factor) will also be part of the 25 celebrities who will be part of the show.
Gauri Pradhan Tejwani
too is making a comeback with this show after the hiatus she'd taken for pregnancy.
Let's wait and watch to know more of the masaledaar concept..


Edited by Anamika163 - 14 April 2012 at 12:48pm