UNDER CONSTRUCTION ( STILL ADDING OTHER INFO)
Hey guys . Welcome to the bollywood beauties club! This club is not only about 1 single star but 3 !! Shez beautiful , popular and talented ! Please welcome the 3 beauties......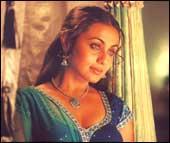 *I will start off with each actress*
******************************************************
Name : Priyanka Chopra
Occupation: Actress
Birthday:July 18, 1982
Place of Birth : Jamshedpur , India
Zodia Sign : Cancer
Height : 5'8
weight : 53 kg
Hair Color : Black
Eye Color : Dark brown
Family : Capt. Dr. Ashok Chopra & Dr.Madhu Chopra
Hobbies : India music , dance, flair for poetry, short stories, enjoys reading biographies.
Awards : Miss World 2000
Pictures ( with lil captions made by me . No offense to any celeb fans) :
Priyanka : " Akshay what perfume do you use , it is so refreshing."
Akshay : " Forget the perfume , what shampoo do you use ? "
******************************************************
Name : Rani Mukherjee
Occupation: Actress / Model
Birthday : March 21 , 1978
Place of Birth : Bengal, India
Height : 5'3
Family : Director Ram Mukherjeee,Cousin of Kajol
First Movie : Raja Ki Aayegi Baraat
Favorite comic: Archie and Donald Duck
Favorite outfit: Anything comfortable
Favorite hobby: Dancing
Favorite food: Fish made by her mom.
Favorite holiday: Sikkim
Favorite gift: Diamond ring her dad gave her.
Her favorite film is 'Titanic' along with that her favorite song is 'My Heart Will Go On' from 'Titanic'.
Favorite Perfume: Polo Sport
Her beauty secret is that she soaks herself with moisturizer. Rani who lost all the extra flab with "a balanced diet and junking sweets", lives on "home-cooked food - dal, roti, salad and soup." Fastfood and colas are a no-no, instead it's "nariyal pani, nimbu pani, jal jeera and water."
Won best actress for 'Hum Tum' in the 50th Filmfare, Screen, Cinegoers, Sports World, 1st GIFA, and Zee Cine awards (2004).
Won best supporting actress for 'Yuva' in the 50th Filmfare, Screen, Cinegoers, and Sports World awards (2004).
Won Sports World and South Africa awards for best supporting actress in 'Veer Zaara' (2004).
Won Sports World Jodi of the Year with Saif Ali Khan (2004).
Only actress on Filmfare power list (2004).
Won a Filmfare award for best supporting actress for 'Kuch Kuch Hota Hai.' Directors then started taking her seriously, and then she signed up to do 22 films.



Pictures :
MY best picture got lost!


Rani : HUH!! The ceiling is falling off !!!
Abhishek : Dont worry you are here to protect me anywyz.
******************************************************
PREITY ZINTA INFO ADDED TOM! PLEASE JOIN AS THIS WILL BE A SUPERHIT CLUB N ACTIVE!!!!!!!!!!ENCOURAGE FRIENDS TO JOIN AS WELL>>>REMEBER SITE IS STILL UNDER CONSTRUCTION!


Edited by #1 Bolly fan - 05 May 2006 at 5:57pm