Posted:

23 January 2012 at 10:53am

| IP Logged

Hi everybody. So far I'm loving this drama and it's really interesting to watch. So I was watching yesterday's episode (22nd Jan) this afternoon and I couldn't help but notice that Shikha's outfit is the same one as they used in IPKKND. I just thought I'd share this with you; not comparing or anything. But it just caught my attention. I'll show you the pictures: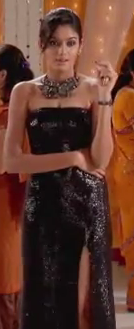 I just thought of sharing it that's all - no comparisons here. Both the ladies look beautiful in it.


Edited by TimelessBeauty - 23 January 2012 at 1:32pm