ShivaOm
Hi all, I'm Sia.
I have got this privilege of updating the Written version of the show for
Mondays
and
Fridays
.
I would like to thank you for giving me this opportunity.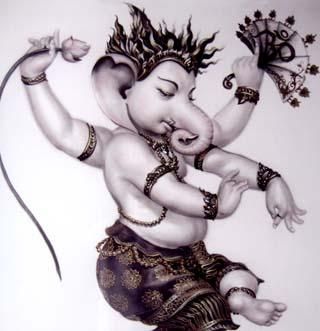 Devon Ke Dev Mahadev
Episode 34
20/01/2012-Friday




At Nandi's home
Nandi sits there sad and broken,Shilad then comes..but Nandi refuses his father's request to have something to eat
Naradji appears calls out "Nandi? "
Nandi pays his respect to him..
"How can i accept your reverence when your not even facing me?"says Naradji
Nandi then stands straight with a bruised soul shows his reverence to Naradji. All of a sudden his face brightens a little to the thought that Naradji could have gone to the Kailas,and he asks the same to Naradji
About well being of Mahadev.
Narada smiles and directs Nandi towards someone across the area in front of his home..everyone turn towards the direction directed by Naradji
Its non other than Mahadev himself..who has come all the way from Kailasa to Nandi's place (aww how kind Mahadev is)
Nandi gets surprised by seeing Mahadev in front of him,but all his
surprise -happiness - excitement vanishes in a moment.
Naradji informs him that without him Kailas is deserted and that even Mahadev couldn't stay away from him for long.
Mahadev stands at a distance with a serene smile waiting for Nandi.
Shilad says to Nandi that all this time he wanted to meet Mahadev so desperately and now why isn't he going?
Mahadev comes to Nandi himself and utters "Nandi?"
"You are so upset with me that you don't even want to see me,don't you want to go back to Kailas (your home) with me?"
Nandi is like overwhelmed and apologies to Mahadev
(And now is the most touching scene where... )
Mahadev clears it out to Nandi that he(Mahadev) is not gonna move till Nandi doesn't come with him.
Mahadev thus says that "There no bigger devotee ever ,than you and your very dear to me."
He blesses that whom so ever prays and for anything into your ears ,it will always be answered.
Nandi is more grateful and honored to have gotten such a blessing from Mahadev
Shilad is sad..Nandi touch his feet and apologies to him for not been able to fulfill a son's duty.
Shilad explains that he is very fortune to have got such a great son,that the Lord himself loves him.He tells him to go with Mahadev and serve the Lord Mahadev ..he would feel as his son is serving him.
**************************Back at the Prajapati's palace
Revthi is sitting alone remembering Chandrama and Rohini's romancing moments..when Prasuti comes and puts her hand on Revathi's head with affection
Revthi complains that Chanadu always loved Rohini and what was the need to get her married with him..he would ahve been happy and she wouldn't have been so sad.
Prasuti explains that The only intention behind Dakshi's actions are his daughters happiness,its not right ton blame him!
Revthi replies that its not the question of blame,but the would have found another groom.That is being rich,strong or handsome is the only criteria seen in a potential groom..aren't things like Love not counted?
Didn't he realize the consequences before he got her married to Chandrama.It would have been better if he let her stay here in the palace she continues
Prasuti explains that the marriage of there children is like a liability to the parents.Atleast you all have got married on time but think of Sati..there isn't a suited groom for her.
Revthi then questions that why is it important to get read of the liability,why they are forced to live a life with a stranger.why is it not possible to stay unmarried and lead a good life?
Prasuti states that Marriage is essential and is the base of a family which has to be in a society
"I can understand your plight,its all Chandram's fault,he shouldn't have taken the responsibility of you both."her mother continues
Revthi says that she has a little hope that Chandrama would spend sometime with her,but now its gone and that she is losing it day by day
(Now comes the main part.. wah what an advice she gave to her daughter
)
Prasuti advices her daughter to talk to Daksha about the issue and that she is very sure that he would help her..to which Revthi warns that Daksh shouldn't even get a doubt about it as he hates such kind of behavior from Chandrama.
This issue would prove fatal for Chandrams (looks like the whole family is in da soothsaying business)
Prasuti observes Revthi... Revthi questions on the same
Prasuti replies that she is so considerate about him even he ignores her.
That's the sad part,everybody can see the consideration but Chanadrama,Revthi replies and she even takes a promise from Parasuti that she would not inform about this issue to Daksha.
**************************Back at Kailas
Naradji,Nandi n Mahadev along with Gan and Prayat are present
Nandi takes blessings from Mahadev,he is back to his normal self now.
Mahadev orders Nandi to have some rest,but Nandi never listens and in turn says that its been so many days that he served his Mahadev.
Mahadev reminds him that he not only has the responsibility to serve him but also to listens to Mahadev's Devotees prayers too,and he has to prepare himself for that.
It needs have huge amount of patience & courage ,he need to be just to all there queries and requests.Its not an easy task.
Nandi obediently follows Mahadev's orders and assures that he would do his best.
Mahdev asks him that Now does he feel like its a dream?
And Mahadev goes back to his meditation
Nandi in his mind says that it was like a dream indeed, the same way if Devi Sati comes here..he wouldn't believe it.
**************************
Daksh's palace
Both Sati and Prasuti wait for Madnika to come...
Prasuti tells that she always feels worried about Sati when she leaves the palace and she should take care of her.
Madnika replies that if that's the case then there is no need to take Sati along,she would go alone and do things.
Prasuti says that this time she isn't worried about Sati as Madnika is going along.
As Madhnika and Sati where about to leave a plate full of Rice and Turmeric mixture falls to which Madhnika shouts "Yeh toh apshagun hogaya"
The epy ends with everybodies worried faces
(Are bhi itna hee fikar tha toh alanahee nai thaa..but thenn its a boon in da form of bane)
**************************Precap:

Both Sati and Madhnika get lost in the heavy smoke/wind whatevar it was...

And Vratrasur comes in the form of cloud.
**************************
Thanks for reading the WU so patiently
Have a nice time
Regards
Sia