It's tough to convince me: Shweta Tiwari
Mumbai: I did so much in Kasautii..., and played so many shades of a woman in that one show, that when someone offers me a role, I feel I have already done it in Kasautii... So it is very difficult to convince me for a role," says Shweta Tiwari.
However, the 31-year-old admits it was an instant decision to give a nod to Parvarish, in which she plays a simple mother. "When I got the script, and read it, I was ready to do the show. It is such a simple, true-to-life story, and I am sure this show will be a trendsetter for many such shows for future," she said.
Shweta earlier featured in fiction shows like Jaane Kya Baat Hui andNaaginn, as well as reality shows like Nach Baliye 2 and Iss Jungle Se Mujhe Bachao. She even participated in Bigg Boss 4, and went on to become the first woman participant to win the show.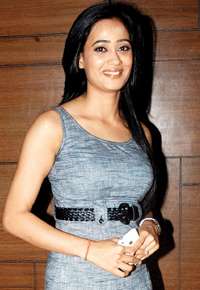 The actor, who is also active in the Bhojpuri film industry, is also keeping herself busy on the movie front. Recently she sizzled in an item number Dil Ka Achar in the Bollywood film Bin Bulaye Baraati and is set to feature in more films too. She says involving herself into so many different things is what keeps her creativity on the go.
"This is called doing different characters. This is called working in this industry. If you keep doing the same thing again and again, then it's like you are doing a nine-to-five job. I wanted to do different things; and that's why I took part in dancing reality shows, singing reality shows, comedy reality show."
She says money is important, but not at the cost of the quality of her work. "I have tried everything in my life. Yes, I am an actor, I want to earn money; I want to have a particular budget coming home. But just to earn that money, I can't keep doing the same thing again and again. I start getting frustrated and irritated soon. So I have to accept something which is close to my heart, and I enjoy working in," she adds.