TV review: 'Na Bole Tum'… is a worthy match for 'Bigg Boss 5'
By Asha Mahadevan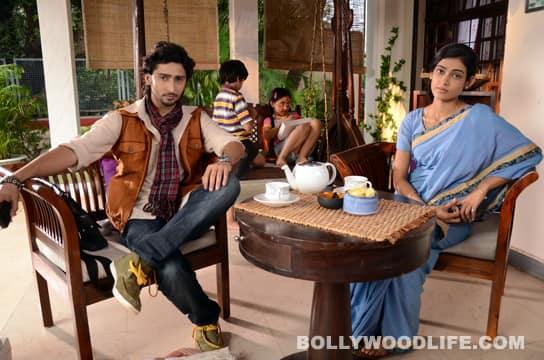 The drama has an engaging plot that will keep you glued to your screens five times a week
Colors' new show Na Bole Tum Na Maine Kuch Kaha came with a heavy burden – it was airing at the time slot vacated by Bigg Boss 5 and had to bring the viewers who had got hooked to the reality show back to the channel. A relatively new cast with a widow as its lead protagonist is not something that assures TRPs, but Colors took the risk and from what we've seen so far it just might pay off. Here's our take on it.

The plot: Mrs Megha Vyas is a young widow with two children who lives with her in-laws in Indore. She is quiet, respectful to her elders and a good mother even though she has almost no money. She is taunted by temple priests and by total strangers who believe that her dead husband Aman was a corrupt engineer who allowed a bridge to collapse causing 25 people to die two years ago. She meets Mohan Bhatnagar who she thinks is a thug, but is actually a crime reporter. Both of them are fighting to prove Aman's innocence, but are unaware of the other's involvement.
Why watch it: We've watched all the three episodes aired so far, but the very first one was enough to hook us on to this new show. Theatre actor Aakanksha Singh debuts on television as the deglam mother-of-two Mrs Vyas, and brings a poignancy to her character that is lacking in victimised heroines on other shows. The dialogues are apt and the experienced supporting cast lends an air of credibility to the proceedings. Nirav Soni as Megha's nephew Tanmay definitely has potential and in a couple of years can pose serious competition to his elder brother Jay Soni of Sasuraal Genda Phool fame.
What's putting off: Kunal Karan Kapoor as Mohan fails to impress. Maybe he'll improve in the coming episodes, but till now, he has not struck a chord. We also didn't quite understand how Megha, an otherwise doting mother, agreed to take her daughter's pocket money to buy her son a birthday gift – a cricket bat, which incidentally, costs Rs. 700 on the streets of Indore. It doesn't cost that much on the streets of Mumbai!
Verdict: NBTNMKK has everything – interesting protagonists, an engaging storyline and a treatment that is different from other soaps. It admirably fills the slot left vacant by Bigg Boss 5 and is definitely something you will miss on weekends.
Na Bole Tum Na Maine Kuch Kaha airs weekdays at 10.30pm on Colors