and was equally an emotional update.
See how beautifully you wrote again Saveeta,
i know my friend's ability.
You just wrote so wonderfully
, the whole update was in front of my eyes while reading it.
I can't see anmol and ragini in so much pain
, I know anmol loves his ragini deeply
and was very angry on him when he said those harsh words on ragini.
But now my heart feels so sad for him.
On the other hand my heart cries for ragini more
she can't forget her anmol
and the love she has for him is so pure
but anmol's harsh words still haunts her.
I loved ragini when she took the blame on her
and my heart broke when she cried her pain out in the bathroom.
And it was a needed moment when she opened her heart out and spoke as how she was used as pawn in between neel and anmol's enemity and mainly anmol's obsession for winning.
And ragini asking divorce from anmol
,so heart breaking as they both love each other a lot
,anmol's obsession of winning just separated these two.
Anmol pleading her not to go was so sad
and glad anmol's mother was there to support anmol.
Ragini hiding everything from her mom was so touchy.
And how she could not resist from talking to anmol , so sad .
I was just reading with heavy heart from the start
but my face lightened up when i started reading from here,
meghna..ragini keep this mobile phone.. ragini..i don't need one.i don't have anyone to call nor expecting someone to call me..we have a phone at home..in her thought..this is your anger talking again. how many times I have seen you pick up the receiver and put it down or sit near the phone expecting a call..meghna..i know we have a phone but this is for maasi and ma not to have doubts..whole day you cant act to be on phone talking to jiju or your MIL..so this will help ..they will think you are keeping in touch with them with your cellphone..ragini..where did you get such an expensive cellphone.. ... meghna murmuring in a low voice,..oops what do I say now?..ragini..meghna I'm asking you where you got money to buy such an expensive cellphone?..meghna'ragini you ask too much questions'this cellphone rohit gifted it to me..i'm not using it .its ok now..ragini took the mobile from her hand and went out of the room..meghna breathed a sigh of relief..how I tell you ragini its jiju who has sent this cellphone for you..he is missing you very much..i know you too missing him..you are having restless sleep at night..jiju too has dark circles under his eyes due to lack of sleep..i know you both cant live without each other..i pray all this misunderstanding is cleared and you both are back together.for this you both will have to break the ice between you too and talk to each other..rohit and I will not let you separate..
Ragini breathing in the fresh air sitting on a bench at the seaside, watching the waves crashing onto the beach..she looked at the cell phone in her hand and press the first 3 digits of anmol's phone number. next she deleted it and tears escaping her eyes.. jab aap mujhe yaad nahin karte.mein kyun aap ko phone karoun..why should I call you when you don't care about me?..on the other side anmol in office.he has lost interest in work..his eyes fixed on his laptop screen staring at ragini's pic..i'm missing you so much my baby.i cant sleep .there is a big void in our room without you..cant you forgive this one last mistake of your anmol.. I wont ever hurt you again..his tears shining in his eyes ..we need to talk cant bear it now not hearing your voice'he picked up his cell phone..
WOW My heart beats faster
,I just want my angini to talk to each other and solve everything between them
. My only wish is to see ragini forgiving anmol
and mainly anmol's love for ragini winning over his obsession of winning.
You were Fantastic Saveeta
, the update was too GOOD.
Just can't wait for the next update
, my angini going to talk , YIPEEE.
The Song for the VM so apt for our angini's situation
, Thanks for choosing it.
Your update was Rocking Saveeta
And here is my valentine gift for my cry baby friend ,
A siggy of our valentine couple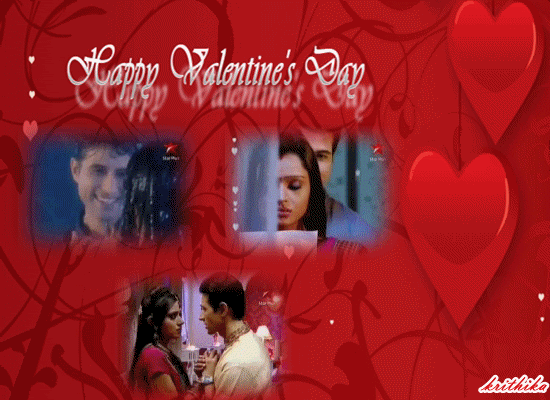 Edited by krithikas - 13 February 2012 at 7:36am