Starry-eyed
She's the face which the small screen producers would give a fortune for. Ramneek Paintal, the former Miss Delhi, is just a step away from stardom. She's already done campaigns for Siemens and Whirlpool and walked the ramp for leading designers.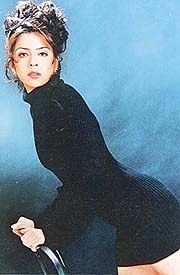 Ramneek Paintal: Glamour all the way

Till a couple of months ago, the most exciting thing she had done was to co-anchor Liberty Public Demand show alongwith Roshan Abbas. Now, of course things are changing fast after the release of the new album, Blue Fire.
The re-mixed album includes such vintage numbers as Piya Tu Ab to Aajaa, Har Kisiko Nahin Milta and more. The video of the song Unse Mili Nazar — Rafta Rafta features Ramneek at her stunning best.
Needless to say, after seeing her on the video a number of TV producers are getting ideas — of signing on this graduate of Delhi's Jesus & Mary College, for their forthcoming serials.
According to reports, the 5 feet 7 inches young lady has already started examining offers. Says the high-flying model, "I would't mind becoming a top TV star." With her kind of looks, neither would the viewers!