Happy Bday dear Pinky...(Eareye)
A birthday is a gift from god
which keeps unwrapping joy moment after moment...
A cake 4 u to cut
Here gifts 4 u from munni(sharan ,danno
)
Happy Birthday
pinky aka my gulabo
may u r all wishes come true and this upcoming year brings all the happiness and health and wealth...
here is one gift for u:
" />
http://t0.gstatic.com/images?q=tbn:ANd9GcSdnbX5FfRdYThUEooPM8vjz5sjOT54tJVJiWS3dYI8TdTW8bKO" />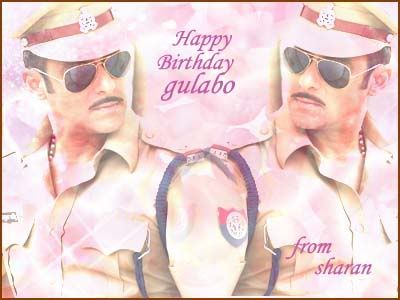 here from
shruti-love
HI PINKY,
In soft gleaming of stars...
may all ur dreams come true,
may every stars of every night bring love and joy to you
happy Birthday...
"May your birthday be filled with smiles, sunshine, love, and laughter."
may this day be a special one to
always remember."
at last i wish u a very happy birthday.
Here from nikita(mjht_one)
My Message for her:
Happy Birthday gulabo...
May god bless you and may all ur wishes come true
and i m so happy i met you u r an awesome and a very kind and special friend
Happy Birthday onceagain
love u
Hope u love this nd have a blast today!!!!!!!!!!love u...


Edited by -Vrinda- - 01 January 2012 at 3:47am