This was posted in kaajjal forum today a tribute so the credit goes to her
In a little over a week, it will be his birthday, wishing you a HAPPY BDAY Apoorva.... Here is an collection of old AA stuff as a tribute for his bday...
A still from Pyar Koi Khel Nahin
A still from Pyar Koi Khel Nahin
| | | | |
| --- | --- | --- | --- |
| | | | |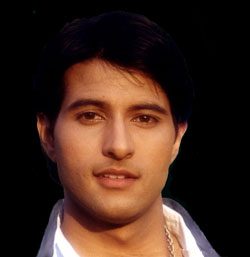 Listed as 29 out of a hundred India's hottest men on web123 india
Apoorva, the good looking actor made his debut in Bollywood with 'Pardes' (1997) opposite Shah Rukh Khan and Mahima Chaudhry. He was chosen as the Best Supporting Actor in the film 1997's Lux Zee Cine Award. He appeared in a number of films after, including 'Pyaar Koi Khel Nahin'(1999), Ashok Honda's 'Krodh'(2000), 'Shyam Ramsay's 'Dhund - The Fog' (2003) and 'Hum Ho Gaye Aap Ke'(2001), but his film career did not exactly take off. But he achieved immense popularity in the small screen after the success of the famous TV serial 'Jassi Jaissi Koi Nahin' (2003) in which he played the character Armaan Suri. Apoorva is married to Shilpa Saklani who is also a TV actor.
Everyone's talking about sex more openly. Earlier, you spoke about it behind closed doors or at pyjama parties.


quotes from http://www.bollyvista.com/
| | | | | |
| --- | --- | --- | --- | --- |
| | | | | I have this unique subject which I would like to direct with Shah Rukh Khan and Kajol in the lead |
INTERVIEWS
www.gmagazine.com/magazine/interviews11.asp (for the whole interview, excerpt below)
Waiting in the wings...
"I'd rather sit at home, doing nothing, than sign the wrong films."
The wait has been long for the young actor. Although he seemed to have lost his way, and was temporarily grounded, like a bird with a broken wing, he seems to be back on the right track. It is far from over for this eternal optimist. "I know I've waited long. But I don't want to make any more mistakes. I'd rather sit at home, doing nothing, than sign a few wrong films. I don't want to be associated with mediocre films. At times it is glorious to admit and acknowledge failure and keep moving on. Apart from this, I am not too ambitious to reach the top by any means like my dad. Though dad never got his due as a writer, it gives me immense pleasure when I meet people who talk highly of him. Probably we don't live in a posh bungalow in Bandra or Juhu today, don't own a Mercedes Benz, but I'm glad with what we own. I'm proud that in spite of the hardships that dad
had to go through, he never succumbed to anything dishonest," states Apoorva with pride in his eyes.
It is never too late to start afresh in life. All one has to do is to mend one's broken wing and learn to fly again. Fly high and almost touch the sky.
— Ritu S M
'Even NASA cannot explain everything'
By: Neha Mehta

An interview with Apoorva Agnihotri, who plays the male lead in Jassi Jaisi Koi Nahin.
You disappeared from the public radar after Pardes, resurfacing only with Jassi. Where have you been?
After Pardes, I was in Kasoor, Pyar Koi Khel Nahin and a disaster called Dhund. But you didn't miss much if you didn't see me in them. When I started out, there was a lull in the industry because of Gulshan Kumar's death. Everyone wanted me to play an NRI. Plus, there was no one to guide me after my father's death.


Your dream role?
That of a vampire! I would hate to do a Devdas. I enjoy dark roles because I am this sweet guy in real life. I probably wouldn't want to be an out and out Ramsay devil but say like Al Pacino in The Devil's Advocate.


Do you ever want to move behind the camera?
The supernatural fascinates me and when I am 40 plus, I want to make films on reincarnation. Three days before my father died, I dreamt that he was no more. That is supposed to be a good sign but I wonder whether it actually served as a warning. I saw a medium after his death. Even NASA cannot explain everything.


How do you cope with acting both for films and TV?
I think I manage fairly well. I shoot virtually all month round. Before Jassi, I worked very hard to get the lean look for a film. I then had to put on weight for TV. But the ice creams and milk shakes didn't add on the extra pounds because I was working all the time!
| | |
| --- | --- |
| Kunal (Apoorva Agnihotri) - Sameer's best friend and co-worker. This guy will do anything to help Sameer out. | |
| | |
| --- | --- |
| | Launched by none other that Subash Ghai, this baby faced actor have been finding his way since then. His other films like Krodh and Pyar Koi Khel Nahin have not done too well either. Apoorva will have to work hard on his acting abilities and his physique if he has to sustain in this industry |
Apoorva Agnihotri
Valentine's day gives you the opportunity to be really vocal about your feeling for someone who's ignited that spark in you. At other times in the year, you are a little restrained because there's no way you can suddenly go to her and blurt out, "I love you, I really do." But on this day you can do that knowing that she'll take it in the right spirit and if she feels the same way about you it'll make her feel on top of the world. Well, that's what I'm planning to do this Valentine's day. Say "I love you" in all the ways I know and make her day, I hope.
Birthday 2004
Armaan (Apoorva Agnihotri) with wife Shilpa Saklani At the stroke of midnight on Wednesday Jassi's Mallika (Rakshanda Khan) raised a toast to celebrate Jassi's Armaan (Apoorva Agnihotri) birthday at the Ladies Night bash held at Vie, Juhu.

Armaan and his wife Shilpa Saklani (Ganga of Kyunki Saas Bhi Kabhi Bahu Thi and Zee's Lavanya) made merry with over a dozen buddy TV folk that included Rohit Roy, Reva Babbar and Shweta Salve.

It may be recalled that it was Rakshanda who played matchmaker and introduced her close friend Shilpa to Apoorva. Jassi was conspicuous by her absence as Apurva and Shilpa embraced each other and danced to the music.

"My biggest birthday gift is in my arms (referring to Shilpa)," gushed Apoorva as Pari (Manini De) rushed to wish her bhaijaan. If Apoorva had his way he would have preferred to scream Shilpa jaisi koi nahin!
http://www.mid-day.com/hitlist/2004/december/98527.htm
Armaan's birthday surprise from Jassi
By: A Mid Day Correspondent
December 2, 2004
---
Happy birthday to you: Armaan Sir (Apoorva Agnihotri) with Jassi
Today is Armaan Sir's (Apoorva Agnihotri) birthday. Not that he is taking a day off from Gulmohur House.

He will be shooting as usual for Jassi Jaissi Koi Nahin (Sony). What he is really hoping and wondering is what Jassi will give him as a gift.

"I hope it is something that will really surprise me," he says from the sets of Jassi.

The rest he says will be the usual stuff. But what he is certainly going to do is to take wife Shilpa Saklani (Ganga of Kyunki Saas Bhi Kabhi Bahu Thi, Zee's Lavanya) out.

Agnihotri who wed Saklani earlier this year says, "Last year she was my girlfriend, now she's my wife. But we plan to do exactly what we did last year. We will be going to this same restaurant where we went last year.

We will sit on the same table and order the same stuff that we had last year.

That includes Bacardi, Diet Coke, paneer tikka and typical veg Indian food.

I like veg Indian food made in the Indian style," he says.

Here's wishing Armaan a happy birthday.

PS: Please let us know about Jassi's surprise gift.
Unfortunately,
Rajiv (Apoorva
Agnihotri) is
the real thing

Luv,

Shagun