"My relationship with Reena was intense, pious and personal. People said after my marriage that Reena's feeling for me had changed. In fact, it grew more intense. I am grateful that she gave me her company for seven years." - Shatru
"I prayed and wished that Shatru would at least marry my daughter and make her his second wife. He did not love her and had been just fooling around with her. Reena told me it was love. I told her it was a mistake." - Reena's mother
"The truth is that I did step aside and gave Reena a clear field, but Shatru didn't want to marry a girl whose fidelity was in doubt. I was aware that they revived their old romance after our marriage." - Shatru's wife
I'm not so sure though. I mean there is no genetic rule that kids will always look like their parents. Sonakshi might have taken after a grandparent or even great grandparent.
Sonakshi with her mom Poonam Sinha-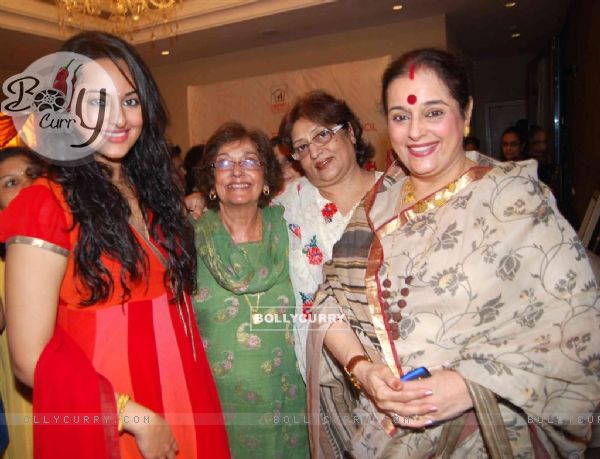 Reena Roy with daughter Sanam on the left from her Pakistani ex husband Mohsin Khan-
"According to an interview by Sonakshi she agreed about the similarity she has with Reena Roy and owed it to the eye make up which goes similar to her in some way, she added about the face shape which looked similar because, before she lost weight her full face was some way like Reena Roy nothing else. Sonakshi Sinha and Reena Roy news was in highlight only till the time Sonakshi was thought to be nave in B-town because the height she is at present, she is above all the critical rumours. However the fact that Reena was one intrinsic part of Shatru life even after his marriage and the whole fraternity at that time was sure of some cleave between Poonam and Shatru because of Reena, could not be ignored."
Star & Style
May 1983
"Emotionally and physically our relationship has ended!"
Another source says:
"Her off-screen relationship with Shatrughan ended as he married a woman named Poonam in 1981." (Sonakshi is born 2 June 1987)
"Nobody in the industry believed that Reena would eventually settle down. Prior to meeting Mohsin, she was madly in love with the Banarsi Babo Shatrughan Sinha. Besides, Roy was also on a constant see-saw, now-on and now-off relationships with other men. Reena wanted marriage but Shatru was unable to make up his mind since he was already married to his childhood sweetheart Poonam. He was dilly-dallying between the two ladies whom he met daily " one on the sets and the other at home. Sinha's shaky mind dragged Reena to another man, Rajnesh from whom she did also not find any happiness, utter love and piece of mind. She was deeply in a low phase, when the charming Khan came into her life. "
"She confessed to herself and then to her close friend Jaya Bachchan that she was deeply in love with the super Pakistani cricketing hero. But the problem was that she was unable to decide what to do..! Jaya, being a good friend, made Reena conscious of her own identity and the need to find real happiness for herself. She asked Reena to put aside her doubts about her family, her career, about Shatrughan Sinha and helped her make a decision for her prosperous future and happiness in life. Therefore Jaya gave the positive signal to wed to Mohsin Khan"