Hi
Enjoy
To kiss, or not to kiss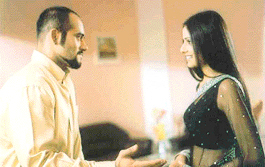 Sensuous promos of Tumhari Disha had raised viewers' expectations

The tape-and-trap scandal on India TV may have earned brought back the age-old debate about self-imposed censorship on TV but Zee TV at least has been quick to demonstrate that nothing inappropriate gets slipped in any of the shows and serials it airs.
Take Tumhari Disha for example. The show that is going the Mills and Boons way and which aired sensuous promos of the protagonists, Disha and DK coming closer and closer to each other got a taste of the sharp shears recently.
Viewers who were expecting the two to lock lips are in for a disappointment.
That simply won't happen now and their chemistry will now only simmer and never crackle.
Some fans feel that channels are not being fair by imposing their morality on viewers.
But others say it is for the viewers to decide whether they want to watch their favourite stars to kiss or not to kiss.
If they don't, then all they have to do is click the remote to make the censorship happen.
Keep tuned. That's not the last you've heard on the controversy.
Taken from The SUnday Tribune
samy