Tia is prayin to god and asking her to help her to follow the rite direction n differentiate between what is right and wrong.. and sumeet has entered her room n hears all this.

he asks her what his princess is askin god!
tia is relieved and she hugs her dad that her life has gone topsy turvy when he was away.. and she tells him about ranveer's arest.

Yuvi and sid are saying something to the crowd at the hall.. and talking about keepin their promises. Yuvi says to them that he cares about their problems and he's not like his opponent whos forgotten to turn up at such an imp debate.

the crowd boes ashi.. yuvi adds thats not all and says that this last section is dedicated to his opponent and her wonderful actions.. vrinda n all are wondering what he is talking abt.

Yuvi calls latty on stage and says that latty has something to say

SOnia ashi and a lawyer are discussing about ranveer's case. the lawyer says the case is complicated but nothing that cant be sorted out. SOnia says there is nothing to worry abt the amount jsut ranveer shud be released. the lawyer says around 1 lakh is his charge n also now to bail ranveer they need Rs;10000

Yuvi is encouraging latty to say whatever she is supposed to ... latty hesitates and even vrinda encourages her to says the truth (thinking that latty is innocent n that there is nothing as such)
Yuvi asks latty whether she won due to luck or..???

latty finally says this was all a scam taht was planned by ashi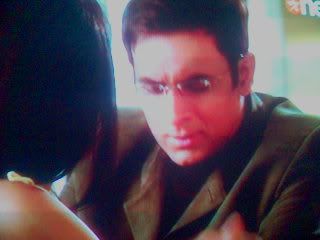 Sumeet says that he will do everything to get ranveer out of trouble and Tia is really regrettin doing all this and says that she is responsible for all tis and that ranveer is sufferring because of her. and that "instead of meeting him tia apna relationship.... " tia says she shud have trusted ranveer..

n that its too late then suddenly she asks her papa its not too late na ? pls papa tell me its not too late na ? her dad says not its not late. and that ups n downs are a part of life but u have to walk through them and that he is there for her always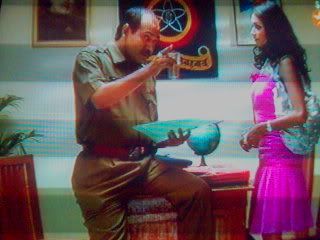 Shy comes to the police station to meet ranveer..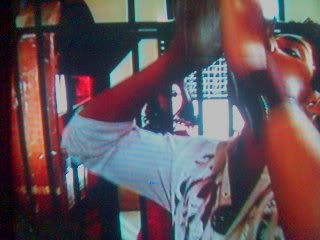 ranveer smiles when he sees her n then she says that she is cudnt keep herself back n then she holds his hand n says that he shudnt worry coz shes tryin her best to get him out of there..

ranveer looks at her hand on his hand and takes it away n says to her that she neednt bohter n that now it will be rite for her to go politely.. n shy says that she is fine but ranveer still tels her that she must go now

In college everybody is carrying uv on their shoulders and cheering him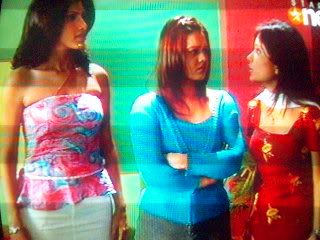 and vrinda meher n pri are wondering where ashi is when she is suppossed to answer these ppl..

TIa is talking to her papa on the phone n she sees shy n latty talking so she hides behind the wall to hear them but shy has already seen her so when latty says hey hows ranveer tum usse milne gayi thi na ? she says dramatically.. "poor thing maine ranveer ko itna worried kabhi nahi dekha hai.. woh to keh raha tha ki woh jail se bahar aana hi nahi chaha raha tha."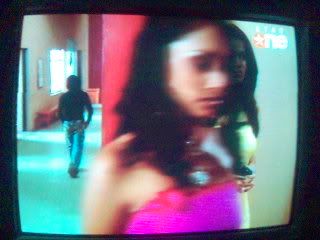 tia is really surprised n gets very worried.

Yuvi is dressed up like a greek king in his room and is giving a speech to a fictional audience n sid..

he states that all of them are fools to believe him n that he easily fooled them that he cares abt their problems etc etc..


n sid is cheering him n

then they sing wacko wacko wat u gonna do wehn we get u (lol)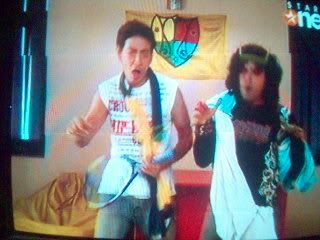 But yuvi cant digest it that ashi is hidin some where .. he is wondering where she is and what she is upto he thinks that ashi is a wacko but never a loseR!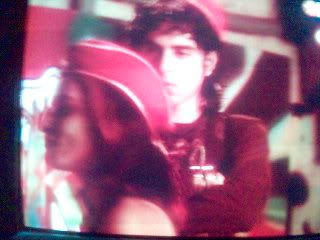 yuvi starts thinking about all her times with ashi n t
here was a long but lovely session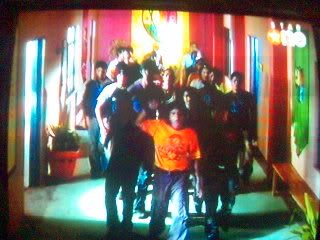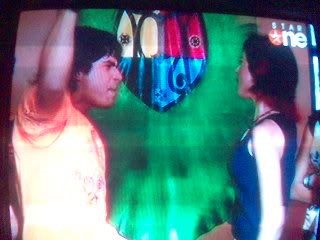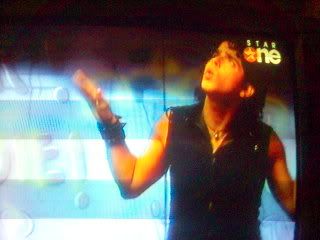 of the song love is in the air.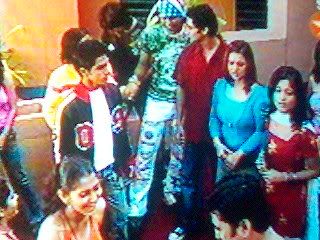 People are rooting against ashi and saying that she is guilty of a FAKE raffle.. vrinda tells the crowd to chil down n says that anyone is not guilty until proven n must be given a chance but one guy says that if she isnt guilty why is she hiding from us .. varun (WHO HAS SUDDENLY COME BACK .. n im somehow happy about that) says to them taht u all know that she isnt the types to hide even if she did anything wrong .. she is stuck in some imp work .. but the students say that how can anything be more imp than elections of maurya.. n varun tells them that she has gone to help someone..

Sonia, the lawyer n ashi enter the police station and they give the inspector the bail papers the ispector checks the papers n then says "AB ISKI KOI ZARURAT NAHI HAI"

Precap::::

People booing ashi n ashi where she is
Yuvi is talking to his dad and says that ashi is not the types to give up ... yashwant dev says that no matter what happens yuvi will win .. and that he is ther to support him !
PS: hey guys im sorry i missed out the last two mondays coz of a busy schedule but hope u like this time's update.. thanks to everyone who is responsible in makin me a coolbie... im really hnoured !

love
namita