Ok since Anjali and Zee had posted up stories in pics I decided to test my skills,I'm not going to be that good but I'll try!!!!But bewere this is a longggggg story!!!
THE STORY OF THE MISSING HAT!

I have lost my hat!!!!!main kya karu!!!!!!!
OMG not another missing case!!!Ok everyone gather up and lets find Anuji's hat!

Dont worry Anuji..Hum jee jaan laga denge!!!

Agar ladke kar sakte hai....to hum bhi karenge!!!Lekin pehle........

Sorry but I am eating right now!!!!

Sorry I just did my nails and cant come!

Lekin main to hoon na!!!

Never mind I'm practising my saxophone!

But we have to party with Will Smith first!!!!get jiggy with it!
Meenal:Get away from me Karu!!!!I want Amey!
Amey:Meenal's looking so hot!!

Ok so boys aapne hat dekhi hai....sirf Ha ya naa main jawab deejiye!

Hmmmm kisne li hogi!

what the heck!!!!How did this happen!!!!

Mata Rani please help Anuji find his hat!

Wait a second.......why would anyone steal a hat!!!!

Amey-well we tried to find it by doing gymnastics!!!

Hmmmm If y'all find the hat.....I will be back with a bang!!!!!!

We will search for the hat with our special magnifying glasses!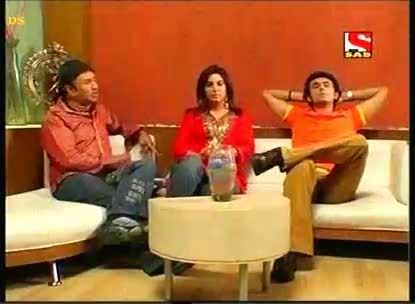 we searched and searched where is the hat!!!

Hey Bhagwaan help us find the hat....Ohhh who's that hot chick behind pandit ji!!!!I have to smile!!

Kya karu...Anuji ki hat dhundo ya phir Meenal ko "I love u "kahu!!Wait was it Meenal or was it Antara ....no wait I think it was Jyotsnya or was it Shaberri!!???

paanch din ho chuke hai aur abhi bhi topi ka kuch pata nayi!!agar aapko pata chale to turant call kige 190-4424-2525-00

hmmmm....kya tujhe pata hai main topi se kitna thak gaya hoon!!!!thank you jisni ne woh topi churrayi hai!!

aww look at abhijeet!!!I should ask him out!!WAIT!!!but I am already hooked up with Karu...or was it Panna oh I remeber now it was Ameyji!!!!

ANUJI!!!!!HE HAS YOUR HAT!!!!

I have Anuji's lucky hat!!!now noone can stop me from getting Abha!!!

Sagar why did you do it!!!why??

dont worry sagar we will be with you!!!!But tell us why did you do it!
I just did it for my Abha!!Kyunki Sagar baba ko sirf pasand hai Abha!!!

Sagar Baba why did you take my hat!!!!!!!and that too for that long girl Abha!!!

OHHHH I'm going to puch that Abha!for taking my Sagar Baba!!

hEY Antara how dare u leave me for Sagar!!!!Oh well Meenal to hai na!!!
SCORE!!!!!!!!!!!!!!!!whoohoo!!!go me go me go me!!!

I just want to say is that Sagar baba took my hat for that lambi Abha!
No you fools it was me!!!!!I love you oh my topi....I love you oh my topi....I love you oh my topi koi shack!!!
HoLY COW!!!!Himesh took it!!!!
But why????

Oh well we found the hat!!!Thanks!!!
well I hope you guys like the story!!!Its not as good as Anjali's and Zee's but i tried!


Edited by Tani91 - 05 April 2006 at 3:23pm