Her father's daughter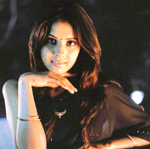 Tumhari Disha is topping the charts
Back in the early 1990s Basu Chatterjee made waves on television with Rajni starring the indomitable Priya Tendulkar. Years later daughter Rupali Guha is creating her own space with Tumhari Disha, a tele-story with a female protagonist.
The serial revolves around a young girl Disha whose life is a paradox — she spreads happiness wherever she goes but her own life is submerged in sorrow. She is deserted by her biological father but succeeds in winning her foster family's heart.
Tumhari Disha has emerged the top programme on Zee TV. While that is no easy feat, Rupali has set her sights on the show reinforcing the position of channel leader.
Says Rupali, "I worked on the intricacies, twists and turns of the script and was getting regular viewer feedback. I knew Tumhari Disha would be the top draw one day. I now have to work to retain the top position."
For all those who do not know the great Basu Chatterjee, who made some excellent movies , chitchor a very simple sweet film had Zarina Wahab, if I am not mistaken it likely was her first movie (excellent music and songs Gori Tera Gaon bara pyara, Tu jo mera sur me sur mila le, Aj se pehlay).
May be some of you have watched the serial Rajni (Priya Tendulkar). I recall meeting Priya Tendulkar on a flight from New Delhi to Kathmandu sometime around Dec 1999, do not remain the exact date, got a chance to interact with her during the flight as she was sitting next to me, she was going to Kathmandu for some woman rally, she was very pleasant during the flight and very friendly and made my journey very interesting, though her image has been very aggressive . Sadly few years later she passed away . Reading about Rupali Guha took me down memory lane and I just wanted to share with all of you.
Lilly
The woods are lovely, dark, and deep,
But I have promises to keep,
And miles to go before I sleep,
And miles to go before I sleep.