Helen was wooed by everyone'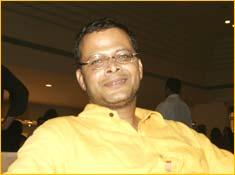 Jerry Pinto spent three years chronicling the rise of Bollywood screen icon Helen. In conversation with Senior Features Editor Lindsay Pereira, he talks about her career-defining moments and what gave her longevity when so many other stars faded away.
Of the 500-odd films Helen played a part in, is there any one you could call career-defining?
I think there would be at least five. There's Howrah Bridge, where Helen was invented with her Mera Naam Chin-Chin-Choo number, though she had been dancing for years before it.
There's Cha Cha Cha, her only hit as a lead, in which one of our finest dancers played a dancer who is crippled.
There's Prince, where she dances with Vyjayanthimala, presenting a series of Western moves against Vyjayanthimala's classicism and so defining her role as the Other Woman.
There's Inteqaam's Mera Yeh Husn Jawaan, which is still breathtaking in its sexual audacity, and which retains the power to shock even today.
And there's Khamoshi: The Musical, where, as Mariamma, she becomes a legend and a grandmother and every critic sits up, takes note, and laments the shortness of her role.
If you were to try and gauge the impact Helen had on the way the Hindi film industry evolved, into what it is today, what would you credit her most for?
I believe that the best of Hindi commercial cinema uses melodrama as its central theme, playing with it in different ways. For melodrama to work, you must pit opposites against each other. You must have the good guy and the black-hearted villain. You must have the virginal heroine and the dangerous woman.
Helen offered a range of dangerous women, effortlessly reinventing herself as dancer, gang moll, faithless lover, Chinese spy, Spanish countess.
If there were no Helen, we would have had to invent her.
She was pretty and she could dance, but so could so many others. Have you managed to figure out what gave her longevity when so many have been forgotten?
Just to continue from where I left off…if we were to try and invent her, we would have failed because there are some people who are irreplaceable. You cannot think of another Dilip Kumar, another Madhubala, another Amitabh Bachchan. And you cannot think of another Helen. She herself has attributed her success to a combination of good genes (French father, Burmese mother, Spanish grandfather) and discipline.
I think it goes beyond that. I think the reason can only be sought (and therefore never found) in the peculiar alchemy of the interaction between audience and actor that turns some into stars and allows others to fade.
Is there anyone among the current crop of actors capable of playing Helen, if her story were to make it to film?
No. It takes an actor to play convincingly in a biopic and I can't think of a single actor who can dance. And as for the stars, I don't think they're ever very good at playing anyone other than themselves.
What I get from your book, above all, is the sense that Helen played a far more important part in the film industry. Without her as a foil, and without her fall from grace in a majority of her films, the hero's victory wouldn't be half as convincing. Would you agree?
Yes, indeed. There's that old saw: You can't have light if you don't have darkness. Melodrama is chiaroscuro; the darker the blacks and greys, the whiter the whites. The hero's refusal to be seduced, the villain's willingness to go along with Helen's call to pleasure made the dichotomy clearer. And even when the comic comes courting -- and Helen was wooed on screen by every joker from Rajendranath to Mehmood -- his questionable masculinity throws the hero's virility into clearer focus.
Helen was needed to show that the heroine was pure; and she was needed to show that the hero was good.
The funny thing is, despite her years in the industry, Helen is still to be looked at as a legend. Far lesser performers and bit players -- from cinematographers to music directors -- have succeeded, but people are still wary of giving her that tag. Why do you think that is?
If Helen is not seen as a legend, then that can only be the myopia of the film industry and society. In no other cinema anywhere in the world has a dancer worked for 30 years, vamping three generations of Hindi film stars. In general, it is the men who last long and the women who fade.
Here is the first woman who reversed that trend, who defied the gender bias and was still rocking us back on our heels in the 1970s with Mehbooba Mehbooba in Sholay and Mungda Mungda in Inkaar.
I believe that Helen has withdrawn a little from the world of cinema, just as she was once always to be found behind the barrier of a book on the sets. I believe that the process of iconisation that I speak of in the last couple of chapters has happened without her consent or her connivance. She just did what she did and left it to everyone else to figure it out.
What is the most surprising thing you found out about her that you didn't know before you began working on the book?
I had no idea that the cult of Helen was so wide, so far-ranging and that so many people found so many different ways in which to relate to her. I thought, for instance, that Helen would appeal to men primarily, but she seems to have a huge fan following among women who find her as charming as men did.