Rimi's Shop of Different variety!
I hav made different stuff but now they hav come together to make this new shop!
here is the list of things i can do!
1)glitter names
2)non glitter siggys
3)different avatars wich i havent made
4)Candy dolls
5)Banners(wid or without pics!)
The siggys wich i hav made are not ma idea! They were given to me by Zee(rexlover)
there fore they will b called Zee Creations
here are examples:
siggys!they are bigger but on photobucket it reduced the size





Glitter names:


(i can add those smileys)


Avatars(not by me):




candy dolls!: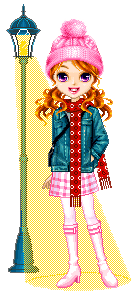 Banners:



Avatars!!!!!!theyre bac!!!!!

Hope u liked these
request fast!
I can not hav ma creations done in 24 hours(i hav skool) so watever requests will b done on weekends


Edited by Rimi07 - 12 April 2006 at 9:11am