Sanjit Bedi who stars as Dr Omi in Cinevistaas' Sanjivani — A Medical Boon (Star Plus) was earlier seen as the fun-loving Aryan in Saathiya — Pyaar Ka Nayaa Ehsaas (Star Plus).

His character of Dr Omi returned to Sanjivani last month. "Dr Omi is still the same guy. He has grown up; he is a pediatrician-gynaecologist who has now been diagnosed as being HIV positive. Life has come a full circle for him," he says about his character.

Bedi will also be seen in Amar Butala's film Kudiya Ka Hai Zamana which stars Rekha and Mahima Chaudhary as well as in Dewang Dholakia's Fanaah. Here are 10 things you would like to know about him….
What is your star sign?
Taurus.
Do you believe in astrology and numerology?
I do tend to believe in astrology.
Where were you born, and which school did you go to?
I was born in New Delhi and attended Modern School, Barakhambha Road
For what did you get your first paycheque and how much?
For a summer vacation job at a factory on the outskirts of New Delhi. I was paid Rs 1,200.
What one thing are you really bad at doing?
There are many things…. but come to think of it I am good at everything!
What do you wear at home?
T-shirts, shorts, boxers
What mobile phone do you use?
A Nokia 7610.
What's your favourite smell?
The smell of the trees and the mud after the first rain. I particularly enjoy this smell at my farmhouse at Wada, which is beyond Thane, on the Mumbai — Nashik highway.
Where in Mumbai would you rather be staying?
Where I presently stay — at Napean Sea Road.
How often do you say "I love you"?
All the time to my wife Rekha.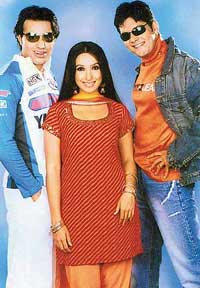 Edited by canada87 - 24 March 2006 at 1:26am